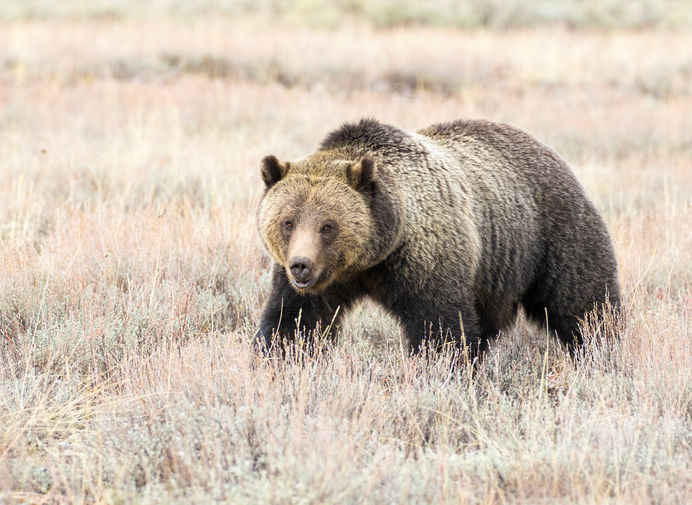 Montana Fish, Wildlife & Parks game wardens euthanized an adult male grizzly bear that had been raiding occupied backcountry camps along the Rocky Mountain Front west of Augusta.
Wardens put down the approximately 300-pound bear Sept. 7 after consultation with the federal Forest Service and Fish and Wildlife Service.
"The bear was raiding human occupied camps along the South Fork of the Sun River near Pretty Prairie in the Bob Marshall Wilderness," said FWP Game Warden Captain Dave Holland.
"It had been involved in five incidents over seven days," Holland said. "It had been hazed by pepper spray, chased by dogs and shot at, and hazed by a helicopter without success."
Apparently, the bear received a human-based food reward recently and was becoming increasingly bold, said Mike Munoz, district ranger with the Helena-Lewis and Clark National Forest office in Choteau.
"This bear was food conditioned," Munoz said. "It got a food reward somewhere in the Sun River drainage. It approached people as close as 20 feet."
Anyone who has a bear encounter, especially when the animal gets a food reward, should report the incident as soon as possible, Munoz said.
You have free articles remaining.
Currently, visitors in the Bob Marshall Wilderness Complex must follow food storage guidelines. All food and attractants, like garbage, game carcasses, and pet and livestock food, must be:
• Suspended at least 10 feet up and four feet out from any upright support, such as a tree or pole. And when possible, at least 100 yards from sleeping areas,
• Stored within an approved and operating electric fence,
• Stored in an approved bear-resistant container, or
• Attractants may be attended during the day rather than stored. But all attractants must be stored at night unless cooking, eating or preparing food for storage.
Hunters in backcountry camps must be extremely careful. All wildlife carcasses within a half mile of any sleeping area are required to be stored in a bear-resistant manner. Carcasses, parts, gut piles or other remains are recommended to be kept at least 100 yards off a trail or day-use area.
Also, everyone in bear country should carry bear spray and know how to use it. Bear experts recommend not to go alone, leave detailed plans with someone and pay attention to fresh bear sign.
Look for bear tracks, scat and concentrations of natural foods. And use caution when in areas that have evidence of bear activity or areas with scavenging birds such magpies, ravens or crows.
For more information on grizzly bears, bear resistant containers and food storage guidelines visit the Interagency Grizzly Bear Committee website at www.igbconline.org or the Helena-Lewis and Clark National Forest at www.fs.usda.gov/hlcnf.