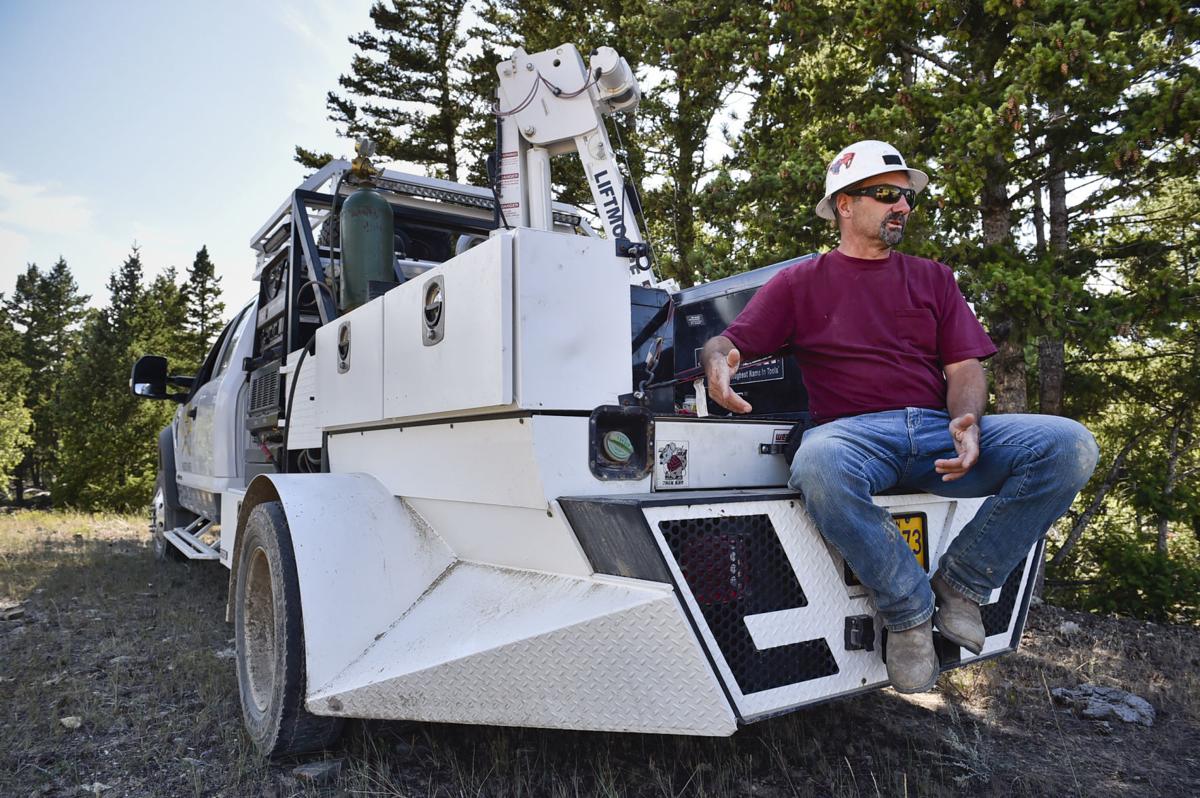 Dave Turin has traveled to some of the most beautiful places on Earth in search of gold, and now he has come to Montana to see what the ground still holds.
The Oregon native has been in the Helena area for a few months now filming for "Dave Turin's Lost Mine" on the Discovery Channel. A decade ago his face first appeared on TV screens across the country and the world for the channel's series "Gold Rush," which followed a group of miners led by fellow Oregonian Todd Hoffman. The crew tried their luck mining in Alaska, the Yukon, South America and the lower 48 in a weekly showcase of trials and triumphs.
"Gold Rush" premiered as the U.S. battled a recession, and Turin believes the economic times combined with the pure fascination with gold intrigued viewers.
"I think they fell in love with us because it was a very difficult time in America's history," he said, sitting on the back of his trademark "Dozer Dave" truck. "We were in a severe recession and Todd asked the question, 'Can a man in America still go out and risk it all and succeed?' That resonated with many, many people because there were a lot of people unemployed, a lot of guys sitting at home going, 'I wish I could do that,' so they lived vicariously through us."
Turin grew up in a family of six and still co-owns Mount Hood Rock Products in Sandy, Oregon, with his three brothers. There they operate a rock quarry, and it is where he learned to mine.
Hoffman approached Turin with his goal of going to Alaska to mine and filming a TV show – a plan Turin initially had trouble believing. Turin was hired to help set up equipment and when he arrived to help load up Hoffman's crew for their journey north, sure enough camera crews, sound technicians and producers were there.
Turin received a call in June to come up to Alaska and set up the wash plant – a key piece of equipment that captures gold as it washes dirt and rocks. He spent 10 days there that first year, and then received a call in September. Producers liked him and asked if he would become a part of the show. The next season he split time between the Yukon and Oregon and by the third year, Turin became a full-time gold miner.
The show became perhaps as well known for the mistakes and adversities the miners continually faced as their successes finding gold. Turin notes that mining is stressful on its own, but adding a TV camera to capture the drama takes it to another level.
"What you saw was real – I was the only experienced miner," Turin said. "Here's the deal: I thought I was a good miner, but I was a good miner in my little tiny location, so I was a big fish in a very, very small pond."
Although he describes his relationship now with Hoffman as "strained," he credits the chance meeting as giving him the break into the industry. Whether it was struggling against the permafrost of the Yukon or their disastrous season in South America – the worst six months of his life, Turin says – he kept coming back because he enjoys the challenge.
"I enjoy tackling problems or conquering things and when I found out you can mine in different ways, it stimulated me," he said. "I felt stifled at my other job, I'd done it for 30 years, so every time I went to a new place there were brand new challenges to overcome and I love that. And the other reason was the gold. It does something to you."
Turin says he did not fully grasp the popularity of the show until someone high up at the Discovery Channel told him  their odds of going from concept to a popular TV show was about one in 10 million. The success of "Gold Rush" has been undeniable as it aired in 300 countries and translated into 70 languages. At its height about four years ago, 250 million people worldwide watched one episode.
The celebrity that has come with his decade on TV has Turin often taking photos with fans and signing autographs. He calls it a blessing and an honor when people ask and says he always tries to be respectful and friendly when people come up to him.
While the success of "Gold Rush" was a rare feat, a second stint in the world of reality TV may be rarer still. "Dave Turin's Lost Mine" takes a new look at mining old claims with a focus on history and mining the way he believes is best. Rather than hiring the best operators, Turin hires people he genuinely likes and respects and teaches them to mine the Turin way.
Turin says part of his goal is to show mining in a positive light and to highlight the importance of responsibility by not only adhering to but exceeding environmental requirements when possible. This is not his first time mining in Montana, and he joked that with 3,500 mines listed as abandoned, exploring the state could keep him busy.
"I love Montana, I love the people," he said. "There's a difference between people that just say, 'Hey, if you need anything just call me,' and you know if I call them they're going to be somewhere else. Here in Montana, when somebody says call me if you need something, I believe them because I've done it. Part of that I think is the mining community but also it's Montanans."
Reporter Tom Kuglin can be reached at 447-4076 @IR_TomKuglin
Be the first to know
Get local news delivered to your inbox!