Granite Butte Lookout stands sentry over the Continental Divide northwest of Helena.
Built in 1932 near Stemple Pass, the U.S. Forest Service used the lookout for decades to watch for wildfires in the mountains above Canyon Creek and Lincoln. In 1962 the agency rebuilt the structure, but little maintenance occurred over the next 50 years and the battering of the elements at the high elevation caused it to fall into disrepair.
Then in about 2011 volunteers, including the Montana Wilderness Association, embarked on a campaign to restore the historic lookout to its former glory. For five years they worked with the Forest Service until 2016, when it reopened as part of the agency's rental program.
While providing a link to history, the lookout rests high on a grassy ridge and offers views of the Big Belt Mountains and Scapegoat Wilderness. Its timber structure is anchored in rock by heavy steel cables to combat the winds consistently whipping over the forest.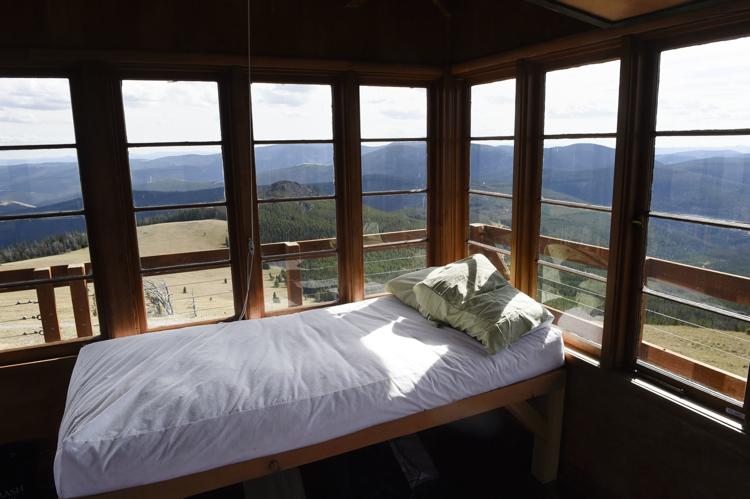 Inside, ample windows provide a panorama of the sky, and sunlight or moonlight can peek into the unique comforts offered at 6,800 feet, illuminating the single bed, table and small wood stove.
Granite Butte Lookout offers year-round access and rentals. Depending on the time of year accessing the lookout can be accomplished by trail or road. That is until the snow falls and the rough four-wheel-drive trail spur off of Marsh Creek Road becomes impassible to anything short of a snowmobile.
A favorite access point is the Continental Divide National Scenic Trail from atop Stemple Pass. The hike or ski of 4.5 miles generally follows the ridgeline but does include some elevation gains on the way in.
Be the first to know
Get local news delivered to your inbox!