Montana Fish, Wildlife & Parks says it found no evidence that walleye are native to the state, but pledged to follow up with researchers after questions were raised at a meeting in Helena on Thursday evening.
In December, the Montana Fish and Wildlife Commission ordered FWP fisheries staff to review walleye's nonnative status after walleye advocates presented maps from the American Fisheries Society that included part of Montana as native range. The presentation took place as FWP sought the green light to release its statewide fisheries program and guide for public comment, a document that includes management of walleye as a nonnative species.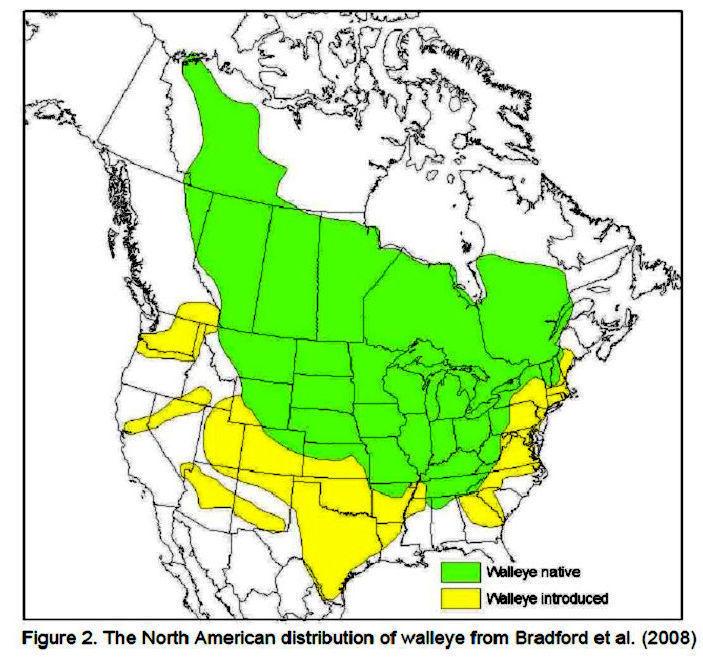 Thursday night's meeting was the result of FWP's investigation and conclusion that walleye's nonnative designation should continue.
"One thing we really hope to convey is we didn't just flippantly take this issue and say 'that's crazy,'" said Eric Roberts, fisheries management bureau chief. "It was a lot of hard work and a lot to take in and consider."
Zack Shattuck, FWP's native species coordinator, said he reviewed the scientific literature the map in question was based on.
"When you drill in on this literature that was provided to produce these various maps, you look at the details, the descriptions don't match up with the maps," he said.
The literature review was taken to the Montana Natural Heritage Program and the Montana Chapter of the American Fisheries Society, and Shattuck told the crowd FWP was comfortable with its conclusion. But he added "science is a living thing and constantly evolving," meaning new evidence could change that view.
Shattuck detailed the multiple research citations used to create the map. None, he pointed out, included Montana as native walleye habitat in the underlying literature. He also reviewed historic fish surveys dating back to the Lewis and Clark expedition. While those included sauger, a close cousin of the walleye, there were no verifiable records of walleye. Archaeological and paleontological sites have also not revealed evidence, he said.
Eileen Ryce, FWP Fisheries Division administrator, said her biologists believe the map illustrates watersheds at a continental scale that fails to capture individual waterways of Montana. She pointed out that. according to the map, rivers such as the Gallatin and Madison would be included in native walleye range, which have never to her knowledge been mentioned in research.
Biologists at the state fisheries conference agreed with FWP's understanding of the literature and conclusion, she said. That review included studies of the Missouri River system with native walleye downstream and populations native to Canada, she added.
You have free articles remaining.
Montana has a long history of stocking walleye, and the study of fish genetics suggests that all walleye present in Montana were stocked, Roberts said. Common genes called "haplotypes" have been identified in walleye and sauger, and the haplotypes of Montana walleye do not indicate a population that originated and evolved here, he said.
If walleye were to be designated as native, it would raise multiple questions about management, Roberts said, including what drainages would be considered native, management strategies and goals.
Shattuck described the reason officials believe walleye did not migrate into Montana, with the closest-known native population in eastern North Dakota. During the last ice age, a massive ice sheet came across the Hi-Line and the Missouri River in eastern Montana and the Dakotas. When it receded, glacial silt became a staple of the river with early visitors through the 1800s describing it as "The Big Muddy."
While species such as sauger, catfish and sturgeon do well in silt, walleye tend to prefer clearer water, Roberts said. As Montana developed its reservoir system, biologists saw more success establishing populations across the state, he continued.
"This is the best information we have," he said, in trying to put the pieces of the puzzle together.
FWP's conclusions were challenged by Townsend-area angler Matt Zeadow, who said he had spent about a month following up on the research. He asked if FWP had contacted the authors of the research, which they said they had not. Zeadow then said he had contacted several of the authors as well as the American Fisheries Society at the national level, and they came to much different conclusions about walleye's nonnative status in Montana.
"I have a hard time believing walleyes are not native after talking to these gentlemen," he said.
FWP asked for, and Zeadow agreed to provide, contact information for the researchers he spoke to. Ryce pledged to follow up once those contacts were received, but it was unclear how the results of that continued work would be shared with the public.
Bob Gilbert, with Walleyes Unlimited, also felt a number of questions remain unanswered, specifically whether walleye may have migrated from Canada. He hoped to see FWP and anglers who like to fish for various species find some common ground to provide the best angling opportunities as possible in the state. Right now, he sees walleye largely managed as a lesser species than trout.
Roberts said in part that he hoped the meeting would be a good jumping-off point for the agency and walleye anglers to develop a better relationship going forward.