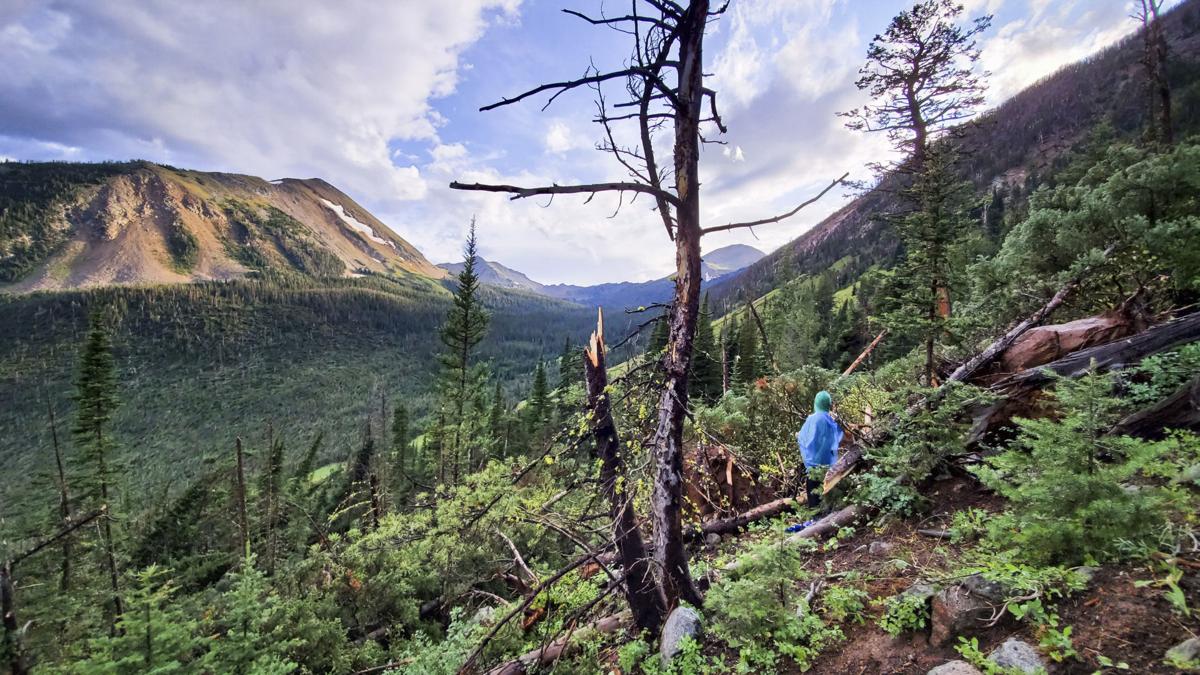 After breaking his ribs when a horse bucked him off while hunting, Bill Bahny decided to purchase a Garmin inReach satellite communication device. On Aug. 11, he was glad he did.
Bill and Kathy Bahny and their Boston Terrier Emma loaded up their side-by-side for an excursion to Granite Lake near Pony. Rain gear, matches, food, a pistol and the inReach all came along on their scenic ride into the Tabacco Roots.
The Helenans decided to cut their time at the lake short when it started to hail. On their way back they stopped to visit with a young couple eating lunch under a tarp, Megan Franecki of Big Sky and Donnie Williams of Bozeman, who had ridden their ATV.
After a few minutes the Bahnys continued on their way, when with little warning the weather turned.
"We no sooner stopped, I had not even had the chance to shut the engine off, when the sky turned black and this horrific wind came up out of nowhere and seemed to be 100 mph or stronger," Bill said. "Trees started falling, and there were branches and chunks of trees everywhere in the air."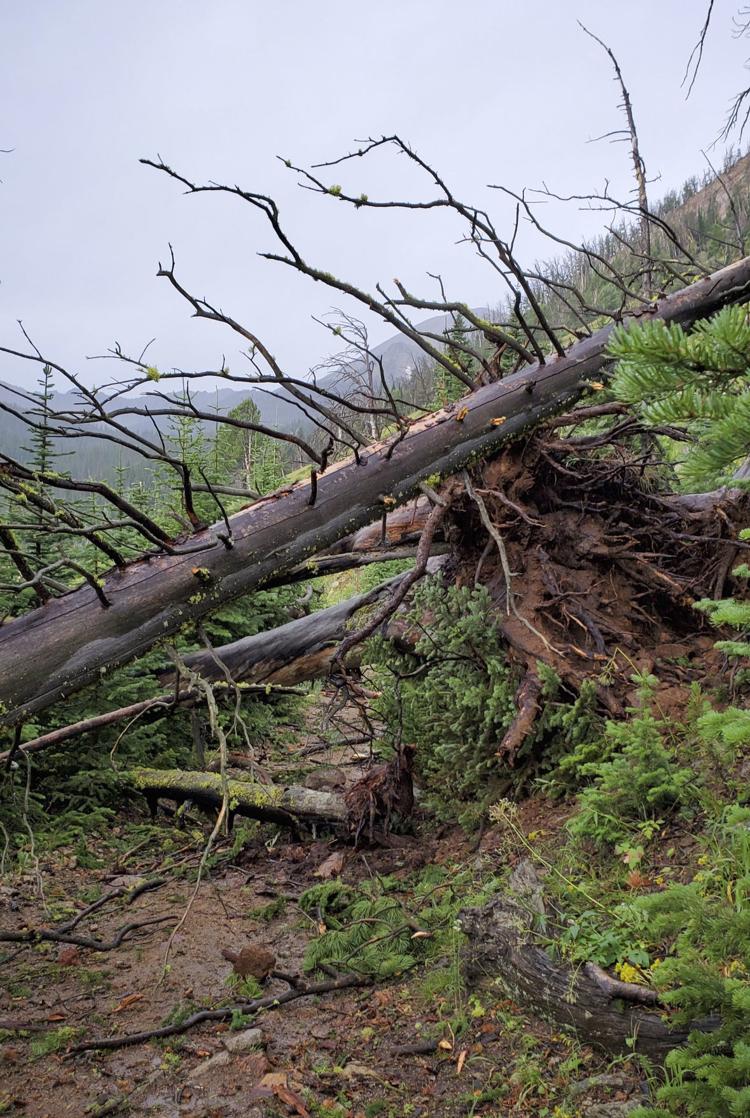 Bill looked up to see a tree roughly a foot in diameter flying through the air like a helicopter blade. He jammed the side-by-side in reverse just as a tree came crashing down.
"It came within feet," Bill said of the tree nearly hitting them. "Trees were falling everywhere, tree tops busting off. It was amazing."
The Bahnys were in the middle of a microburst – a rare weather event fueled by thunderstorms that cause a massive downburst of wind. The intensity of the Aug. 11 microburst was so great that it flattened thousands of trees in the canyon, leaving them strewn like piles of matchsticks 10 feet deep or more in places. The Bahnys were stuck in place, but remarkably uninjured.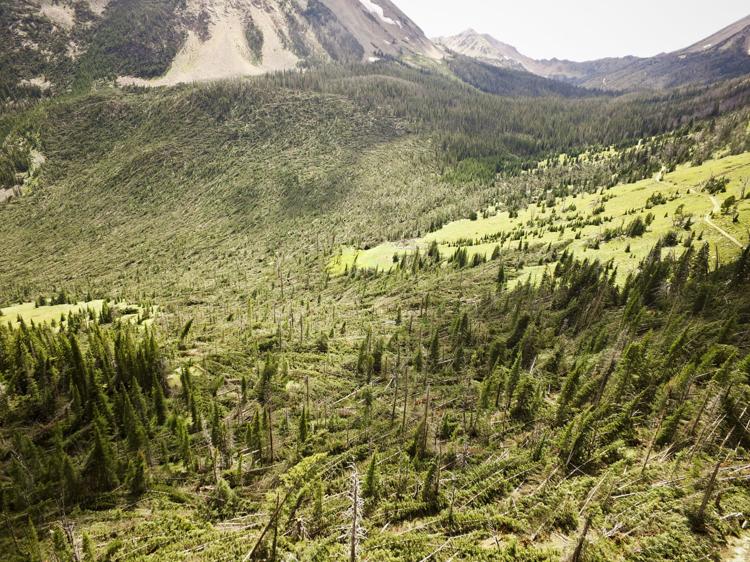 As the Bahnys dodged trees down the trail, Megan and Donnie were caught on the edge of the microburst. As the hail intensified and grew to the size of golf balls and baseballs, they took shelter under a tree about the time the wind hit.
"It's unlike anything I've ever seen in my life," Megan said. "Trees were pulled out of the ground so easily."
Amid the thunder and lightning, Megan recalled hearing an odd crackling noise. When she asked Donnie what it was, he replied that it was the sound of trees snapping off and hitting each other.
"Donnie kept his cool and was using his back to shelter me from the hail, making sure I was OK because I was having a full-blown anxiety attack," she said. "It's like something you see in a movie, then you are there in that moment when that's happening and you're just trying to cling on."
The microburst probably lasted only about three minutes, but both the Bahnys and Megan say it seemed much longer.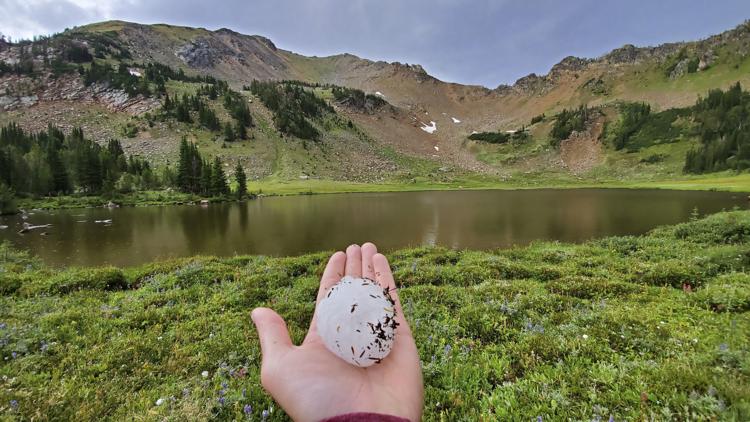 After the storm passed and the relief set in, Megan and Donnie snapped a few photos of themselves with a downed tree and the sizable hail before continuing onto the lake. As they were on the edge of the microburst, they did not fully realize the destruction left down the canyon where the Bahnys remained stuck.
With rain continuing and only prepared for a short day-trip, Megan and Donnie spent about 20 minutes at the lake. As they made their way back, they discovered the Bahnys only a short distance past where they took shelter.
"We could see the south side of the canyon and it looked awful, just trees pushed down in all directions," Megan said.
The Bahnys shared some rain gear and at about 3:30 p.m. decided to make a plan. The vehicles would have to stay and the four of them along with dogs needed to hike out the roughly six miles to the trailhead. As they began the journey they heard a shot ring out. Bill shot back as a signal, and then another was returned in reply, along with some barely audible yelling seeming to come from across the canyon.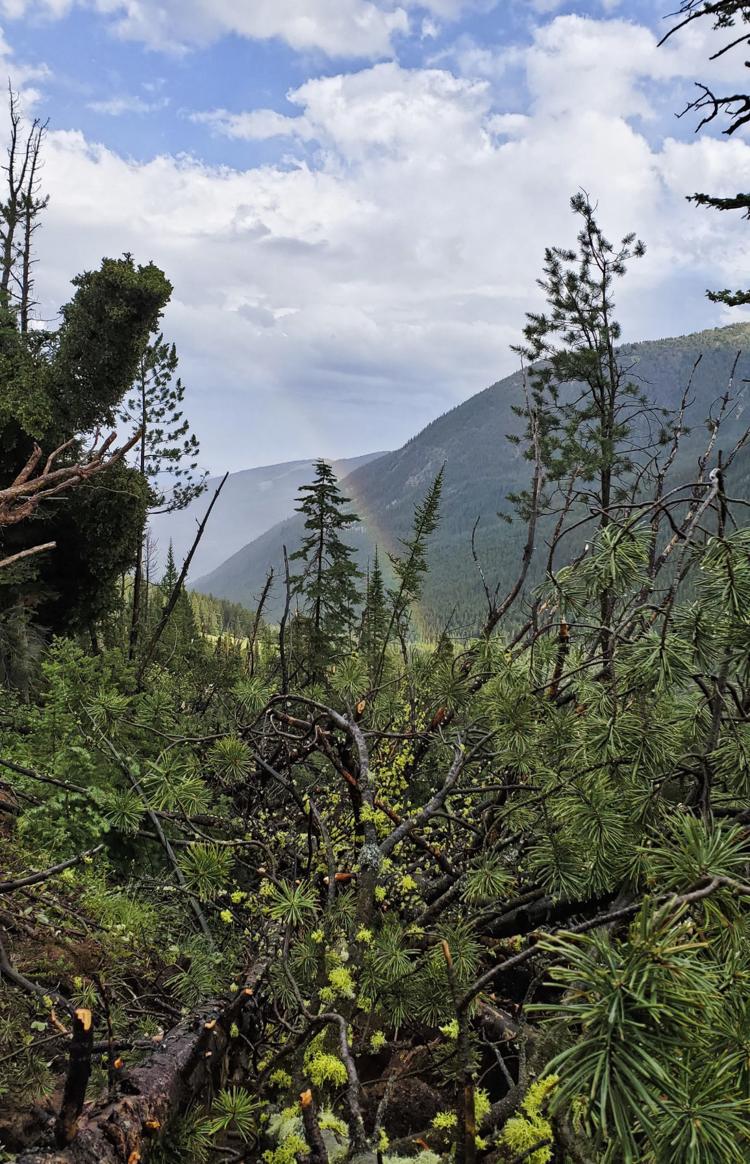 But as they started down they had no idea as to the size of area hit by the microburst. Bill estimates it was a mile long and 2 miles wide.
"We hiked for maybe four or five hours and we just weren't getting anywhere," Megan said. As they tried to negotiate the mess of trees they would have to continually search for new routes, and move people and animals over trunks made slippery from the storm. Despite their rain gear, they were wet and the temperature was dropping.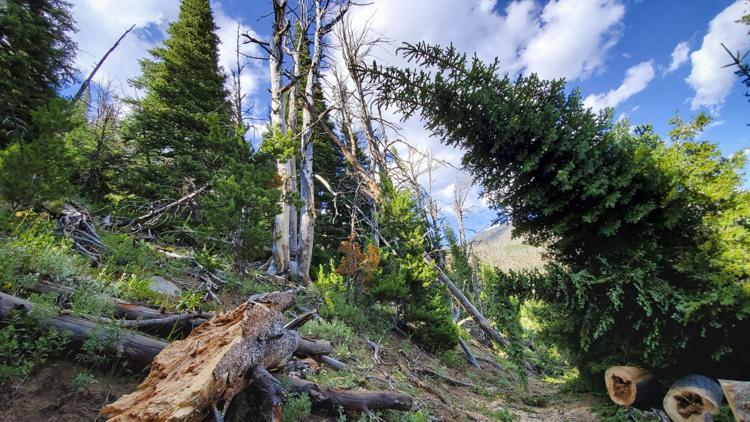 Realizing the situation was becoming dangerous, Megan climbed atop a mass of trees and managed to find a sliver of reception to place a 911 call. Help was on the way, but she says at first it was difficult to convey the severity of the damage and that rescuers could not simply hike to them.
On the advice of the 911 dispatcher, Bill activated his inReach and hit the SOS button. A few minutes later his cellphone rang and he explained the situation. The device would continually transmit their location to rescuers.
As they prepared to wait, they wanted to make a fire but discovered Donnie's lighter had fallen from his pocket. They huddled together for warmth and waited.
Bill said they later learned the temperature was 40 degrees and falling.
"None of us talked about dying but in my mind if they didn't get to us by midnight ... " he said, the rest of his sentence trailing off.
"The mind can be super strong, but when hypothermia starts to set in you can't control how the body reacts," Megan said.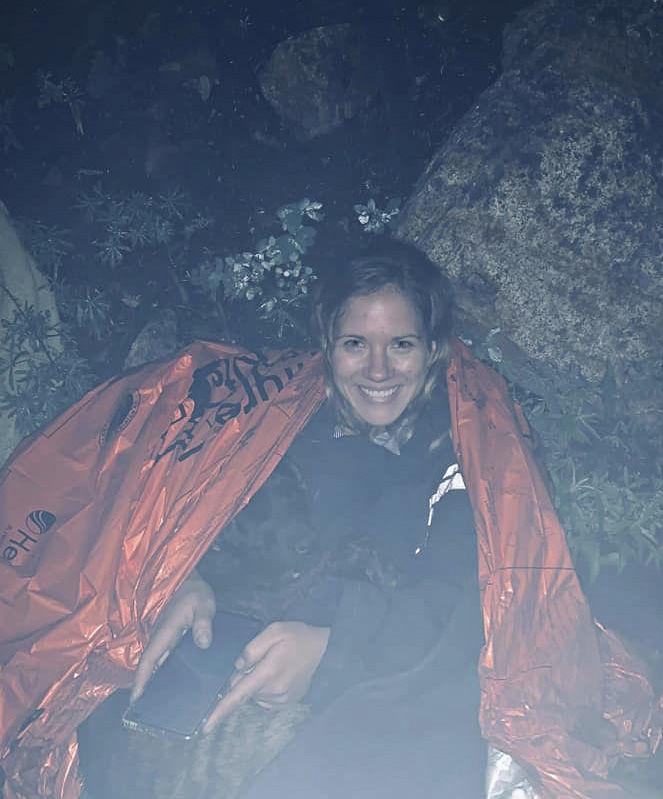 The party sat in silence at times, and at other times they joked through bouts of shivers and exhaustion. Shortly before midnight Megan and Donnie thought they heard a chainsaw, but joked it was probably just Bill snoring. Then they heard a voice yelling.
"Donnie yelled back to find a way to the voice – I was thinking it was another hiker that made their way to our side of the canyon," she said. "I grabbed my cellphone using the last little bit of battery that I had to signal with my flashlight. Then I heard him say 'This is Steve, I'm with search and rescue,' and I started crying."
The first thing Bill recalls hearing from search and rescue was a simple question: "Who had the Garmin inReach?"
A Forest Service sawyer crew "tunneled" a path to the stranded party, and using the continual transmission of the inReach, search and rescue easily located them in the black night and chaos of destroyed trees. Soon a fire blazed away and they warmed themselves with dry blankets and clothes.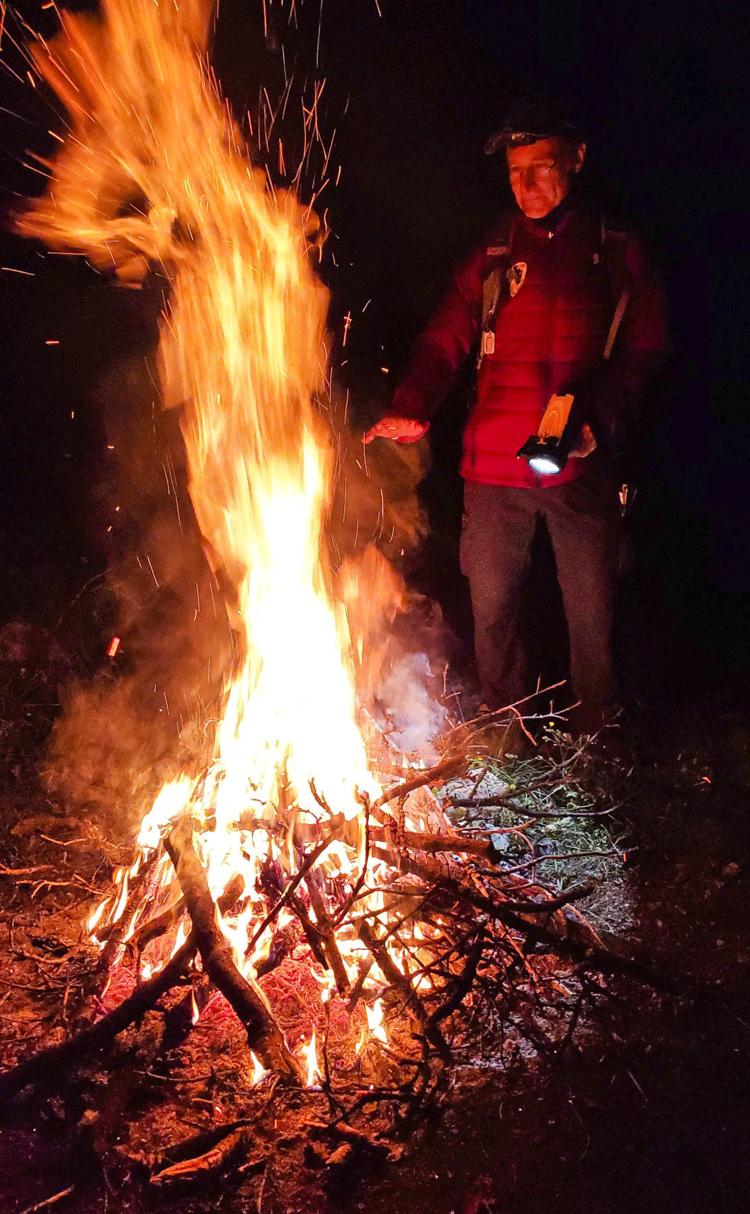 "I mean, how do you thank these people?" Bill said. "The only way I can think is to say 'God bless you and your family.' Especially the sawyer crew because we heard that their crew boss wanted them to quit, but they kept sawing."
Megan says she was stunned to learn that search and rescue is made up of volunteers.
"To me that is absolutely amazing," she said.
As they enjoyed the warmth at about 11 p.m. they heard another faint gunshot. Concerned someone else might still be stuck out in the darkness, the Madison County Sheriff's Office called in two military helicopters to search for heat signals. None were detected.
Madison County Sheriff Phil Fortner says no hikers are unaccounted for and no unaccompanied ATVs or camps were located. He does not believe anyone remains trapped below the mass of blowdown and believes a party from Utah that was in the general area may have accounted for the shooting and yelling.
Megan says the ordeal has deeply affected her. While she is grateful to have survived and to the people who put themselves in harm's way to rescue them, the thought that someone was out there in the darkness calling for help weighs on her.
"It still weighs very heavy on my heart knowing someone else is out there and haven't been found, to think that most likely we were the last people they heard as the person or persons were calling for help," she said.
Both Bill and Megan say they hope those who hear their story take it as a cautionary tale about going into the mountains prepared and with a device like an inReach.
"I'm always going to bring my pack because it has everything in it I could possibly need," Megan said, adding that both she and Donnie have purchased an inReach. "It was a hard lesson to learn the way I did."
"Everybody that goes into the mountains or even just goes fishing, you just don't know what's going to happen," Bill said.
Reporter Tom Kuglin can be reached at 447-4076 @IR_TomKuglin
Be the first to know
Get local news delivered to your inbox!