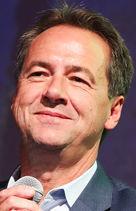 There's no better partner I can ask for in governing than Mike Cooney. I trust Cooney to serve as my lieutenant governor because I know he could step in at any minute and lead Montana with confidence. He's dedicated his career to fighting for hard-working Montanans, and he has the record to show for it. I've seen firsthand how Cooney brings people together to get things done.
In the months leading up to last year's legislative session, our state faced critical issues that would impact Montanans for decades to come. One of those was the reauthorization of Medicaid expansion, and our lieutenant governor worked hard to help that bill reach my desk for signature. Cooney traveled to every corner of the state for months, visiting our most rural hospitals and the folks in those communities to fight for jobs, economic livelihoods and the health care he knows Montanans deserve.
That same access to quality, affordable health care is front and center as our state and country battle COVID-19. At a time when access to care is more important than ever, Montana hasn't lost a single rural hospital because of Medicaid expansion.
Leadership is about making the tough choices, the ones that will ensure our state is prepared for unprecedented challenges that come our way. It is because of this quality of leadership that I'm trusting Mike Cooney with my vote for governor in the Democratic primary election.
I first got to know Cooney when I served as chief legal counsel for him when he served as secretary of state — the first job I held in public service. Cooney instilled in me and all of his colleagues the values and characteristics that are too often absent in today's political environment: the ability to get things done and that in Montana we can still work together, regardless of political party, to fight for meaningful policy that will actually make a difference in people's lives.
Cooney has a proven ability to work with Democrats, Republicans and independents. He greets each day of service with enthusiasm and optimism, and without ego. While bringing folks together across the aisle, Cooney has also demonstrated that he isn't afraid to tackle the tough issues facing Montanans.
As threats to Montana's public lands and access to them have increased over the years, Cooney has been on the forefront of the fight to keep public lands in public hands. As a state legislator and as a member of the state Land Board for 12 years as secretary of state, Cooney has a proven record — and a 100% rating from Montana Conservation Voters — of protecting our clean air and clean water and securing access to our public lands for all Montanans.
As lieutenant governor, Cooney stood side by side with thousands of Montanans packed into our state's Capitol to rally in support of our public lands when politicians in Washington, D.C., threatened to sell them off to the highest bidder. Montanans from all walks of life joined together that day, and you can sure bet that as governor, Cooney will continue to stand with Montanans from all walks of life and veto any attempt to transfer public lands out of public hands.
Mike Cooney knows Montana is a place with values worth protecting and a way of life worth fighting for. It's why he's spent his life fighting for our Montana values. It's why Montanans have trusted him to serve. It's why I trusted him to fight by my side as lieutenant governor. And it's why he'll make a damn good governor.
I hope you'll join me in voting for Mike Cooney.
Steve Bullock is governor of Montana and a Democratic candidate for the U.S. Senate. 
Catch the latest in Opinion
Get opinion pieces, letters and editorials sent directly to your inbox weekly!