As the fall harvest season wraps up and the way that we cook shifts more toward heartier dishes, it's nice to have so many winter squash options. Winter squashes are very high in carotenes, tend to be a low glycemic index food, and are a good source of vitamins C, B6, and fiber, all of which make them a healthy menu choice. I love that squash can lend itself well to just about anything you're in the mood for, from "spaghetti (squash)" to muffins, breads, fritters, and more. With that in mind, I've put together three very different ideas for what to do with them.
As a starter, this basic pumpkin soup is a comforting recipe that adds a little spinach for variety.
Pumpkin Spinach Soup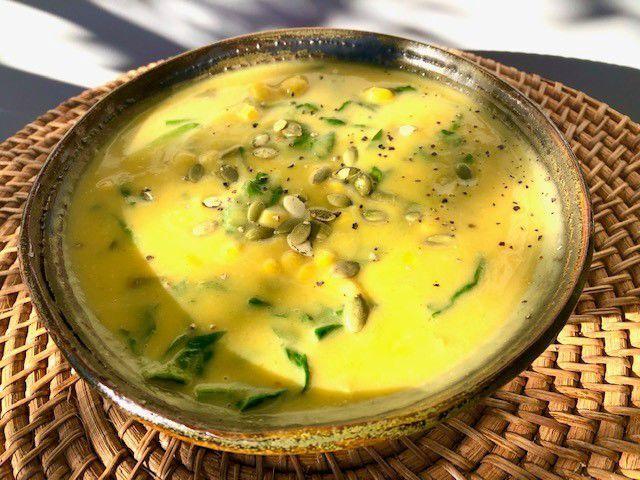 About 3 cups pumpkin puree
To make pumpkin puree, choose a small 3-4 lb pumpkin. 1 lb = about 1 cup of puree, roughly. Cut your pumpkin into 4 pieces and remove the seeds. Bake on a cookie sheet in a preheated 400 degree oven for about 40 minutes until pumpkin is tender when pierced with a fork. Once cool enough to handle, scoop the flesh out, discard the skins, and mash with a fork.
4 cups chicken or veg broth
3 Anaheim pepper, diced small
Toasted seeded pumpkin seeds for garnish
In a soup pot, on medium heat, melt one pat of butter and sauté the Anaheim pepper until they are just softened, about 5 minutes. Remove from the pot and set aside.
Add the second pat of butter and sauté the onion and garlic until just soft, about 5 minutes. Add the broth and bring to a boil. Add the pumpkin, return to a boil, and then reduce the heat to a medium simmer. Cook for about ten minutes. Remove from the heat and puree your soup using either an immersion or traditional blender and then return it to the heat, medium high. Add the nutmeg, salt and pepper. Next, add the corn kernels, the spinach, and the reserved sautéed Anaheim peppers. Reduce the heat to a simmer and cook for about 5 minutes until the spinach has wilted and the corn is just barely tender. Stir in the cream and adjust the seasonings if necessary. Top with toasted pumpkin seeds to garnish.
This soup has a beautiful blend of textures: the smoothness of the puree combined with the added vegetables and the crunch of the toasted pumpkin seeds is very satisfying. In addition to being a wonderful meal unto itself, it would be a lovely starter course for your Thanksgiving menu.
Wild Rice Stuffed Winter Squash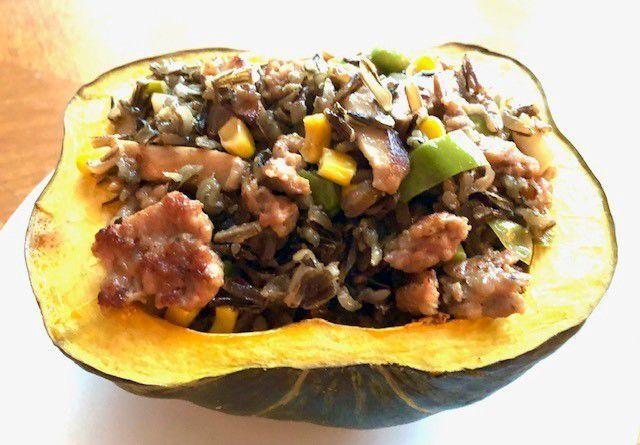 1 ½ cups cooked wild rice
To prepare wild rice, bring rice to a boil in lightly salted water and reduce the heat to a simmer. Cook 30-50 minutes until the grains have split open and the rice is tender. Wild rice cooking time tends to vary depending on how old your rice is, how dry it is, so you really have to start testing it after the first 30 minutes. Once it's tender, drain it and set aside.
2 winter squash: Acorn, Kabocha, Buttercup or other type. I used Bonbon squash this time.
Preheat your oven to 400 F.
Prepare your squash by cutting them in half vertically and removing the seeds and pulp. Put the squash on a cookie sheet and put a couple of tablespoons of water into the cavity of each half. Roast in the oven until tender, about 40 minutes. Remove from oven and drain any remaining water. Reduce the oven heat to 350.
While the squash is baking, prepare your stuffing. In a sauté pan, melt the butter, add the onion, garlic and Anaheim pepper, and sauté over medium heat for about 5 minutes. Add the mushrooms and sauté 5 minutes more. Add the cumin and cayenne and stir to incorporate. Crumble the chorizo into the pan and sauté another 5 minutes or so until the sausage is golden brown. Add the edamame and corn and cook for 4 more minutes. Add the wild rice, stir, and cook until heated through.
Stuff the cavity of each squash with the stuffing and bake them for 15 minutes. As an option, you can sprinkle some grated cheese on the top just before baking, if you like.
Pumpkin Smoothie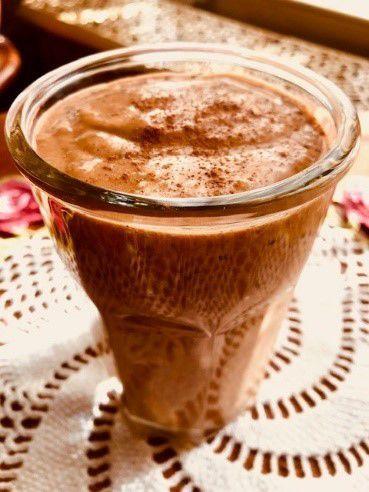 ½ cup milk of your choice: dairy, soy, oat, flax, etc.
2 Tb maple syrup or other sweetener
½ cup almonds or almond butter
1 tsp ground dried ginger
1 scoop vanilla protein powder; I prefer unsweetened but use your favorite
Blend together in a regular or smoothie blender that has a heavy duty blade strong enough to crush the almonds if you are using them. I like the added texture of starting with whole almonds but using almond butter will give you a smoother result and is just as delicious.
This smoothie is thick enough to also make a great smoothie bowl, if you prefer. Just pour your pumpkin smoothie into a bowl and top with your choice of fresh fruits and nuts such as diced apple, sliced banana, blueberries, walnuts, pumpkin seeds, pecans, and/or dried cranberries. A little sprinkle of cinnamon on top is nice as well.
Our Mission at Helena Food Share: Serving our neighbors in need by providing food in a respectful and dignified way and by working with others to eliminate hunger in the greater Helena area.
If you are in need of food and would like more information, or if you would like to make a donation, contact Helena Food Share at: 406-443-3663, or visit our website at www.helenafoodshare.org Donations are currently being generously matched by Town Pump.