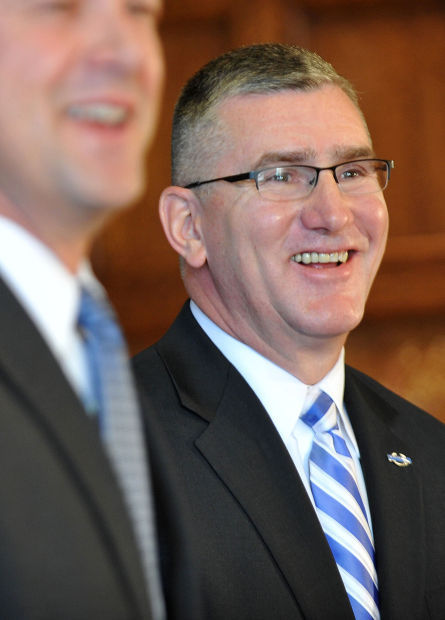 The New York Times reported Wednesday that Montana's newest senator, Democrat John Walsh, plagiarized large portions of his final paper submitted for his 2007 master's degree at the U.S. Army War College.
In a lengthy story by the Times' national political correspondent, Jonathan Martin, the newspaper said at least one-fourth of the 14-page paper had been lifted from other authors' works, without attribution.
The Times reported that Walsh sometimes had used other authors' work almost word-for-word, without crediting them, and sometimes had used their exact words and referenced them by footnote, but didn't place the words in quotation marks.
Walsh, 53, an Iraqi War veteran and former adjutant general of the Montana National Guard, told the Lee Newspapers State Bureau Wednesday that he'd made an "unintentional mistake" on the paper and that "a few mistakes in a term paper should (not) define my career."
"My record is defined by my leadership in the National Guard," he said. "I excelled on the battlefield.
I'm not necessarily an academic. The citations were not done correctly, and I take full responsibility for the paper that I wrote."
Walsh also said that he "was going through a lot of things" when he attended the War College, such as trying to "reintegrate" himself back into his family, country and job after serving in Iraq. Walsh served 11 months in Iraq, returning in late 2005.
He told The Associated Press he was on medication and being treated for post-traumatic stress disorder when he wrote the paper almost two years after returning from Iraq. He said he is still taking antidepressant medication.
Walsh also said a fellow soldier he served with in Iraq committed suicide while he was at the War College.
Walsh, appointed as U.S. senator in February, is running to retain his seat this year against U.S. Rep. Steve Daines, R-Mont., and Libertarian Roger Roots of Livingston. Polls in the race have shown Walsh trailing Daines.
The 14-page paper he wrote for his master's degree in strategic studies is titled "The Case for Democracy as a Long Term National Strategy."
The Times said each of the six recommendations in the paper's conclusion is taken nearly word-for-word, without attribution, from a Carnegie Endowment for International Peace document on the same topic.
The Times also printed Walsh's entire paper online, using color highlights to identify what it said were sections "without attribution" and with "improper attribution."
Montana State University political scientist David Parker said Wednesday the Times article will hurt Walsh's campaign and reputation, because it strikes at his "number one strength," which is that he's an honorable civil servant and military man.
"We now have two things that call this into question," Parker said, referring to the plagiarism charge and stories earlier this year on an official reprimand from the Army in 2010 for using his government email to promote membership in a private group supporting the National Guard. "It just creates this pattern of, at a minimum, sloppiness."
Parker, an assistant professor at MSU, also said if he discovered his own students using verbatim material from other sources in a paper, and not attributing it, the penalty usually is automatic failure.
"His voice is not in there, and that is important to have your own voice in there to make it your own," he said of Walsh's paper. "I nail students for this."
The Times noted that the Army War College's student handbook specifically prohibits copying of a footnoted source without placing quotation marks around the comment, and that plagiarism can lead to disenrollment and rescinding of degrees.
A call late Wednesday to the college's public affairs office in Carlisle, Pa., was not returned.
When asked whether he thought his degree is legitimate, Walsh didn't answer directly, saying that his career won't be defined by "a mistake on a term paper," but rather by his leadership of the Montana National Guard and of 700 men and women in Iraq.
"I'm not concerned about the New York Times story," he said.
Walsh said the race for the U.S. Senate between him and Daines is not about a "seven-year-old term paper," but about creating jobs and protecting senior citizens, the vulnerable and women's health choices.
Walsh was head of the Montana National Guard in 2012 when Democratic gubernatorial candidate Steve Bullock picked him as a running mate for lieutenant governor. The pair won a close victory in the 2012 election, taking office in January 2013.
Bullock also appointed Walsh as U.S. senator in February, to fill out the term of U.S. Sen. Max Baucus, who resigned to become U.S. ambassador to China.
Bullock said Wednesday that he "had no prior knowledge of the issues raised in today's New York Times."
"Senator Walsh has a long history of fighting for Montanans, both at home and in combat — he deserves respect for his courage on our behalf," Bullock said in a statement.