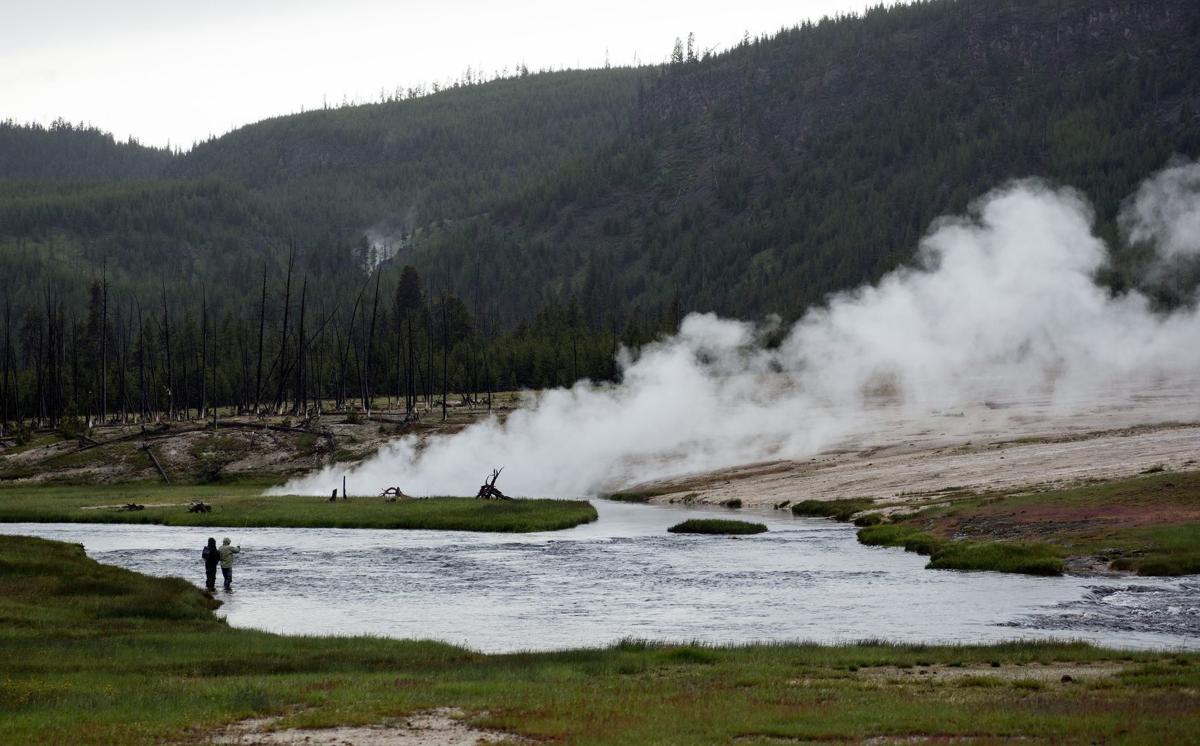 July visitation to Yellowstone National Park dropped by 4,500 people compared to last year, a barely noticeable 0.48% decrease.
The middle of the summer is the most popular for visitation to the park that straddles portions of Wyoming, Montana, and Idaho, topping out at more than 995,000 in 2016. 
This July saw 936,062 recreation visits compared to 940,563 last year. So far in 2019 the park has tallied 2,294,690 visits, down 1.19% from the same period last year.
While there is always speculation about why park numbers fluctuate, it's interesting to note that in July the total number of overnight stays in Yellowstone had dropped by almost 4% compared to last year.
That could be due to the closure of Fishing Bridge RV Park for upgrades and 66 Lake Lodge cabins that were scheduled for renovation, which has been delayed, according to Rick Hoeninghausen, director of sales and marketing for Xanterra Parks and Resorts in Yellowstone.
The cabins have reopened at a reduced rate and the renovation pushed back to next summer, Hoeninghausen said. The Fishing Bridge RV Park will begin opening gradually next spring. By this time last year the RV park alone had hosted more than 56,000 visitors.
The Mammoth Hotel has also been undergoing renovations and was therefore unavailable to travelers, but it is scheduled to reopen for fall visitors.
You have free articles remaining.
The drop in available lodging in the park may explain why the West Entrance at West Yellowstone saw a slight increase. West Yellowstone has a wide variety of lodging options close to the park. It doesn't explain, however, why the Northeast Entrance near Cooke City saw a 15% increase in visits, the biggest jump in the park.
Even backcountry visits dropped this year, possibly due to a colder, wetter summer. Overnight stays that require permits for backpackers and horsepackers are down about 5% from last year.
Interestingly, tent campers at Mammoth Hot Springs' frontcountry campground is up by almost 50% over 2018 and up more than 60% at Slough Creek.
The list below shows the trend over the last five years. Year-to-date visitation in 2019 is slightly higher than five years ago in 2015.
Year-to-date recreation visits (through July):
2019: 2,294,690
2018: 2,322,270
2017: 2,316,542
2016: 2,427,988
2015: 2,279,557
The continued high level of visitation in the park underscores the importance of planning a Yellowstone adventure ahead of time. Visitors should anticipate delays or limited parking at popular destinations and check road conditions on the park's website before they arrive.
More data on park visitation, including how these numbers are calculated, is available on the NPS Stats website.