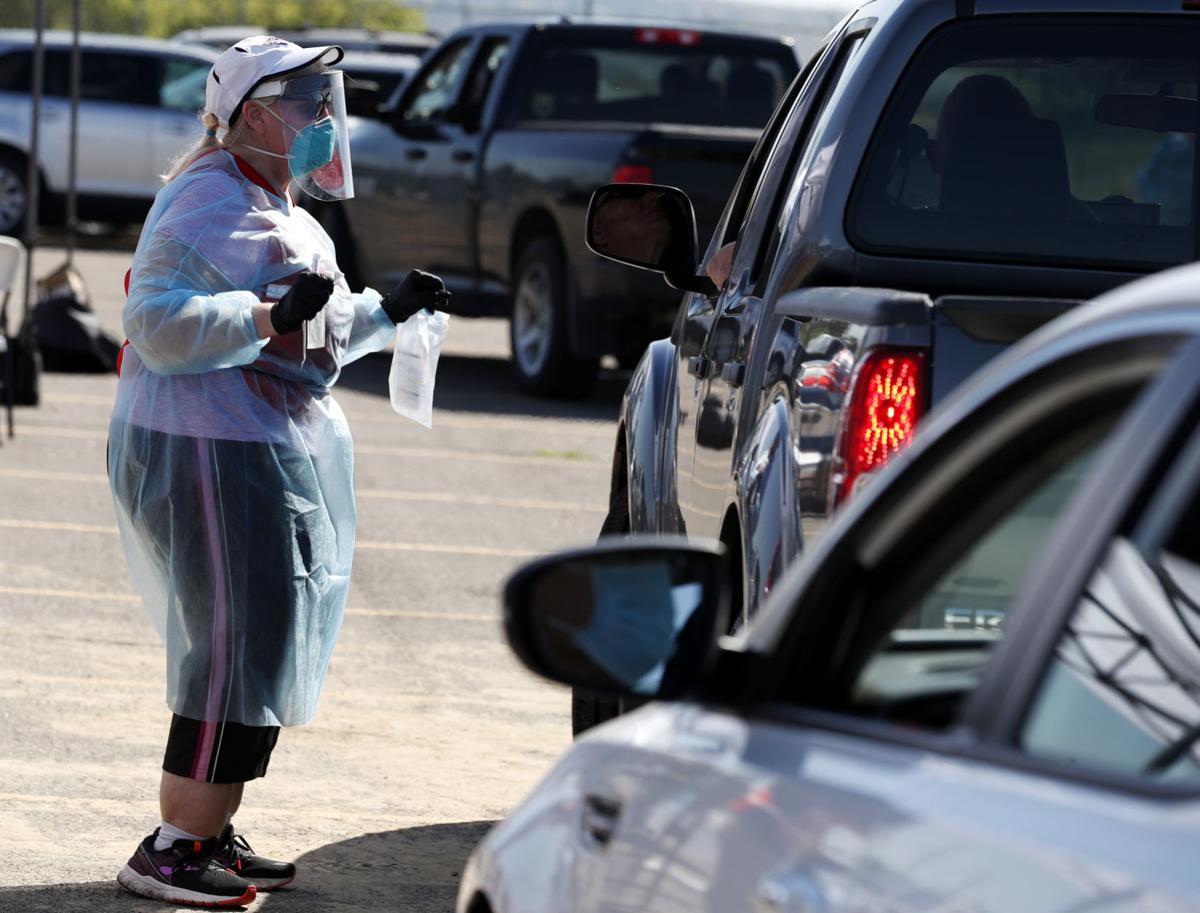 Another Yellowstone County resident has died due to COVID-19, with Big Horn County reporting four deaths in 24 hours.
RiverStone Health, Yellowstone County's public health department, confirmed that a woman in her 80s died at a Yellowstone County hospital on July 26. As of Friday morning in the county, there were 39 new cases, 605 active cases, and 26 deaths recorded.
Big Horn County reported its ninth death due to COVID-19 Thursday evening. The woman in her 70s who was hospitalized prior to her death represents the fourth death in the county in a day, according to county public information officer, Rhonda Johnson. Eight new cases were reported in the county Thursday and 11 new cases were reported Friday morning. There are 196 active cases.
This is the first time Big Horn County has experienced four deaths in 24 hours, Johnson said. The four deaths are two men in their 60s and two women in their 70s. Two of the patients were hospitalized at the time of death, while the other two were not, Johnson said.
"The four deaths were very shocking," Johnson said.
The Big Horn County Public Health Department has been partnering with multiple organizations in the county and on the Crow and Northern Cheyenne reservations to combat and monitor the spread of the virus, Johnson said. Parts of both tribal nations reside in Big Horn County.
The health department brought on four retired nurses in June to assist with contact tracing, but keeping up with the cases has been overwhelming, she said. Public health nurses employed by the county health department and Indian Health Services have been working together to test symptomatic individuals.
"This isn't a reservation problem. It's not a Hardin problem. It's everywhere," Johnson said.
Of the eight new cases in Big Horn County reported Thursday night, six patients were tested due to contact with previously confirmed positive patients and were asymptomatic when tested. Two contracted the virus through community spread.
The county instituted its own mask mandate in late June, before Gov. Steve Bullock issued the statewide mask mandate on July 15. Johnson said that it's important to take the preventative measures. If the county had to, public health could roll back phased reopening guidelines and return to essential business operations or a shelter-in-place order.
"Everyone is working a lot of overtime," she said.
The Northern Cheyenne and Crow tribes have implemented stay-at-home orders that were still in effect Friday, however the order issued by the Northern Cheyenne was set to expire Friday unless a new order extends it.
The Crow Tribe stay-at-home order was extended to Aug. 31. The order was first issued on March 28.
Crow tribal leadership implemented a mask requirement for the reservation on June 26 and canceled the annual Crow Fair on the Crow Indian Reservation, which lies mostly in Big Horn County.
The order allows only essential services and businesses to remain open and requires that they follow social distancing guidelines. It also prohibits all public and private gatherings of any number of people occurring outside a household or place of residence.
On Wednesday, the tribe closed the Edison Real Bird Rodeo Complex to the public to "prevent future Indian Relay races from occurring and to prevent large social gatherings in the best interest of the community at-large," according to a post on the Crow Incident Response Center Facebook page.
On July 28, the tribe reported another death of a Crow tribal member, bringing the total to six, according to a post on the Incident Response Facebook page. In late June, an epidemiological analysis found that 15% of the cases in Montana are among Native Americans, a demographic that makes up about 7% of the state's population.
The Northern Cheyenne Tribe first issued a stay-at-home order on March 28 as well. The order that is set to expire today discontinued the mandatory curfew from 10 p.m. to 6 a.m. for adults on the reservation, however it remains in effect for those under the age of 18. The order restricts travel to COVID-19 "hot spots" in Montana, requested only absolutely necessary visits with Northern Cheyenne elders, and restricts gathering sizes.
Be the first to know
Get local news delivered to your inbox!