Yellowstone National Park bear jams quickly draw crowds of tourists excitedly exiting their cars with cellphones or digital cameras to take a photo. Almost everyone has a camera of some sort, even many children.
Visitors may leave Yellowstone with hundreds or even a thousand digital images from their visit. So it may be hard to believe that 135 years ago park visitors relied on a handful of professional photographers to provide them with single, generic images in the form of postcards. Before color film, those images may be hand tinted.
In 1884 that photographer was Frank J. Haynes. He opened a studio at Mammoth Hot Springs, just inside what is now the North Entrance to the park. That was a year before the U.S. Army arrived to police the park and protect wildlife from poachers.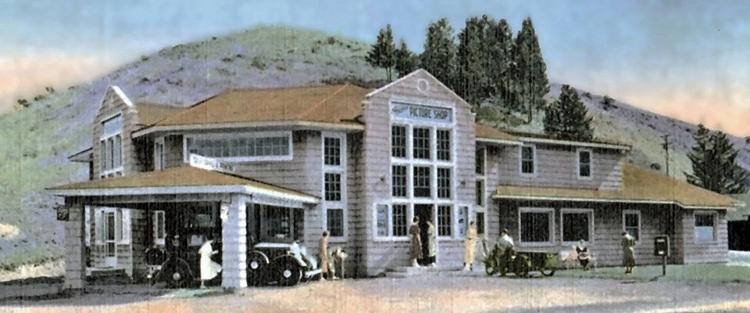 Photo stores
Haynes and later his youngest son, Jack, became synonymous with Yellowstone photography. Under Jack's leadership the company incorporated in 1924 and grew to 17 Haynes Picture Shops spread across the park.
"The shops provided an unexpected luxury," according to a story by Paradise Valley writer Jennifer White: "At the end of the business day, four to five men on motorcycles would take off, collect film dropped off by visitors at the various Haynes Picture Shops, and deliver it to their development shop at Old Faithful. The riders would sleep the night and by 6 a.m., they'd be buzzing along the roads of Yellowstone Park once again, delivering the photos to each shop before they opened."
It's hard to imagine in this age of instant photo acquisition, along with the ability to share it with friends around the world immediately, that one-night film processing was a big deal.
The shops also sold "cameras, lenses, photos, postcards, film, and visitor information," White wrote, in addition to the "handy 'Haynes Guide to Yellowstone,' which they updated and published 61 times between 1890 and 1964."
One of those early photo shops can still be found at Old Faithful — the Yellowstone Art & Photography Center. Another is located at Mammoth Hot Springs, just across the road from what had once been the U.S. Army's parade grounds. That's where Jack Haynes hired Butte architect Fred Willson to design a picture shop that was built between 1928 and 1929.
Updated
In collaboration with the National Park Service, Xanterra Parks & Resorts agreed to leave its offices and call center in the Mammoth Hotel as part of that historic building's renovation. To house its reservation and administrative staff, Xanterra decided to renovate the old Haynes Pictures Shop at Mammoth, which had been relatively unused since 1999.
"It was in pretty rough shape, needless to say," said Rick Hoeninghausen, director of sales and marketing for Xanterra.
You have free articles remaining.
In 2015 and 2016, construction crews tore the interior walls down to the old studs, reinsulated the walls with highly compactible plant-based cellulose insulation and made numerous other modifications to make the building energy efficient.
"We kept some of the historical integrity of the building," said Dylan Hoffman, Xanterra's director of sustainability.
"If we had scraped and replaced it, it would have a completely different soul," he said.
The renovation also "installed low-flow plumbing, LED lighting, and a new HVAC system, all while keeping 78 percent of the original interior elements and diverting 80 percent of the construction waste," White wrote. "Thirty-one percent of the materials purchased for the project were locally produced, including the recycled concrete countertops made of fly ash and recycled glass by a Livingston, Montana, company. The exterior includes a new electrical vehicle charging station, native grass vegetation, and zero irrigation."
"It improved the efficiency of the building tremendously over what it was," Hoffman said.
The building is now 40% more efficient than a conventionally built facility, he added, saving about 75,000 kilowatt hours of electricity a year.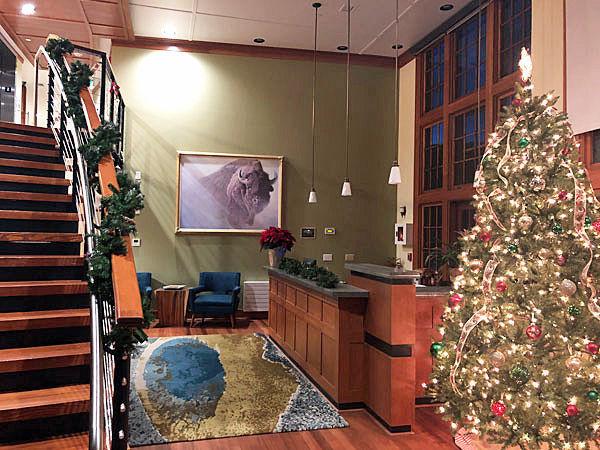 Holes
Part of the modification included digging in the basement to improve the foundation. Just across from the building are large caverns in the earth that have been fenced off.
Because of Mammoth Hot Springs, travertine rock (calcium carbonate) created by the mineral-rich water underlies the entire hillside. Where the travertine has eroded, large or small caverns may appear. That's why when digging in the area, the National Park Service requires Xanterra to report any holes larger than a basketball. On this project, the contractors never hit any holes.
Steaming water from the hot springs also prompts new Xanterra employees to ask why the company doesn't tap into that geothermal source of heat to warm its buildings. Hoffman said if the company did that, and anything happened to a natural feature like Mammoth Hot Springs or Old Faithful geyser, the business would never live that down.
Even without geothermal heat, the result of the old photo shop's rebuild is a "green" facility that meets the Leadership in Energy and Environmental Design, or LEED, Gold certification — the ninth such LEED project completed by Xanterra in Yellowstone.
"We're not only giving the building a new life, it will be a long life," Hoeninghausen said.