Ready with a speaker system and bright pink signs, a group protesting Vice President Mike Pence's stance on abortion gathered outside of RiverStone Health Clinic as he arrived at the facility on Wednesday.
Planning to speak on combating illegal drugs and substance abuse, Vice President Pence was met by a group led by Planned Parenthood President and CEO Martha Stahl to protest the Trump Administration's recent revisions to Title X along with Steve Daines' lack of public appearances meeting with public constituents.
"This is about protecting the reproductive rights for everyone in Montana," Stahl said. "Mike Pence and Steve Daines don't need to be involved with a patient's decision with their doctor."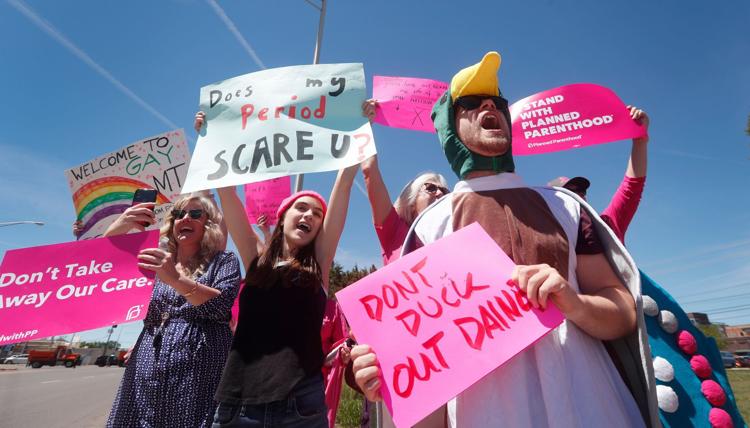 A group of 20-30 people stood on the corner of South 26th Street and First Avenue South holding signs with phrases such as "My Body. My Choice." and "Don't Duck Out Daines" while chanting upon Pence's arrival. Chants included, "Protect X," and, "Abortion is health care."
The proposed ruling would introduce physical and financial separations between Title X projects and facilities that provide abortions as part of a family plan such as Planned Parenthood. Referrals for abortions would also be prohibited as a method of family planning.
Protesters said this prevents lower-income citizens from being able to have an abortion and is part of a political attempt to reduce the rate of abortion in the country.
Protester Mary Ann Weber argued that defunding Title X programs would lead only to depriving reproductive care from people who need it.
"Abortions aren't going to end," she said. "It's about only providing abortions to the rich."
Protesters began gathering as early as 10:45 a.m. and remained chanting until 12:30 p.m. when Pence entered the building.
Pence is scheduled to visit Yellowstone National Park on Thursday with Interior Secretary David Bernhardt to address rebuilding National Park Service infrastructure.