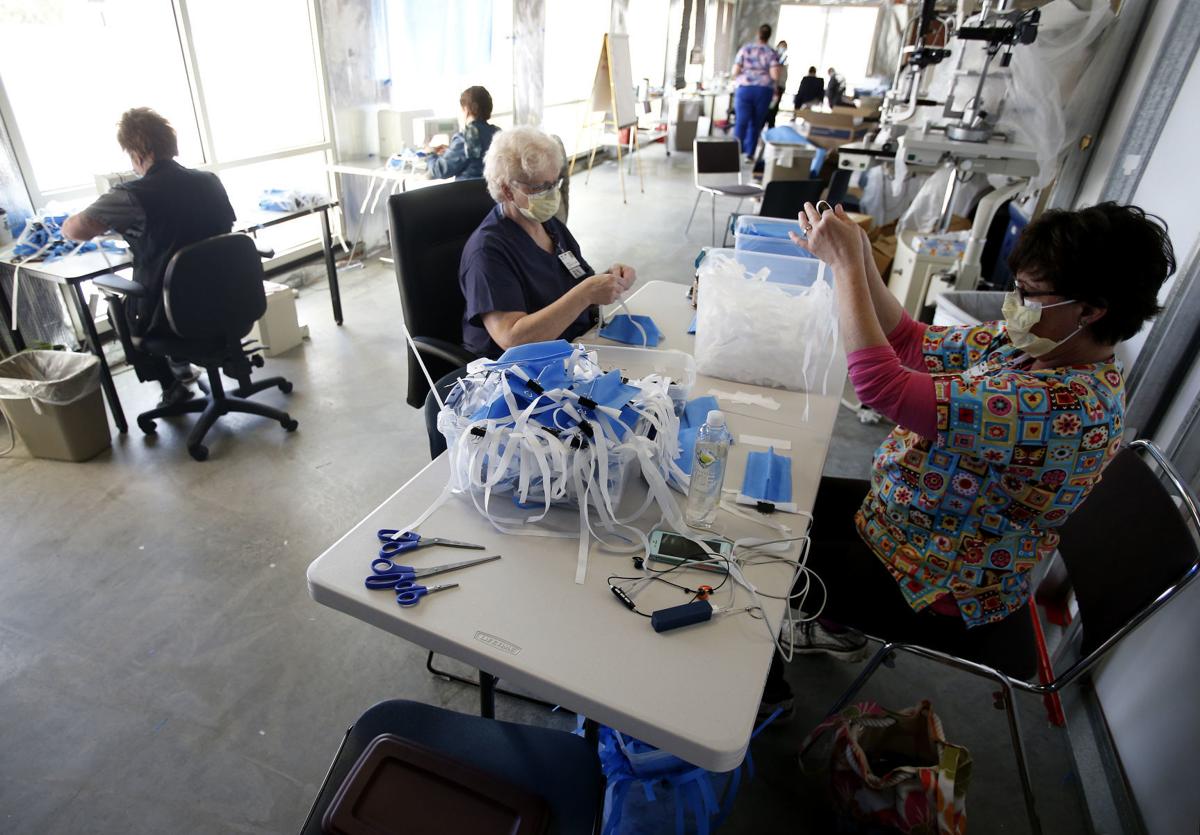 Instead of furloughs and layoffs, Billings Clinic and St. Vincent Healthcare are reassigning staff to work in production lines making masks and other supplies for hospital use and for other organizations responding to the pandemic.
The production line located in the Billings Clinic Cancer Center has more than 80 employees contributing their time sewing and assembling a variety of face masks and producing isolation gowns. As the novel coronavirus has spread, personal protective equipment is in short supply for many hospitals in Montana.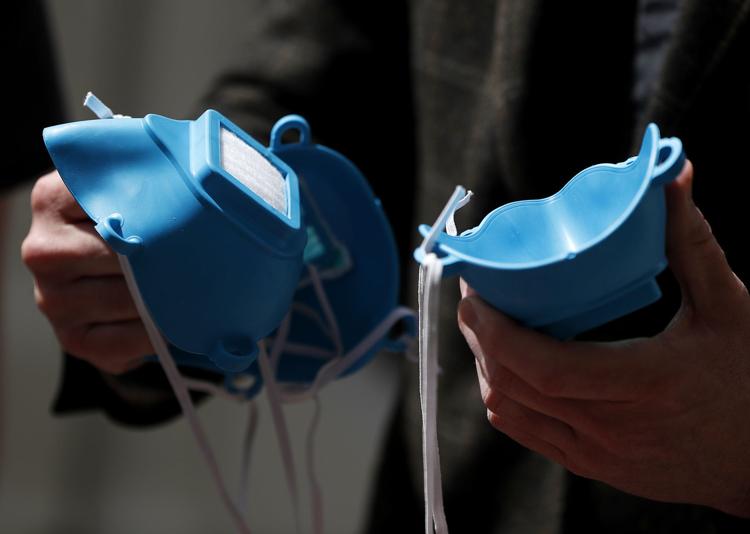 As production has increased during the past few weeks, Billings Clinic has been able to ship masks to other health care organizations and donated more than a thousand injection mold masks to Billings first responders and Yellowstone County Disaster and Emergency Services.
"What we've done is we've reassigned staff that maybe were slow in their normal work and they're up helping us keep current with all of these production efforts, and it's been an incredible coming-together of our staff, our community, and our donors," said Jim Duncan, president of the Billings Clinic Foundation. 
Dubbed the Montana Mask, the 3D printed masks made a jump to injection mold production in March and were crafted by the Bozeman company Spark R&D; college graduate Colton Zaugg and his father Spencer Zaugg; and Dr. Dusty Richardson, a neurosurgeon at Billings Clinic.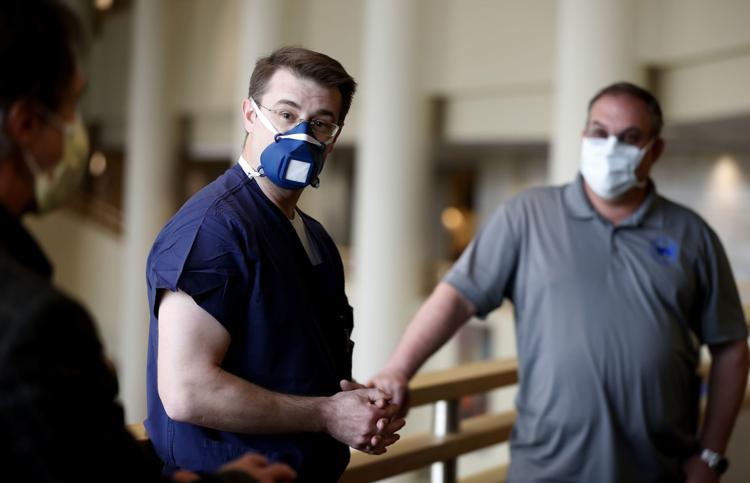 A shareable open-source software file has been downloaded or shared in 148 countries across six continents, and has been used by organizations in Billings. Billings School District 2, the Billings Public Library, Montana State University Billings, Rocky Mountain College and others are now printing their own masks, which are assembled with filters, straps and padding at Billings Clinic.
Spark R&D and Billings Flying Service, Inc. have molded thousands of masks that are also assembled at Billings Clinic.
Donations to the Billings Clinic Foundation's COVID-19 Innovation Fund have made the production line possible by purchasing needed supplies and paying businesses for their services.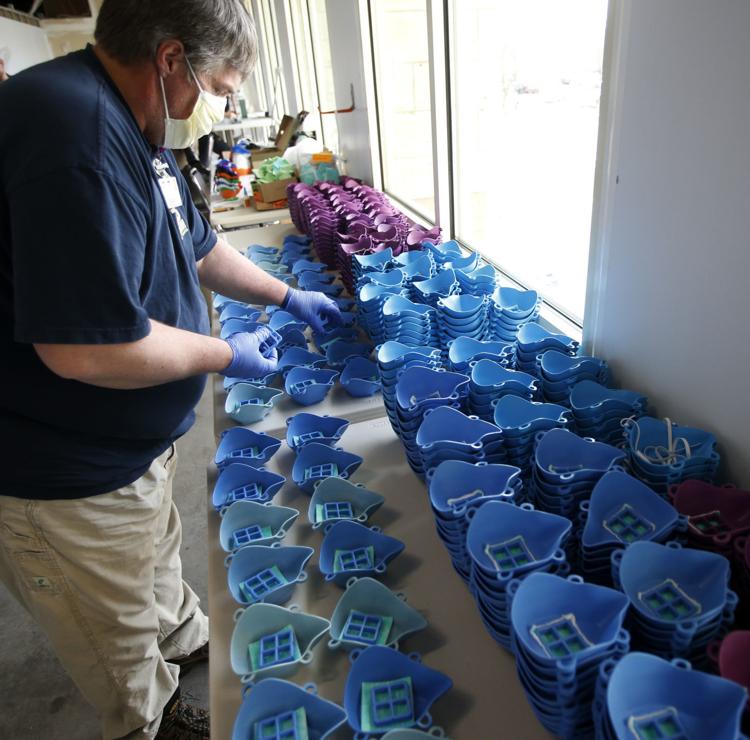 Along with the 3D printed and injection mold masks, Dr. Phillip Key, an ear, nose and throat specialist with Billings Clinic, also stepped up to design a washable and reusable cloth mask.
"Now, we have thousands of these masks out there in production," said Scott Ellner, CEO of Billings Clinic. "We're giving them away to first responders and we've had requests from all over the country to ship the masks to places that have been really hard hit and can't meet supply needs."
The cloth masks are sewn on-site with machines donated by Bernina Sewing Center and were designed by Key with a double layer of tightly woven cotton and a wire that allows the mask to fit securely around the nose. A pocket also allows for filter placement. These masks can be used by employees and other individuals who don't work in patient care and can be given out to visitors. Synthetic face masks made with sterile drape material are also being made at Billings Clinic for employees.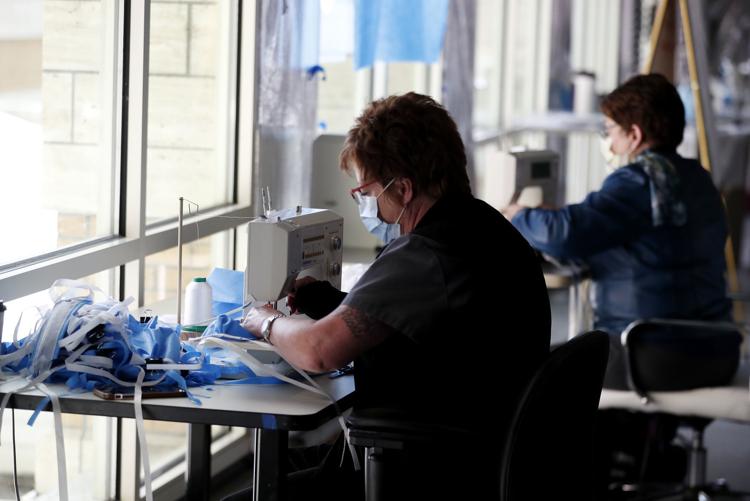 About 19,200 3D printed and injection molded masks have been made on the production line so far, while about 400 cloth masks are made daily. In total, 12 regional critical access hospitals in Montana and Wyoming have received about 5,600 masks, and more will be sent out, according to Duncan.
St. Vincent Healthcare is also producing its own masks on-campus at the 5 Allard East Department, where about 20 health care workers are sewing, cutting and packaging them to send out to other groups.
About 1,200 have been given to the Yellowstone County Detention Facility and over 400 have been shared with the homeless. About 120 St. Vincent Healthcare associates have helped make the masks, according to Dustin Strandell, St. Vincent Healthcare senior director of service lines.
The masks are made with a surgical wrap used to wrap sterile instrument pans in operating rooms. The material is impermeable, so it's more effective in filtering out droplets in the air than other types of cloth. About 2,000 masks are produced each day, and close to 30,000 masks have been made since mid-March.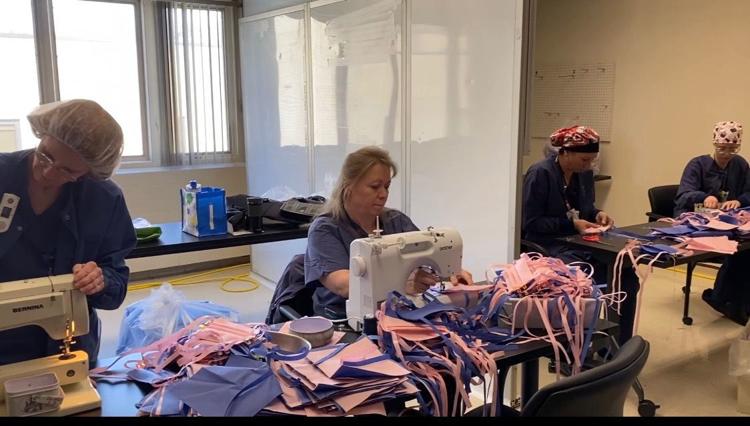 Over 700 masks are used each day at St. Vincent Healthcare, and many have been shared with the Yellowstone Surgery Center, RiverStone Health and other organizations. St. Vincent also has several hundred 3D printed masks to use, but have not been used yet since the hospital has an adequate supply of surgical and N-95 masks.
"The innovative spirit, collaboration and dedication of our caregivers and associates at St. Vincent Healthcare, especially during this COVID-19 pandemic, inspire me every single day," Strandell said. "This mask-making initiative is all about keeping our associates and our community safe. While these masks are not used with COVID-19 patients or for surgical purposes, they are used for routine clinical care and allow us to conserve our specialized mask supply."
Isolation gowns are also in short supply for many hospitals, which are used for COVID-19 patients when they enter treatment. Bozeman-based Simms Fishing and Red Ants Pants out of White Sulphur Springs began making washable and reusable gowns for hospital use. Billings Clinic Foundation dollars are also paying for the expense in producing the gowns, Duncan said.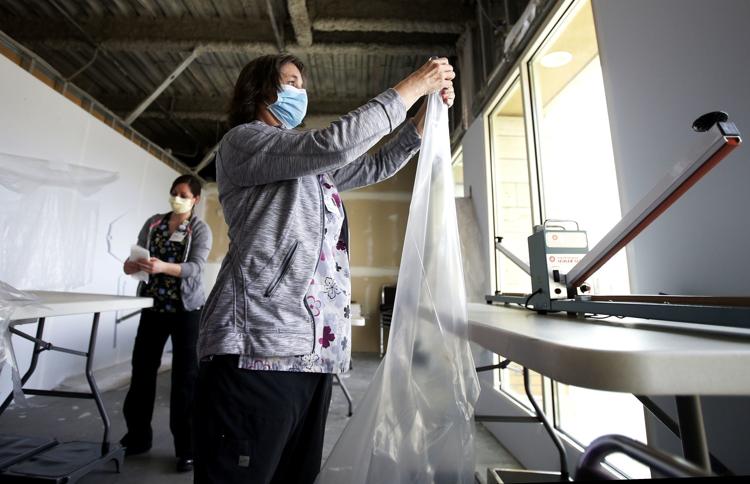 Isolation gowns can also be mass produced at Billings Clinic using special equipment. About 1,000 gowns have been made on-site, and 250 are produced daily. Billings Clinic also has 1,700 of the reusable gowns made by Simms Fishing and Red Ants Pants in production.
"Frankly, we haven't been in the clinics like we historically have been — we're not doing elective surgeries — and people have shifted in order to work on this project, and they've done an amazing job," Ellner said.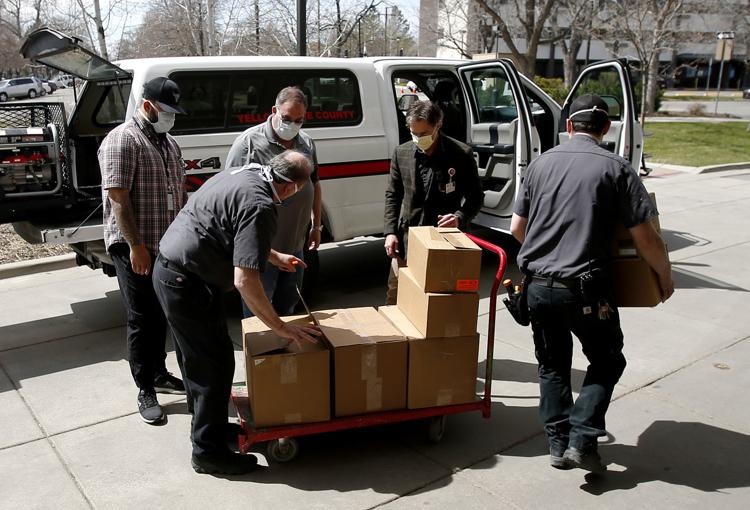 Duncan said the production line will continue as commercially produced personal protective equipment catches up with demand. Key noted that masks and gowns will be needed for a while.
"The virus isn't going away," Key said. "... the use of the masks during the summer coming into the fall and next winter is going to be as important as ever. Even though we have this leveling of the curve at the present time, it's going to be very important that we keep the public aware that the masks are going to serve an important purpose."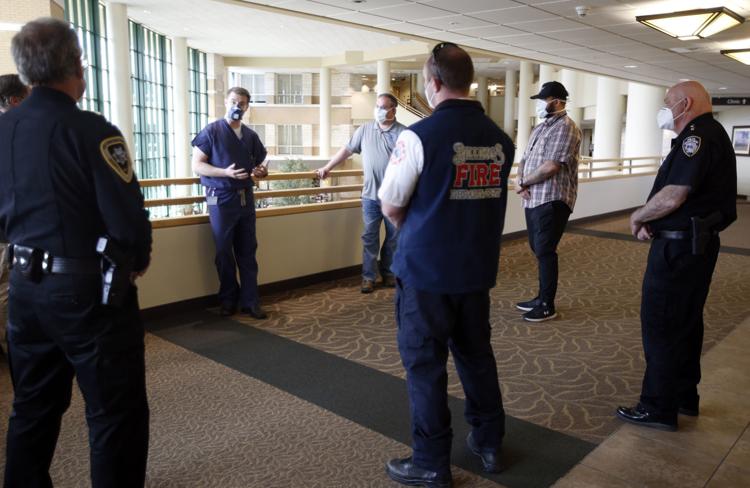 Donations are being accepted to help with COVID-19 related expenses at St. Vincent Healthcare. Donors can give by calling the St. Vincent Healthcare Foundation at 406-237-3600 or visiting www.sclhealth.org or the foundation's website.
About $215,000 has been raised for the Billings Clinic Foundation's fund, and more donations are needed to keep up with production needs. Donations can be sent through the foundations website at www.billingsclinicfoundation.com.
"Billings Clinic ingenuity has been alive and well during this pandemic," Duncan said.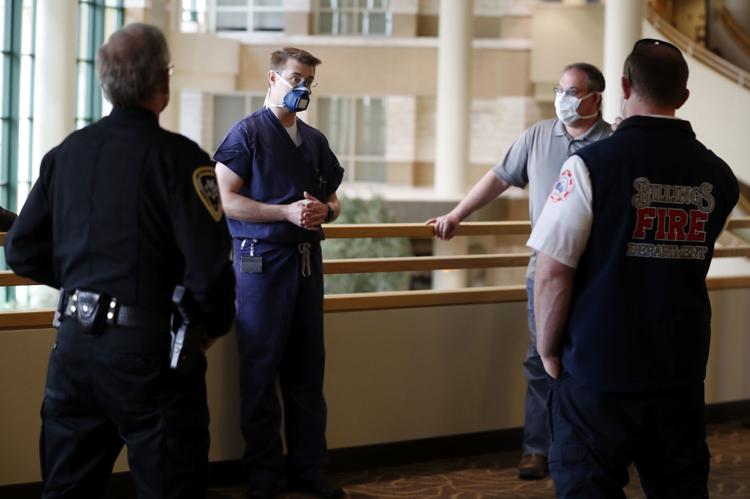 Concerned about COVID-19?
Sign up now to get the most recent coronavirus headlines and other important local and national news sent to your email inbox daily.