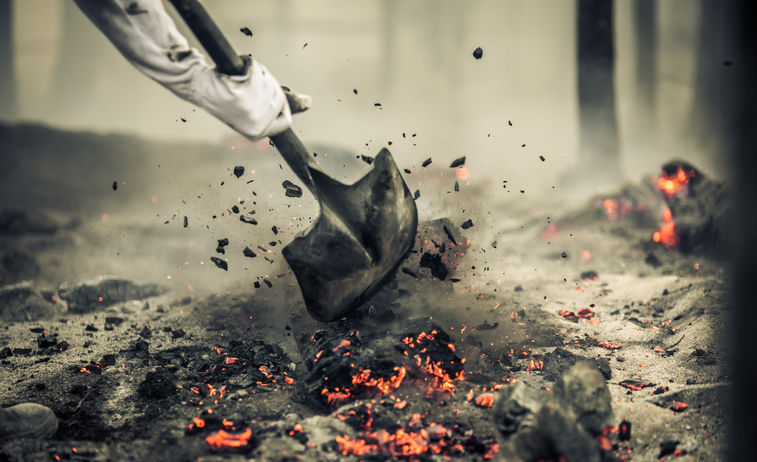 They'll delay the inevitable no longer.
For the third time in four hot summers, fire danger has ticked up to its highest level of Extreme and most of western Montana will go under Stage II fire restrictions at 12:01 a.m. Friday.
Chris "CJ" Johnson of the Lolo National Forest, who's the fire management coordinator for the Missoula area, was waiting Tuesday evening on confirmation from a few of a dozen or so local, state and federal entities to make the formal announcement.
"I can tell you that a great number of large land management agencies and counties in the Missoula area will be going into Stage II," Johnson said. "When people wake up Friday morning they'll be in Stage II conditions."
That means no open fires of any kind anywhere, whether you're on public land or in your own backyard. In general you can't smoke outside your home or car, and you shouldn't be detonating explosives or fireworks.
"It's kind of a headache to go to Stage II, but I think we need it," said C.T. Camel of the Confederated Salish and Kootenai Tribes. "It's going to be hot and dry for the next week."
Since July 1, the National Weather Service at Missoula has recorded .02 of an inch of precipitation on July 3 and traces on three other days. It's forecasting highs near 95, 99 and 101 on Wednesday, Thursday and Friday. A heat advisory is in effect on those days from northwestern Montana into the Bitterroot Valley.
A dry cold front pushing through the Northern Rockies Friday night through Saturday will break down the ridge of high pressure. Gusty winds and cooler temperatures are expected, but little or no precipitation.
"With regional weather patterns and fire conditions deteriorating daily, we feel that in the best interest of public safety this move to Stage II restrictions is warranted," Missoula fire Chief Jeff Brandt said Tuesday.
Brandt and Mayor John Engen decided to join others in levying Stage II restrictions on city open space and conservation lands. 
"Further restrictions may involve closures of public lands, but most likely will be recreational 'hoot owl' closures beginning in the afternoons," a press release from the city said.
Missoula County commissioners are scheduled to sign an emergency proclamation implementing Stage II fire restrictions on private property in the county at their administrative meeting Thursday morning.
Johnson said emergency responders at all levels of government have been plagued by unattended campfires this fire season. 
"Several wildfires have ignited and spread quickly through cured grass in the last two weeks as we've come into Very High or Extreme fire danger," he said. 
Besides campfires and smoking, Stage II restrictions address other activities that can spark wildfires in the heat of the day. Those include off-road driving and the use of tools that can cause sparks and flames. A full set of restrictions can be found at firerestrictions.us/mt.
Two 500-acre wildfires continue to burn in western Montana.
The Garden Creek fire north of Hot Springs had grown to 524 acres, up from the 500 Saturday after a smoke inversion cleared.
It's being managed by a local Type 3 Incident Management Team that was directing burnout operations on the south perimeter Tuesday to help secure control lines. All but 50 acres are burning on the Flathead Indian Reservation. The rest is on Lolo National Forest land.
Firefighters from the Confederated Salish and Kootenai Tribes are among the 165 personnel on the Garden City fire and have been since it started by lightning on July 29. An estimated containment date has been set at Aug. 25. Some $800,000 had been spent on the fire as of Monday, according to the National Interagency Fire Center in Boise.
The Tenmile fire 19 miles south of Eureka had grown another 100 acres to 531 by Monday night. An infrared flight was scheduled Tuesday morning to get an updated size of the fire. There was no report of the results, but a satellite image indicated a perimeter of more than 1,200 acres.
Heavy equipment and crews were working to construct direct and indirect lines after making good progress on Monday. The Tenmile was considered 21 percent contained, with an estimated containment date of Aug. 18. It had racked up a bill of $2.3 million by Monday.
The Davis fire northwest of the town of Yaak remained at 375 acres at midafternoon Tuesday. Twenty-eight more firefighters and crew joined the fray Tuesday, bringing the total personnel to 254. It too has an estimated containment date of Aug. 18.
Heavy fire traffic continues around the Yaak, and fire managers encouraged drivers in the area to remain attentive. Roughly $1.5 million had been spent on the Davis fire, which is one of several in the Kootenai National Forest.