A crowd of close to 200 people braved cold temperatures Saturday morning in Billings to proclaim their support for gun owners and the Second Amendment.
The two-hour rally, sponsored by Montana Minute Men, took place on the snowy Yellowstone County Courthouse lawn downtown. With a wind-chill factor of 14 degrees, people came bundled against the cold, and many also carried guns.
They were also armed with enthusiasm for the series of speakers, including candidates and students, who spoke about individual rights. Rally organizer Pete Siegel of Billings told the audience there's a movement in the United States to erode those rights.
"It's time we start shouting back at them and saying, 'You know what, we're Americans; we're law abiding; we will keep our rights,' " he told the audience, sparking cheers and applause.
Other supporters stood on the sidewalk on North 27th Street, holding signs that read slogans including "Guns don't kill, people do," as passing motorists honked their horns in support.
Attorney Elinor Swanson, Libertarian candidate for Montana's lone U.S. House seat, spoke to the crowd, telling them the Second Amendment promises that the government will not harm its citizens even if they are armed and prepared to defend themselves from anyone who will try to harm them.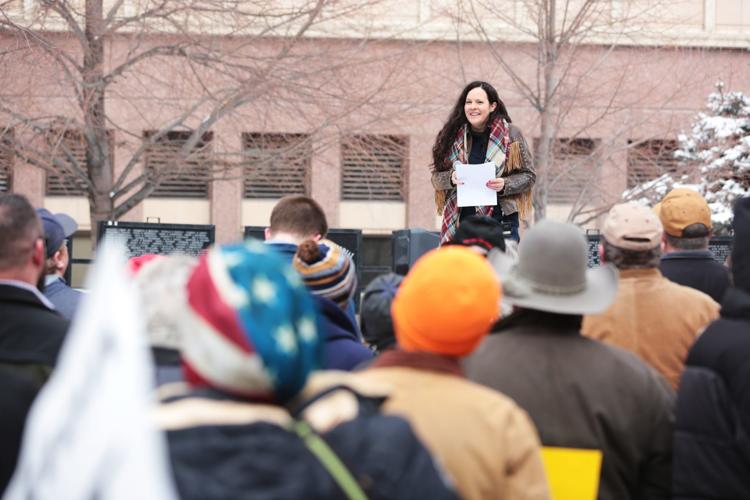 "If the government infringes a peaceful, mentally competent citizen's right to bear arms, the government not only breaks the promise of the Second Amendment, it violates the human right to defend yourself and those you love," Swanson said.
The Bill of Rights is not called "the bill of desires or the bill of needs," she said.
"We have a human right to be armed that shall not be abridged," Swanson said, to cheers. "The Second Amendment doesn't need to be rewritten or appealed, it needs to be reread and respected."
Declan Rous, a student from Helena High School, told the crowd that he was the only student left in his second period class on March 14 during the National School Walkout.
"I did not participate with my fellow students because I knew what they were doing was dangerous and reckless," he said. "My fellow students attempted and are still trying to limit our Second Amendment rights that allow us to bear arms."
Americans have the right to protect themselves "from tyranny and all things evil," Rous said. What he has seen in school is a decided slant toward gun control not only in students but in the curriculum.
Rous said when students tried to hold a Second Amendment memorial for the Marjory Stoneman Douglas High School shooting victims, their signs were taken away.
"I support the First Amendment and the Second Amendment, but I can tell Montana schools don't," he said.
Rous quoted Christian apologist C.S. Lewis who said a "tyranny sincerely exercised for the good of its victims" is oppressive. 
You have free articles remaining.
"I'd rather live a dangerous life than one where I'm oppressed for my own supposed good," he said, adding he spoke on behalf of "students who understand that responsible gun owners shouldn't be punished for the actions of bad people."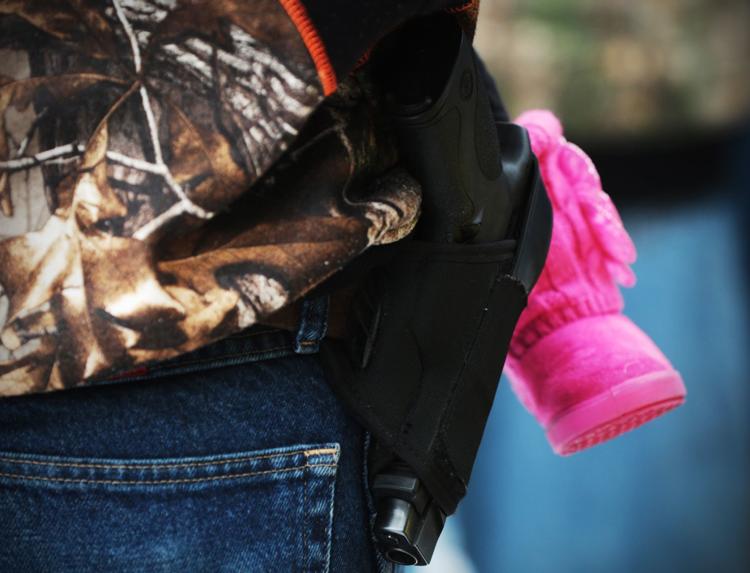 Mari'i kai Walter, a member of the Navajo and Washoe tribes, sociologist and apprentice healer from Helena, told the audience that she's not a politician, an activist or a public speaker.
"I simply believe this matter is of such significance that I can't be silent about it," Walter said.
Most people are familiar with the numerous wars the U.S. government waged against the country's indigenous population, she said.
"Wars that were fierce and bloody later became slaughters due to the government's disarmament of the Native people," Walter said. "As such, I respectfully and with absolute reverence bring the ancestors to the present to explain why we must protect our rights at each level."
Disarming Native people led to their being sentenced to reservations, she said. It stripped them of their self-reliance and independence, with the false promises of safety, sustenance and government protection.
The government held their way of life in contempt, called Native people savages, "and ultimately they came for our children." Government officials attempted and often succeeded at educating the tribes' way of life out of them.
"I say these things not to rehash grievances of old," she said. "I only intend to draw parallels between a frightening and often unspoken history and right now today."
At Wounded Knee in 1890, U.S. troops surrounded 350 natives with the intent of disarming them, Walter said. Despite a lack of resistance, the situation turned into a slaughter, and the U.S. government became "the perpetrator of the largest mass shooting in U.S. history," she said.
"So forgive me if I'm loath to surrender responsibility for my safety to this same entity," Walter said.
Mark Wicks, Republican candidate for district one of the Montana Public Service Commission, welcomed his "fellow caretakers" to the event. Gun owners "take care of other people" and "defend their rights by owning firearms," he said.
"Other people in the media, the liberals don't think we care about people," he said. "That's not true. It's just the opposite. We care very much, that's why we own firearms."
If there was a school shooting, Wicks said he or just about anyone else at the rally would charge into the school to stop it "with or without a gun," to which an audience member responded, "Liberal weenies go the other way."
"Our most basic right as a human being is the right of self-defense," Wicks said. "Our founding fathers understood this. We have no other rights if we can't defend ourselves and our possessions."
There's a saying that power comes from the barrel of a gun, he said, "and that is exactly why some powerful people want to disarm us."
"As long as we can defend ourselves, we can resist whatever good intentions they intend to ram down our throats," Wicks said.