Walmart has issued an apology to a Bozeman professor who sued the company for libel after an employee at the store's Bozeman location listed the professor's occupation as "clean toilets" on a fishing license.
Gilbert Kalonde is a professor at Montana State University. When he went to Walmart in February 2016 to renew his fishing license, an employee had typed his profession as "clean toilets." He went back to the store to correct the license and ask for a written apology, but Walmart refused to apologize.
In a letter dated Oct. 19, 2017 and released Monday by the ACLU of Montana, Walmart said the incident was unacceptable.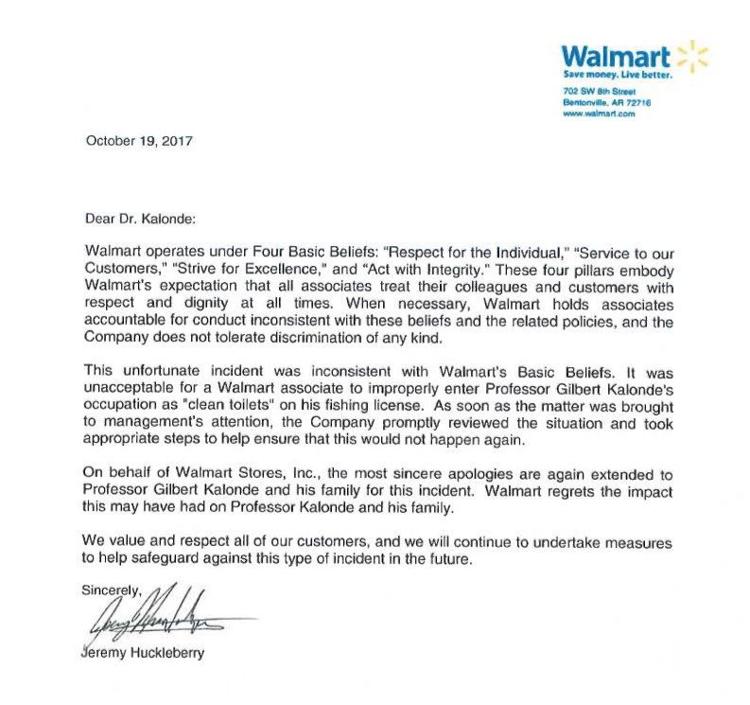 "The most sincere apologies are again extended to Professor Gilbert Kalonde and his family for the incident," the letter says. "Walmart regrets the impact this may have had on Professor Kalonde and his family."
The letter is signed by Jeremy Huckleberry, whose Linkedin account lists him as a Walmart general manager in Bozeman.
The letter says Walmart "promptly reviewed the situation and took appropriate steps to help ensure that this would not happen again."
In August 2016 the ACLU of Montana, on behalf of Kalonde, filed a complaint with the Human Rights Bureau, alleging that Walmart discriminated against him on the basis of race. Kalonde is black.
Kalonde had also filed a libel lawsuit in Gallatin County District Court.
The lawsuit was voluntarily dismissed by the ACLU and the complaint with the Human Rights Bureau closed as a part of a settlement reached between Kalonde and Walmart. ACLU said Monday the letter was not released until now because of the time it took to work out the details of the settlement.
Kalonde, who was born in Zambia, Africa, is an assistant professor of technology education at MSU, where he has worked since 2014. He also filed a separate lawsuit in Gallatin County District Court that was later dismissed.
The professor said he showed the worker proof of employment, but he was instead labeled as a toilet cleaner on the Montana Department of Fish, Wildlife and Parks fishing license. The false information remained on the license when Kalonde renewed it the following year.
— The Associated Press contributed to this story.