Candidates hoping to win seats in Montana's Legislature, Public Service Commission, the U.S. Senate and House, courtrooms and county commissions put their names in the hat Thursday as filing for the 2018 election officially opened.
In November, Montana will elect a new U.S. senator and representative, as well as 125 seats in the state Legislature. Also on the ballot are two state Supreme Court justices, two members of the Public Service Commission and a slew of District Court judges in districts around the state.
The Secretary of State's Office said a record number of candidates filed Thursday for a non-presidential year race. A total of 145 candidates filed, more than 138 from the first day in 2014. About 64 percent of people filed online.
The U.S. Senate and House races are expected to be among the most closely watched in the country as Democrats try to win back control of Congress amid plunging approval ratings for Republican President Donald J. Trump.
Sen. Jon Tester, a Democrat, and Republican Rep. Greg Gianforte are seeking to retain their seats. 
Several Democrats have announced they are running in the U.S. House primary, including Billings attorney John Heenan, former nonprofit director Grant Kier of Missoula, former Bozeman lawmaker Kathleen Williams and former Billings legislator Lynda Moss, all who filed Thursday.
"It feels really good," Kier said. "We're really excited to get out there and get to work."
Heenan has been one of the most active Democrats in the primary. He said he expects to keep up his campaign pace.
"I've put 20,000 miles on my car," he said. "I'm hearing from people that they feel like their voice isn't being heard."
Gianforte has said he will seek re-election but did not file Thursday. Democrat Jared Pettinato, an attorney from Bozeman, has also said he is running but didn't file Thursday.
The primary field for Republicans looking to unseat Tester also is crowded. Bozeman businessman Troy Downing had filed by Thursday afternoon, as had Kalispell doctor and legislator Albert Olszewski.
"I'm excited," Downing said. "I'm nine months into the longest job interview" in my life.
State Auditor Matt Rosendale, who has announced he's running in the Senate race, is expected to file later in the month. Other candidates who have announced are former Billings judge Russell Fagg and Ron Murray, of Belgrade.
At the state level, all 100 seats in the House and 25 of the 50 state Senate seats are up for election this year.
One-hundred and eighteen people had signed up to run for legislative seats, including 66 Democrats and 48 Republicans, as well as one member of the Green Party, one Libertarian and one Independent. In the 2017 session, Republicans controlled the House, 59-41, and the Senate, 32-18. The party has held control of the Legislature for six years.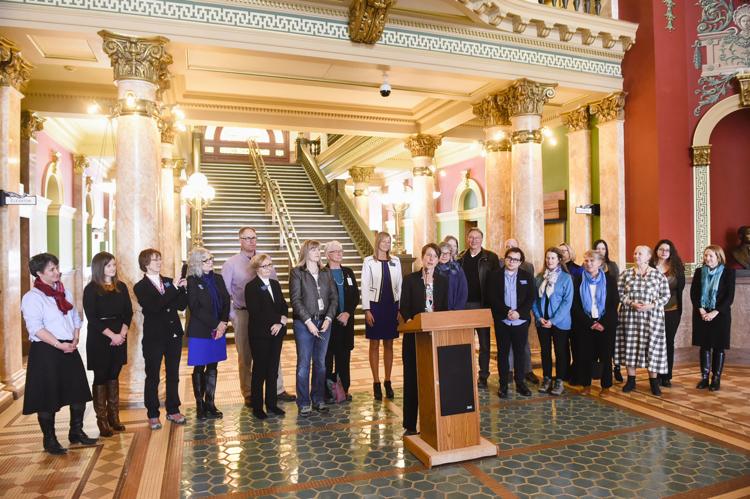 Rep. Mary Ann Dunwell, a Helena Democrat, said the state's budget crisis, which led to a special session in November and massive and widespread cuts to state agency budgets, has fired her up to run for a third term.
"It's focused me," she said. "It's the Legislature who is responsible for creating revenues and building the budget to run the state. It's what our job is, our responsibility."
Democrats said they want to win back control of the Legislature through a grassroots effort and are working to capitalize on the national mood. In this past November's off-year elections, Democrats regained the governorship in New Jersey and added 15 seats in the Virginia legislature.
"With this great slate of candidates in 2018, we're fighting to take back the people's Legislature and make sure all Montanans — not just a few very wealthy individuals — can achieve a brighter and fairer future," said Helena Rep. Jenny Eck, who was House minority leader last session.
The Montana Democratic Party said Thursday it has recruited 80 candidates in more than 60 House districts and 15 Senate districts. Half of the candidates are women and 13 are Native American, and 14 are under the age of 35.
Rep. Greg Hertz, a Republican from Polson who was speaker pro tempore in the House last session, said Republicans will focus in their races and, in the next legislative session, on a platform of no new taxes.
"Without Republican control of the Montana Legislature, citizens of Montana would be paying millions of dollars in additional taxes," Hertz said.
In a legislative seat in the far northeastern corner of Montana, Rhonda Knudsen is running for a seat that was held last session by her son and Speaker of the House Austin Knudsen. 
"I've had eight years of listening to my son and watching the Legislature," Rhonda Knudsen said Thursday. "I want strong conservative leadership and a strong conservative direction." 
Knudsen is retired from the Department of the Interior and U.S. Department of Agriculture and echoed her party's theme of no new taxes.
Filing closes March 12 and the primary is June 5. The general election is Nov. 6.