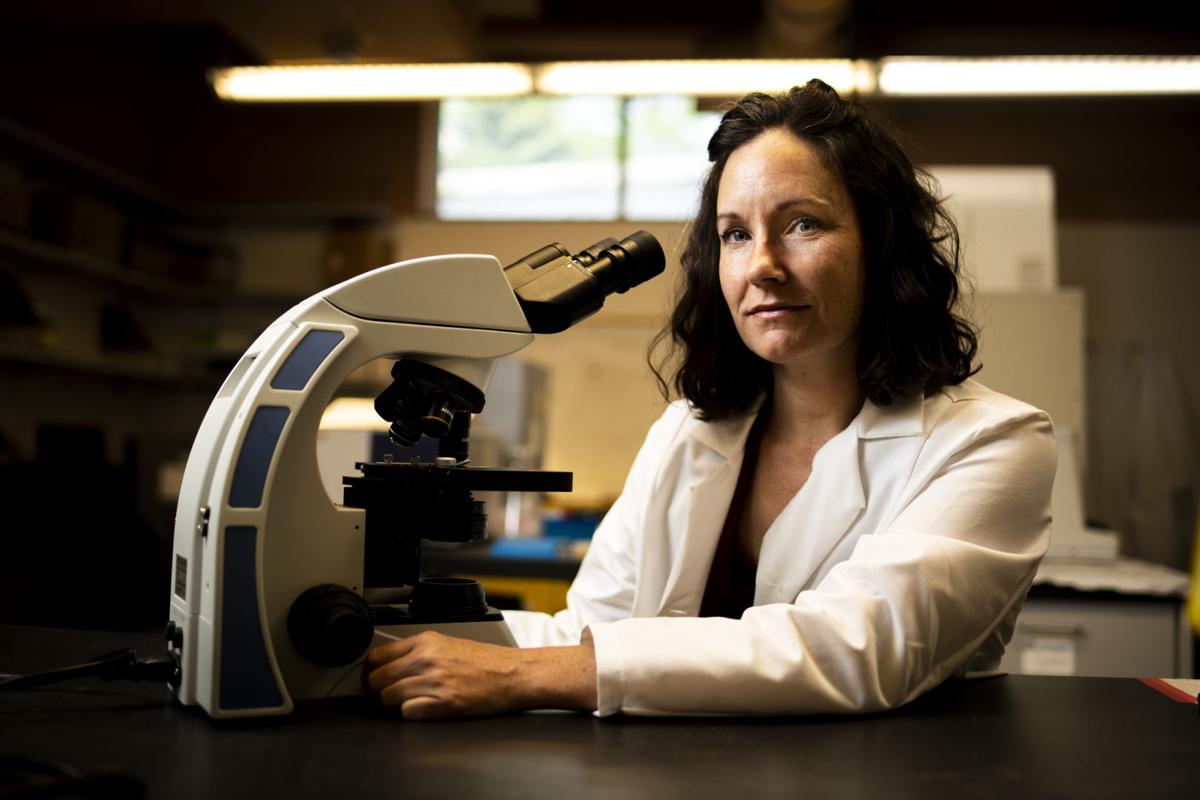 If Montana did nothing in response to the novel coronavirus, 94% of the population might be infected and 2,600 people might be dead in the course of six months, by one estimate, although the calculation includes an uncertain detection rate.
Instead, Gov. Steve Bullock issued a shelter-in-place order in March. The economy has taken a nosedive, but Montana, tied with Hawaii, had this weekend the lowest number of COVID-19 infections per capita of all the U.S. states, according to a tracker from the New York Times. The death count is at 16 and confirmed cases are at 479, according to data from the Montana Department of Public Health and Human Services.
"We did a really great job of bringing the cases down," said Angela Luis, a disease ecologist at the University of Montana. "We reduced transmission by about seven times during that stay-at-home order."
Brandon Cooper, evolutionary geneticist, said the shutdown might have seemed silly at the time because so few people were infected. But that's a reason the Treasure State avoided the exponential growth in cases experienced in some other states, scientists said.
Now, the governor and local public health officials are gradually reopening the state. Challenges abound. Since so few people got sick per capita, Luis estimates that 99.9% of the population still remains susceptible to infection, and a spike is still possible. So what can and should Montanans expect to see next? What actions should they take?
Last week, three UM scientists shared their perspectives during a panel called "Uncertainty Surrounding COVID-19 Spread and What the Future Holds." Luis, Cooper and evolutionary biologist Douglas Emlen participated, and marketing faculty member Justin Angle moderated the "Alumni Virtual Event," which included questions with the audience. Upcoming events are listed here: https://grizalum.org/events/default.php.
Cooper said the big question is what the future holds. Some people want to know why Montana can't open everything back up immediately, he said, but that would have consequences.
"We would clearly overwhelm the health care system," Cooper said.
At the local level, the focus should be on mitigating the spread, contact tracing, isolating and testing, he said. "You're probably hearing these insane numbers of tests we need to do. Well, they're not insane."
A case is like a little fire, he said. If detected, you can stomp it out and prevent it from spreading. If you don't catch it, it turns into a massive fire that disrupts life for everyone.
"Until we have a vaccine, the new normal is any increase in activity is somewhat risky, and without adequate testing and tracing, it's going to lead to more infections," Cooper said.
Luckily, he said, local leaders have been relying on science to inform decisions, and Montana in general looks better than many other places. But what prevention measures will be put into place as the state moves forward, and will they be sufficient to prevent full-blown outbreaks? Will people adhere to them? A couple of recommendations include continued frequent hand washing and reducing contacts by roughly one-third.
People should wear masks when in close contact with people indoors, for instance. But there's resistance.
"We're quite independent and don't want to be told to do those things," Cooper said.
Additionally, he said it's important to encourage safe responses well beyond the local community because people move frequently among states and around the world: "We're also highly interconnected."
Although the pandemic has devastated the budgets of businesses and many institutions, Emlen said the situation has revealed strengths at the Missoula flagship in particular and higher education in general.
At UM, for instance, he said the leaders working on how to address the coronavirus have roped science faculty into the mix. Emlen said he and other UM faculty talk with peers at other campuses, and UM is unique in its approach.
"I'm an evolutionary biologist and I lecture in my classes on the 'evolution of virulence' — what happened with influenza in 1918, for example," Emlen said in an email about the panel. "Many of my colleagues across the country are also biologists with relevant expertise, yet as far as I can tell, UM is the only campus to welcome its scientists into the planning sessions.
"I have been able to watch this process 'from the inside,' and it makes me proud. There are a lot of moving parts, and the science changes almost daily, but the right mixtures of people are poring over options, and they are prioritizing the right things. I really think UM is handling this situation well. Extremely well, actually!"
He also said higher education has an opportunity to do a faster job of contact tracing than some other institutions or industries. That's because faculty can set seating charts, take attendance, and campuses can use Griz card, or student ID card swipes, to track the whereabouts of students.
"There are all kinds of challenges, but there's also all kinds of opportunities," Emlen said.
On this week's Alumni Virtual Event, UM President Seth Bodnar holds a town hall meeting. It takes place 7 p.m. Thursday, and more information is available at https://www.facebook.com/mtalum.
Please sign up on Missoulian.com to subscribe to Under the M, the weekly email about the University of Montana and higher education news in Montana.
Concerned about COVID-19?
Sign up now to get the most recent coronavirus headlines and other important local and national news sent to your email inbox daily.