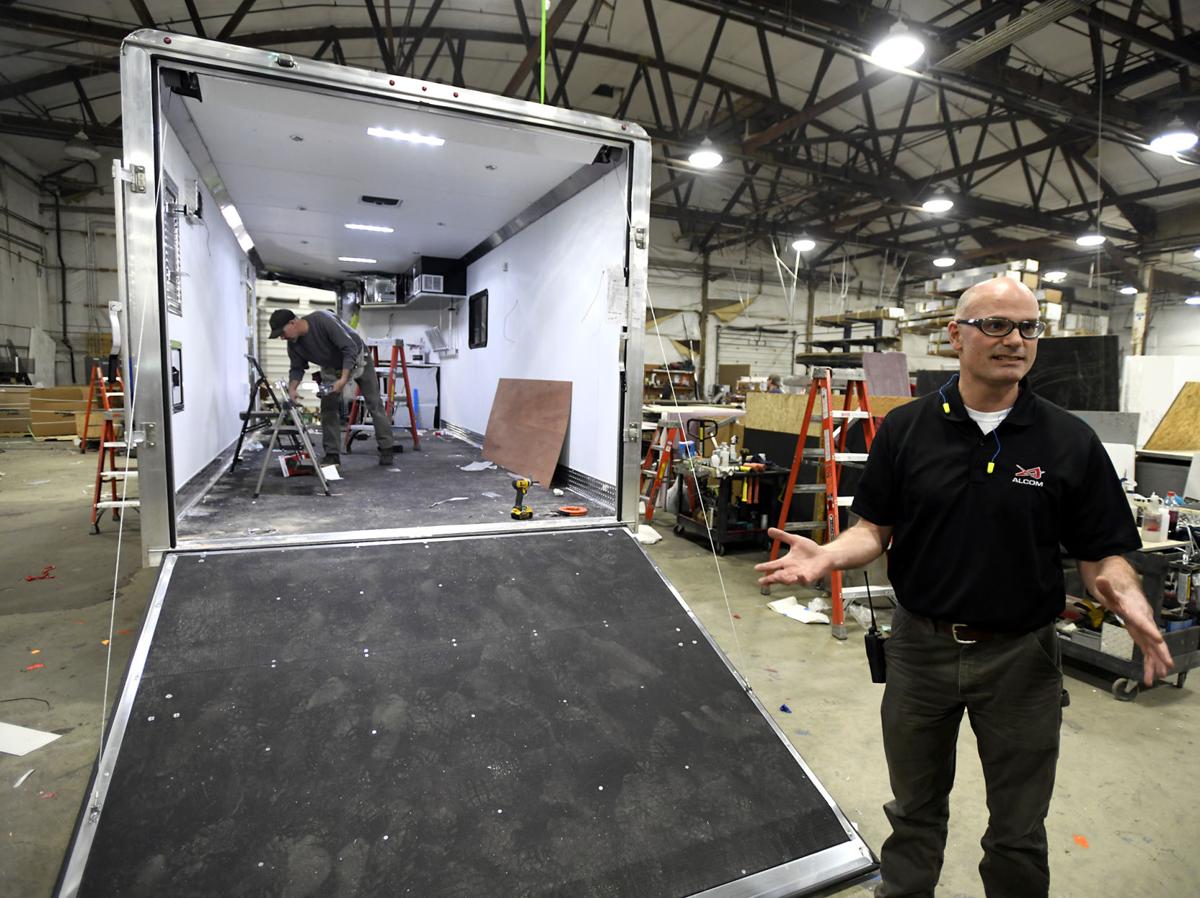 From soda cans to spring wheat to solar panels, all sectors of the U.S. economy have been affected by President Donald Trump's tariffs on imported materials and the resulting retaliations by foreign markets. In Montana, the tariffs have caused headaches for grain growers and metal products manufacturers, while the wood products industry has seen a resurgence.
An aluminum cargo trailer manufacturing company just east of Missoula in Bonner that employs 165 workers has had its ambitious growth prediction somewhat stifled as it deals with higher materials costs due to tariffs imposed by Trump.
"We're just paying 20 percent more on the exact same product we got before," said Ron Neibauer, the plant manager for Alcom. "Unfortunately, that hurts everybody we do business with. If we see major price increases, we have a couple of choices. We can eat that part of the cost or pass it along to the consumer.
"I think that in general, the industry tried to absorb those costs as best as possible but eventually they end up going to the consumer, who ultimately ends up paying more."
Business is still good for the company, but there's no denying the price increases have hit the bottom line.
"We have less demand from customers," Neibauer said. "We're still in a growth stage, we're continuing to grow, however not quite at the same rate we originally predicted."
The company goes through about 80,000 pounds of raw aluminum every week to make custom horse and cargo trailers for customers all over the world. Trump's 10 tariffs on imported aluminum were ostensibly meant to encourage American companies to buy American aluminum, but Alcom already gets 90 percent of its metal from within the United States.
"We actually get the vast majority of it from within the U.S., the East Coast," Neibauer said. "We also get it from another company in Utah and Ohio, but we do have one particular vendor that is in Mexico."
The tariffs have caused Alcom's suppliers to raise their prices by about 20 percent. That's because, according to Neibauer, so many more orders are coming in that the aluminum providers are simply inundated.
"(The price hike) is a braking mechanism," Neibauer said. "Their demand is going up and they only have a certain amount of capacity, so they raise the price in order to stop the influx of orders. The prices of aluminum are going up just because, more or less, the demand is back on U.S. manufacturers."
The tariffs were ostensibly instituted to encourage more American production of aluminum, but Neibauer said he's seen no indication that will happen anytime soon.
"You can't just start up a foundry or an extrusion facility at the drop of a hat," he said. "It takes time and millions of dollars. It's a huge investment."
At Glacier Steel, a metal roofing and siding company in Kalispell, Trump's tariffs of 25 percent on imported steel have caused its raw materials prices to slide up 30-35 percent, according to company partner Alex Gietzen.
The company uses roughly 200,000 pounds per month of steel to make metal roofs and siding for residential customers all over the region.
"We started seeing increases the first part of the year, and then we really saw a hit," Gietzen explained. "We've had to pass most of (the price hike) on to our customers. Our supplier is really good about letting us know before, 30-60 days before we see price increases. But most of it we've had to pass on to the consumer. We've eaten a little bit to stay competitive with chain suppliers that are more national."
The company hasn't had to lay anybody off, but Gietzen said they've had to cut back on advertising and some donations.
His supplier has told him that there will be more price increases in the next couple of months.
"It's been up in the air the last few months," he said.
Montana's wheat farmers have been hit hard by the tariffs in a different way. They grow $1 billion worth of the grain every year, exporting about 75 percent of it, and China is the No. 6 market for the state's wheat. But due to the steel and aluminum tariffs, China slapped a 25 percent tariff on U.S. wheat in June and is now getting its wheat from places like Australia and Canada.
Michelle Jones, the president of the Montana Grain Growers Association, said the impacts to the industry here have been substantial
"There's certainly a lot of concern," she said. "There's a lot of eagerness to hold China accountable. China has terrible trade practices. But how long this process takes is a concern. Things need to be addressed, but there is some concern about harming our valuable export market."
This week, the Trump administration announced that a $12 billion bailout, paid for by American taxpayers, for agricultural producers will be rolled out this fall as a short-term Band-Aid. However, early indications are that it will focus mostly on soybean and pork producers. Jones said she's appreciative of the Trump administration's efforts to make ag producers whole, but she still is concerned about losing China, the world's No. 1 consumer of wheat, in the long term.
Montana lost China as a major customer for malting barley in the 1970s and that market never returned. Jones and Benjamin don't want a repeat of that for wheat.
"The bigger concern in terms of export markets is maintaining long-term demand," Jones said. "We are export-dependent, and those are markets we want to develop, not harm. China is the No. 1 consumer of wheat and the No. 1 producer of wheat, but they need our high-quality wheat, our hard red spring wheat, to make the products they want, and we don't want to give that up. They'll go to Australia and Canada, which are two countries that can match our quality."
Lyle Benjamin, the vice president of the Montana Grain Growers Association and a wheat farmer in Sunburst, said the tariffs have wiped out the small profit margins for many farmers in the state this year.
"It's taking out the meat and digging into the bone," he said. "We are very concerned about the effects of the tariffs. We had a D4 drought (the most extreme drought classification) in eastern Montana last year, and this is as bad or worse than that. It affects the entire grain complex in the U.S."
One industry in Montana is thriving in part due to a 20 percent tariff on imported Canadian softwood lumber imposed by the Trump administration last November. The Montana wood products industry is doing better than it was in the last few years, according to Chuck Roady, the vice president of F.H. Stoltze Land and Lumber in Columbia Falls and a board member of the Montana Wood Products Association.
"It's been very helpful to us and the whole premise of it was to just level the playing field," Roady explained. "It has been beneficial to our industry, very much. We have 135 employees, and we're running two shifts now. We have the same problem as every other business. It's hard to find employees. Anybody that's interviewed and come in, we've tried to hire."
Although the National Association of Home Builders claims that the tariffs have caused the price of lumber to rise and added $9,000 to the average cost of single-family homes in the U.S., Roady disagrees and the U.S. Lumber Coalition calls that assertion "blatantly false."
"The softwood lumber in a house is maybe 1.5 to 2.5 percent of the total value in building a house," Roady said. "There isn't a single person that's not going to build a home because of the tariffs on lumber. It's just that simple.
"To be fair to the National Association of Homebuilders, they've got all kinds of problems. (Homebuilders) can't find employees or buildable lots and the prices of all the other materials in a home are going up, and they can't find subcontractors," Roady said. "Tariffs are an easy mark, that's what I think. It plays such a small, minuscule role in the price of a home that it's not limiting anybody."