Two Lodge Grass teenagers remained hospitalized Sunday in Billings as they continued to be treated for serious injuries sustained when they fell dozens of feet from the I-90 Yellowstone River bridge on Saturday while trying to help amid a massive pileup crash that came to involve more than 30 vehicles.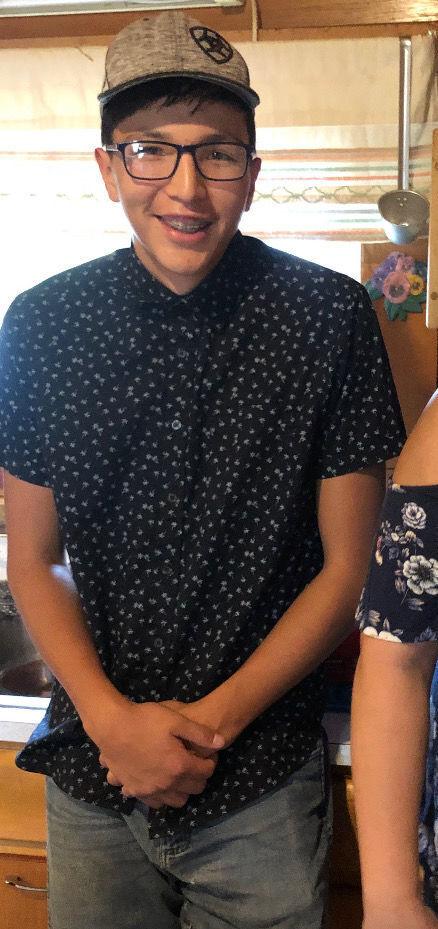 The injured teenagers, 17-year-old Gahge Whitemanrunshim and and 19-year-old Celea Poitra had been approaching a red Toyota with a woman and two children ages 2 and 4 trapped inside. 
Cars were continuing to crash on the bridge, including into the car they approached.
The woman inside the car, Kylee Ainsworth, described how she had yelled at one of the teens that it wasn't safe. Then her car got hit again and the teens were no longer visible. In all, Ainsworth guessed she was hit by five vehicles including multiple semis.
Poitra and Whitemanrunshim were no longer visible because they had fallen from the bridge and onto the ground below, breaking multiple bones and sustaining other injuries. A family member who had spoken to Whitemanrunshim's great-grandmother relayed that the teen had described hearing a loud sound and feeling the bridge shake before he was flying in the air. 
A battalion chief on Sunday estimated the fall from the bridge to the ground to be around 100 feet. Family on Sunday put the fall at around 60 feet.
The injuries they sustained are reported to be substantial. Poitra, who before she fell had been climbing on the hood of a car as she tried to reach the pinned vehicle Ainsworth and her children were in, is being treated for a broken back, broken pelvic bone, broken ankle and a lacerated kidney and had been placed in an intensive care unit. Poitra, who graduated from Hardin High School last year, is expected to need multiple surgeries, according to family. 
Whitemanrunshim, a current student at Hardin High School, was in a separate Billings hospital being treated Sunday for a broken leg, fractured pelvis, fractured neck, punctured lung and dislocated shoulder. 
Before the crash Poitra and Whitemanrunshim had been riding with 77-year-old Joan Pipe and two other young siblings and were on their way to a dental appointment. Pipe, who is Whitemanrunshim's great-grandmother and Poitra's grandmother, lives with the teens in Lodge Grass where she is also raising two other great-grandchildren and one other grandchild.  
Pipe's niece Eva Whiteman, a second grade teacher in Ranchester, Wyoming, drove up to Billings on Sunday to help her aunt. Sunday afternoon Whiteman talked about how her family is doing in the aftermath of the crash.
Whiteman said that Pipe is her father's sister and they grew up together south of Lodge Grass in a family of 11 children. In times of crisis and tragedy the family comes together but COVID-19 precautions have forced them to stay apart since Saturday. 
"Ideally we'd be up here sitting in the waiting room all together waiting for the news," Whiteman said.
After talking with relatives she had agreed to help set up a GoFundMe to help Pipe. There was some concern about overstepping boundaries because Pipe is a hardworking, proud person, Whiteman said. Still they decided to go ahead with it and Whiteman said Sunday that in addition to everything else her aunt was worried about how she would thank everyone. 
Donations to the Crow family have come in rapidly, reaching $17,000 by 6 p.m. Sunday. The fundraiser says money will go towards helping Pipe with the cost of gas and food as she continues to stay nearby while Poitra and Whitemanrunshim recover. The money will also go towards helping her repair or replace her vehicle. 
Of Poitra and Whitemanrunshim, Whiteman said that their actions Saturday were reflective of the kids she knows. "That's them. They would give the shirt off their back. They're always sweet, kind kids. You know they're grandma's kids, you know? They love their grandma, they cook together, they all work so hard," Whiteman said. "I just feel so blessed that they're with us. Cause we've lost people to car wrecks way too many times and we just didn't need a tragedy right now. It is a tragedy but they're alive."
Alongside everything else that she went through Saturday, a new vehicle is a major concern for Ainsworth, who said she was feeling panicked at having no reliable transportation. She has three children under the age of 5, and wasn't sure how she would manage to get them to school, get to the grocery store and continue making regularly scheduled medical appointments her boyfriend has to treat his cancer. 
Ainsworth said she lost her job in December due to COVID-19 and doesn't have the means to replace the vehicle or rent one as she waits out the weeks she expects it to take before her insurance is able to help. She was also treated at a local hospital for bruising and soreness from the crash.
Part of Ainsworth's day on Sunday was spent scouring social media trying to find the people that had helped her so that she could offer her thanks. Ainsworth and her children were eventually able to get out of the car and get safely off the bridge.
She credited Billings resident Ryan Doran with helping get her and the kids out of the car. Doran, 39, had been headed to the West End when the crashes began just before noon. Amid the many pictures circulating from the crash include photos of a blue truck hanging over the edge of the bride. Doran said that in some of those photos his white Subaru Outback is visible.
He guessed that he was hit multiple times throughout the incident. Eventually he was able to crawl out of his driver's side window. Inside the red car next to him were Ainsworth and her children. "My goal at that point was to get them out and away from any more impact," he said. 
Ainsworth said the back windows of her car had shattered during impact and that all of her car doors were pinned shut. In her recollection Doran jumped into the car through the back passenger window, first grabbing Ainsworth's daughter and handing her to someone nearby. 
Then she unbuckled her son and guided him toward a window where Doran could pick him up. Ainsworth said Doran then gave her his hand and helped steady her as she tried to climb out through the shattered back windows of her vehicle and onto the slick hood of another car. 
Ainsworth said that Doran and another person were able to run her kids to safety off the bridge. At some point Doran cut his hand, which he said a truck driver helped him bandage and another person gave him a towel to wrap it in. 
"Even though people were hurt, a couple serious from what I hear, there was a great effort with everyone to come together," Doran said. "This really could have been a lot worse. All these vehicles can be replaced, but the wellbeing and lives are more important."
Calling Poitra, Whitemanrunshim and Doran "amazing humans," Ainsworth said she appreciated everything they did to help her and her kids get to safety. Ainsworth also said she wanted to thank Cherish and Steve Lafurge for checking on others and making sure she and her children were warm and uninjured.
Reports Saturday put the total number of injured people at four. Sgt. Kyle Hayter with the Montana Highway Patrol said that he could not confirm or deny specific accounts of what people did Saturday to help each other, but he spoke to a wide ranging effort among strangers to help one another. 
"I mean everyone did a great job. Not just the emergency responders but even those involved in the crash. Everyone was from what I saw calm and they helped each other out, kind of cared for each other, from what I saw," Hayter said. "I think that was just the general tone of everyone out there was kind of looking out after each other and helping everybody out."
The sergeant also specifically credited the first responders on scene for their work.
"All the agencies came together, the tow truck, the fire department, the sheriff's office, DES (Disaster and Emergency services), everybody worked really, really well together. The fact that we could have that entire mess cleaned up within five hours and the low number of injuries I think is a testament to how everybody worked out.
The Montana Highway Patrol on Sunday continued to seek information from people involved in the pileup crash on the Yellowstone River bridge and other related crashes that happened east of Billings Saturday.
In a social media post published online Sunday, MHP asked people involved in the Yellowstone River bridge incident to contact them with name, vehicle description and contact information. That information can be emailed to Sgt. Kyle Hayter at khayter@mt.gov.
"Due to the chaotic nature of this incident, we were not able to collect all this information," the MHP post says. People are urged to contact MHP as soon as possible since adding that information to the report is necessary for someone seeking a copy of the crash report for insurance purposes, according to MHP.
The crash that was reported just before noon Sunday happened on I-90 at mile marker 452 where the bridge crosses the Yellowstone River. Initial reports put the number of vehicles involved at roughly 30.
Ice on the bridge was the suspected cause reported Saturday. Hayter, the MHP sergeant, said Sunday that weather and road conditions continued to be looked at as possible factors. Additionally MHP was looking into whether or not people were driving too fast for the conditions or were following vehicles too closely.
Billings and surrounding areas did see a shot of snow Saturday around the time of the crash. The heavier bands of snowfall were seen more towards the east, with at least one Heights location reporting over an inch of snow within an hour-and-a-half period. The snow would have been falling through temperatures just above freezing, with surface temperatures at around freezing and temperatures on the Yellowstone River Bridge likely somewhere between 29 and 30 degrees, which is enough for snow to freeze on contact, according to Krista Carrothers, a meteorologist with the National Weather Service in Billings.
Bridges are known to ice over before other roads because cold air passing beneath speeds up cooling. That's compared to a road with soil beneath which tends to hold more warmth and take longer to change temperature, according to Carrothers.
Hayter said that the roughly 30 vehicles involved refers just to the vehicles towed away from the bridge pileup. He said there were other multi-vehicle crashes, some involving as many as seven vehicles, stretching back to Johnson Lane. 
The sergeant wasn't able to put a firm total on the number of vehicles involved between the primary and secondary incidents, but said "fifty vehicles, probably, isn't outside the realm of possibility.""Maybe more," he added. 
People involved in the crash continued to contact the highway patrol on Sunday and Hayter estimated that it could be several days before MHP has a firm number in terms of vehicles involved. Multiple troopers are working on the investigation.
"So that's our number one focus right now, is just trying to identify everyone involved, to try to put the puzzle back together," Hayter said. 
Due the size of the crash and how many different accounts and experiences have to be considered, it's possible MHP won't be able to fully reconstruct the chain of events, according to Hayter.
Numerous vehicles with limited damage were able to be driven away from the scene and drivers did so, in some cases to free up space for responders, according to Hayter. That's one factor contributing to the ongoing effort to document who was involved. With people in need of assistance multiple vehicles deep in the pileup, moving and towing vehicles was a priority.
"Obviously we'd like to kind of leave things as they are and gather evidence and take photographs but you know in this scenario lives and people's safety come before scene preservation," Hayter said.