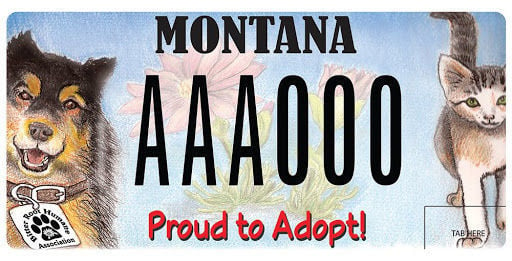 The Montana Department of Justice has decided it will offer an extension after all to nonprofits that had been told their specialty license plates would be revoked, state Sen. Jill Cohenour announced Thursday.
Earlier Thursday, Montana Vehicle Services Bureau Chief Joann Loehr had said the state looked at its options for providing an extension to 85 nonprofits that learned their specialty license plates were recently revoked, and initially decided it did not have the statutory authority to do so. 
The plates were revoked for not meeting the minimum number of 400 in circulation required under state law. 
Some organizations were just short of 400 plates when they were notified in a Jan. 31 letter that said their plates were discontinued. The organizations were told they would have to wait four years before applying again.
Many said it would create a financial hardship for their organizations, which benefit from sales of the specialty plates.
Motor Vehicle Division Administrator Sarah Garcia said Thursday that implementing a new law can be challenging and the department decided to "err on the side of caution" in this case.
The details on the "grace period" for the nonprofits is still being worked out. Garcia expects a letter will be mailed sometime early next week that explains the process.
While the 2001 state law that allowed the Department of Justice to issue specialty license plates included a minimum number requirement, it had not been enforced until this year.
That changed as a result of SB 353, which was introduced by Cohenour, a Democrat from Helena. That legislation focused on "generally revising laws related to vehicle license plates" and included a provision that said the state "shall revoke its previous approval" of a specialty plate if fewer than 400 plates were in circulation any time after three years of the initial distribution.
After receiving calls from a number of different nonprofits set to lose their plate and its resulting income, Cohenour asked the Montana Motor Services Division this week to consider granting a three-month extension so the organizations could see if they could increase their plate sales to meet the threshold.
You have free articles remaining.
The nonprofits were notified in a letter sent out in September about the change in the law. Cohenour said some of those organizations indicated they were confused by the letter and thought they had more time.
Under the current system, there is no place where nonprofits can go online to check their current number of plates in circulation.
Cohenour said she received a call Thursday from state Assistant Attorney General Jon Bennion, who agreed that an extension was needed. Cohenour said she was joined by many others in the state who made calls to encourage the agency to take another look at the issue.
"It was awesome," she said. "This is how it is supposed to work."
The Motor Vehicles Division's Garcia said the department spent a lot of time developing the process to implement the new law, but "we understand the concerns that we're hearing from people. … We want to do what we can and go from here. New laws can obviously have impacts and unintended consequences. We are here to try to make it work for people."
Bitter Root Humane Association Board President Kathy Butts said they didn't know that their license plate was on the list to be revoked until they received the letter from the state. The Humane Association was 23 plates short of the 400 minimum.
The loss of the specialty plate would cost the Humane Association more than $7,500 a year in operating revenue. Considering the organization depends almost entirely on donations and grants to keep its doors open, Butts said that amount would have been challenging to make up.
"I think it is awesome that they are offering this opportunity," Butts said. "I think we can come up with the numbers we need in no time."
Butts said she's happy not only for their nonprofit, but all the others in the state that were faced with losing valuable revenue.
"The county and the state run on nonprofits," she said. "Nonprofits accomplish things that state and county taxpayers don't have to pay for. If we weren't here, someone else would have to pay for keeping dogs and cats off the street and most likely it would be taxpayers.
"Sometimes people forget that nonprofits fill a need that no county or state agency has to fulfill at the expense of the taxpayer," Butts said. "Nonprofits are amazing. All of them are awesome, not just ours."