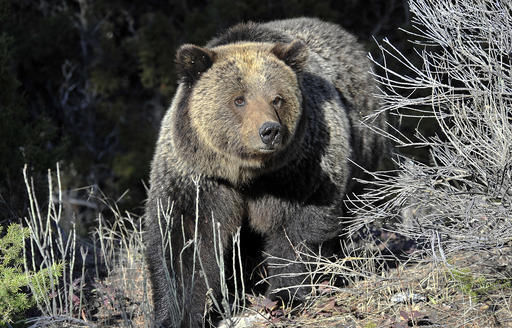 MISSOULA — A black-bear hunter reportedly killed a large grizzly bear in the hills 5 miles northeast of Missoula on May 16, but federal wildlife officials have released few details about the incident.
"The U.S. Fish and Wildlife Service, in conjunction with its partners at Montana Fish, Wildlife & Parks, is actively investigating the self-reported killing of a grizzly bear by a black bear hunter in the Johnson Creek drainage near Bonner," FWS spokesman Ryan Moehring wrote in a press release on Tuesday.
"This is an active, ongoing investigation and the Service will share more information with the public when the circumstances of the case permit."
That wasn't much comfort to Andy Lennox, who lives at the base of Johnson Creek and heard about the incident second hand.
"That's right behind my house," said Lennox, who's lived along the Blackfoot River a mile north of Bonner for 30 years. "And this spring bear hunt is crazy anyway. Lots of hunters can't tell difference between bears. This could be female with cubs, in which case they just killed two, three or four bears. This was almost two weeks ago, and the Fish and Wildlife Service never came by to let me know what's going on. It's like it's some kind of big secret. That's weird as hell."
In an interview on Tuesday, Moehring said it was U.S. Department of Justice policy not to comment on ongoing investigations so as not to compromise them.
"Grizzly bears are a listed species (protected by the U.S. Endangered Species Act), so there's no surprise there's federal involvement in a grizzly shooting," Moehring said. "Whenever there's been an incident like this, the Fish and Wildlife Service has an active role to play."
Montana's spring black-bear hunting season started on April 15 and closes in the Missoula area on June 15. Hunters must pass a test certifying they can tell the difference between black and grizzly bears in order to purchase a hunting license.
About 1,000 grizzly bears live in the Northern Continental Divide Ecosystem that extends from the Rattlesnake Wilderness north of Missoula to the northern border of Glacier National Park. While wildlife researchers have occasionally tracked grizzlies traveling around the fringe of the Missoula Valley, the big bears have rarely been sighted south of the Mission Mountains or Bob Marshall wilderness areas.