MISSOULA — A Broadwater County Sheriff's deputy with only three years on the job and a wife and three children at home was shot and killed early Tuesday while trying to make a traffic stop.
The shooting touched off a search that resulted in a pre-dawn chase covering more than 140 miles in southwestern Montana and ending in a shootout that sent one suspect to the hospital and his father to jail.
Mason Moore, 42, was slain near Three Forks, less than two miles from where a state Highway Patrol trooper was shot and killed in 2010.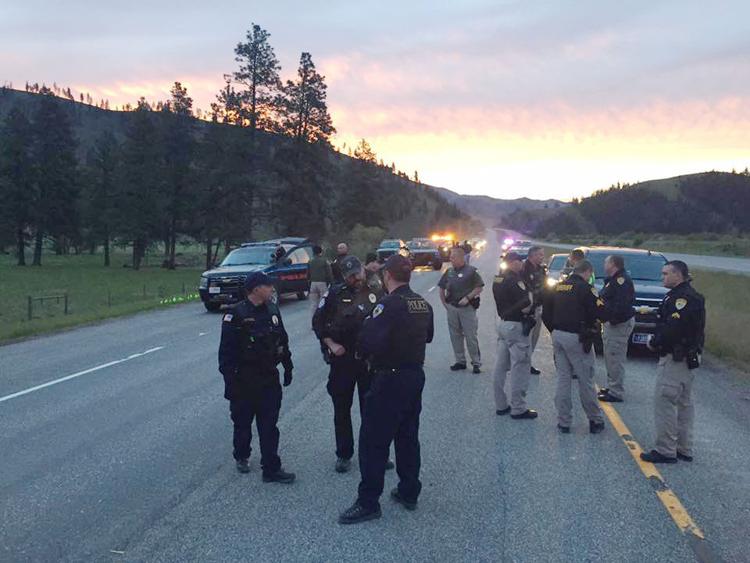 "It's difficult to adequately describe how devastating it feels to lose one of our own in the line of duty," said Broadwater Sheriff Wynn Meehan. "Our deputy died protecting the citizens of our county and displayed remarkable courage until the very end."
Gallatin County Sheriff Brian Gootkin said the incident began Tuesday morning when Moore was pursuing a white SUV near Three Forks shortly before 3 a.m.
Gootkin said dispatchers lost contact with Moore. When a Gallatin deputy arrived at the scene, he found Moore lying dead near the side of the road. The deputy reviewed the dash camera video in the slain officer's car and identified the SUV.
Butte-Silver Bow County Sheriff Ed Lester said his department's officers spotted the 1998 Chevrolet Suburban at 3:27 a.m. heading west on Interstate 90 near the Continental Drive interchange. As they were chasing it, he said the passenger, Marshall Barrus, fired a semi-automatic .308-caliber rifle through the SUV's missing back window.
The sheriff said both suspects in the SUV were firing at deputies near the end of the chase.
"There's probably a special place in hell for those individuals and that's where they belong," Lester said of the suspects.
The pursuit reached speeds of over 100 miles per hour. Butte-Silver Bow officers continued to pursue the vehicle westbound on I-90 through Deer Lodge County and Powell County and into Granite County.
Although its tires were punctured by a spike strip in Powell County, the SUV kept going on its rims until it reached the Rock Creek area. There, Barrus got out of the SUV and began firing at officers. Three Butte-Silver Bow sheriff's vehicles were hit by gunfire, two of them seriously enough to be disabled.
Deputies returned fire, hitting Marshall Burrus in the head. He was taken to the hospital where his condition was not available.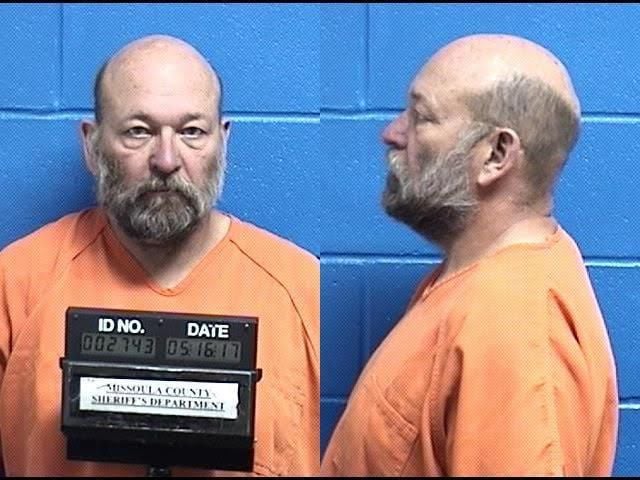 His father and the SUV's driver, 61-year-old Lloyd Barrus, was arrested and booked into the Missoula County jail on suspicion of deliberate homicide.
A section of westbound I-90 was closed Tuesday morning while investigators collected evidence. Lester said the investigation of the slaying and chase is being conducted by the Montana Division of Criminal Investigation and the Missoula County Sheriff's Office.
"The men and women of the Butte-Silver Bow Law Enforcement Department extend our sincerest condolences to Sheriff Meehan, the Broadwater County Sheriff's Department, and the family of the fallen deputy,'' Lester said, echoing condolence messages that poured in Tuesday from law enforcement and elected officials across Montana.
Officers from numerous agencies joined a procession at midday Tuesday to transfer Moore's body from Three Forks to Billings for an autopsy. The body arrived in Billings in the afternoon, where firefighters raised a large American flag from a ladder truck.
Moore is the 129th Montana law enforcement officer to die in the line of duty since 1878, just before Montana became a state.
According to the state's Public Safety Officer Standards and Training office, Moore had previously worked for the Department of Transportation's Motor Carrier Services from 2012 to 2015 before joining the Broadwater sheriff's office.
Marshall Barrus has a criminal history in the Bozeman area, including being arrested in November by police in Belgrade. According to the Bozeman Daily Chronicle, in that incident Barrus allegedly broke into a couple's home, assaulted a woman and threatened to kill a man. He was awaiting trial for felony burglary.
This story contains information from the Associated Press.