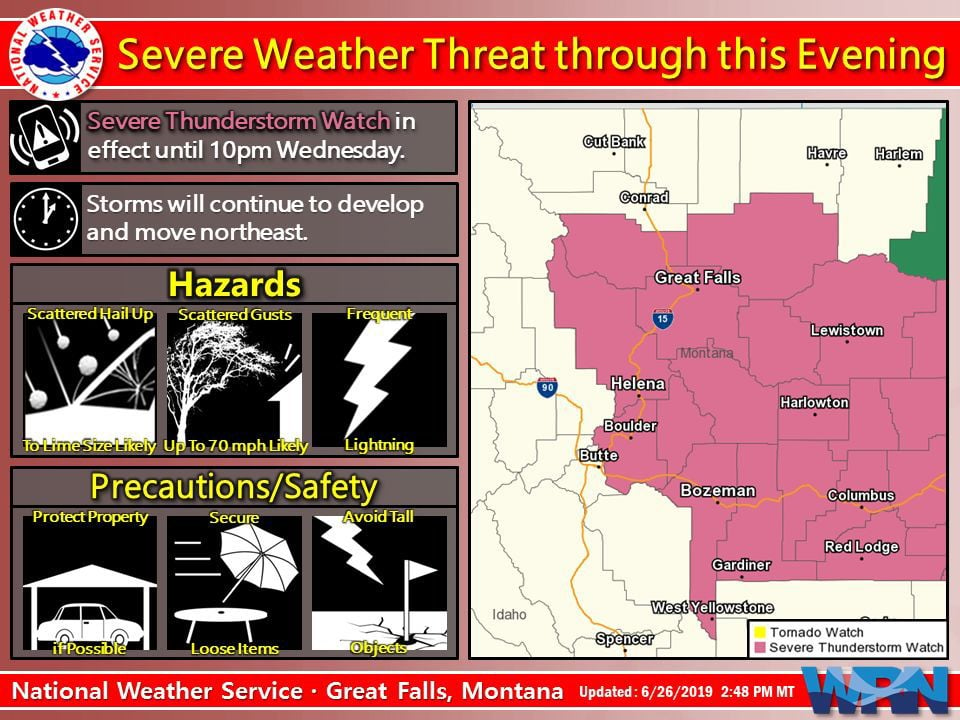 The National Weather Service in Great Falls on Wednesday issued a severe thunderstorm watch for multiple Montana counties and flash flood watch for central Lewis and Clark County.
The severe thunderstorm watch is in effect until 10 p.m. Wednesday for much of central Montana, including Lewis and Clark, Broadwater, Jefferson, Meagher and Teton counties.
Doppler radar was tracking a strong thunderstorm at 3 p.m. 12 miles southeast of Augusta, or 23 miles west of Cascade, moving northeast at 35 mph.
Penny size hail and wind gusts up to 50 mph will be possible with this storm.
Torrential rainfall is also occurring with this storm, and may lead to localized flooding. Do not drive your vehicle through flooded roadways.
Frequent cloud-to-ground lightning is occurring with this storm. Lightning can strike 10 miles away from a thunderstorm. Seek a safe shelter inside a building or vehicle.
The flash flood watch was issued at 2 p.m. until this evening for portions of central and northern Lewis and Clark County, with the highest areas of concern coming to the burn scar areas near the Alice Creek and Park Creek fires near Lincoln.
Showers and thunderstorms today may bring heavy rainfall rates at times along with large hail and damaging winds. This could bring areas of flash flooding and debris flows, especially across fire burn scars and steep terrain.
Those recreating in these areas should consider seeking higher ground this afternoon or delay plans to a more favorable day. Those with residences near burn scars should be on the lookout for flash flooding and debris flows, according to the weather service.
Be the first to know
Get local news delivered to your inbox!