DIXON – A good portion of the roughly 115 bison on Chris Sullivan's ranch 45 minutes north of Missoula have unique personalities and identifying traits if you spend enough time around them.
"This one's a beautiful cow, with a nice golden coat," he said, grinning and pointing. "She's old. Over here, that's a good-looking bull. He's probably about 1,900 pounds. He's young. He's gonna grow a bit more. He's gonna get huge."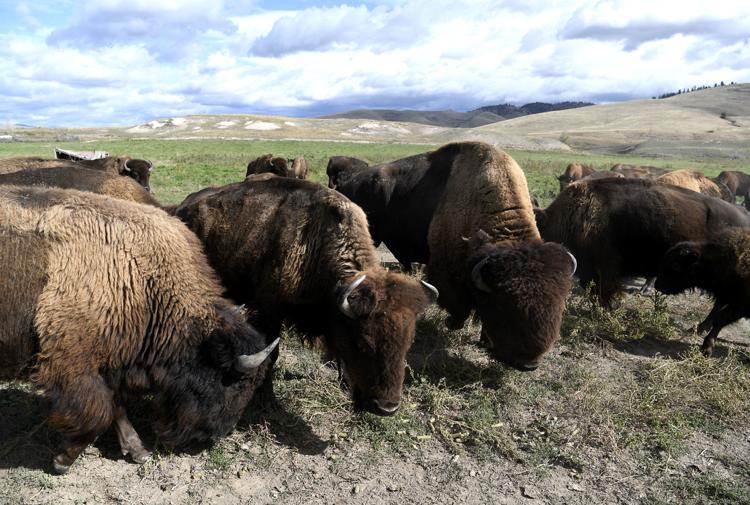 Sullivan has been raising bison and selling meat since 2002 as Montana Buffalo Gals. The name is an ode to his wife and daughter. Bison ranching was a lifelong dream for Sullivan, and it's clear he has a deep affinity for the animals whose ancestors once roamed America's western lands in immense numbers.
"They've been good to me," he said on a recent sunny day, feeding apples as a treat to the bright-eyed beasts as they snorted and jostled with each other. "We get along, and we understand each other pretty good."
Sullivan is a fixture at the Missoula Farmer's Market and is hoping to start a food truck next year to sell burgers, burritos and steaks. On 110 acres between Dixon and Moiese, adjacent to the National Bison Range, he lets his animals range free on the pasture almost year-round. He uses no antibiotics, corn or added hormones. Unlike cattle ranching, he said raising bison is less intrusive.
"You know, a lot of guys will go in amongst 'em, but I think that's kinda silly," he explained. "Because they communicate with horns and certain signs, and if they want to and you're in their way, they'll knock you out of the way. Not maliciously, but it's part of their personalities."
His regular job is as a homebuilder, so Sullivan has to make time to manage his animals.
"It's kind of a one-man show," he said. "I don't hire any help. Once in a while, I'll hire help just to help me do fencing or something like that."
"Most of the time, I just like to be around the buffalo by myself. And that's kind of what they're used to, so they don't get too upset."
The animals come into the corral when he wants them to, he said. They also require less feed in winter than cattle and aren't as much work during calving season.
"In the winter, their metabolism slows down kinda like an elk," he said. "They don't require as much feed as cattle. When it's cold and there's a cow, and it's say freezing or below, you'll see all this steam rising off of a cow. And these (bison) have at least twice as many hair follicles and so they conserve their energy and they keep warm."
Of course, bison are perfectly suited to the North American climate, including harsh winters and blazing hot summers.
"It doesn't matter how cold it gets," Sulivan said. "They keep pretty darn warm."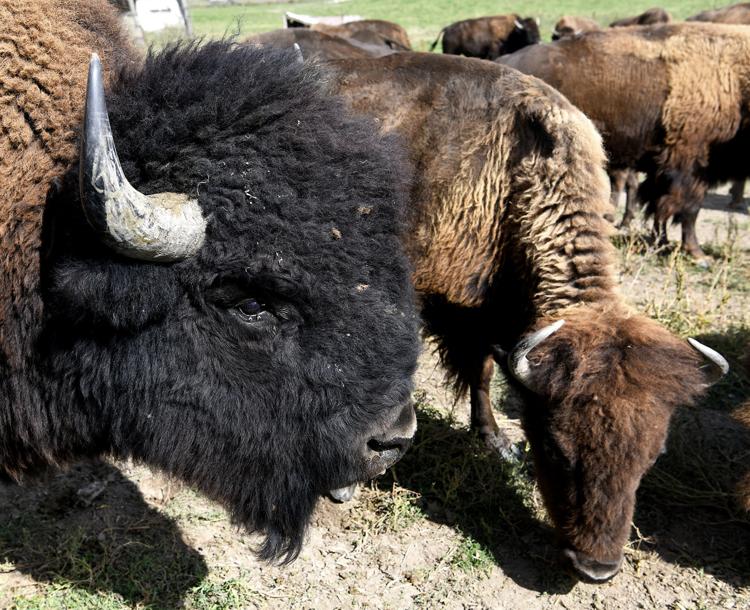 They're smarter than cattle, he added, meaning even first-time mothers don't need much help with a new calf. Cattle breeders have selectively bred cattle to have bigger calves for hundreds of years, he added, which means bigger calves can get stuck on the way out.
"Buffalo calves are built pretty streamlined," he said. "And buffalo, they've got better natural instinct, and they just want to go off out of sight most of the time and be alone with the calf for a day or two."
The name Montana Buffalo Gals, along with the colorful logo, were borne of a true humorous story involving his wife, Stacy.
"Our logo history is based on a ride that Stacy Sullivan took on her cutting horse," he tells customers. "Buffalo are playful and love to run. Once, the animals were dodging in and out of obstacles on a dead run. All of a sudden, Stacy became part of the obstacle course and the bison set her and her horse galloping for home as fast as the horse could move."
The moment was captured for posterity by a local artist and is now the logo on his bright-red truck he takes to the farmers market. Local restaurants and grocery stores have carried his cuts as well. Sullivan said he has a lot of experience as a cook, and has recipes for everything from smoked bison tongue to spiced bison sausage mixed with bacon.
You have free articles remaining.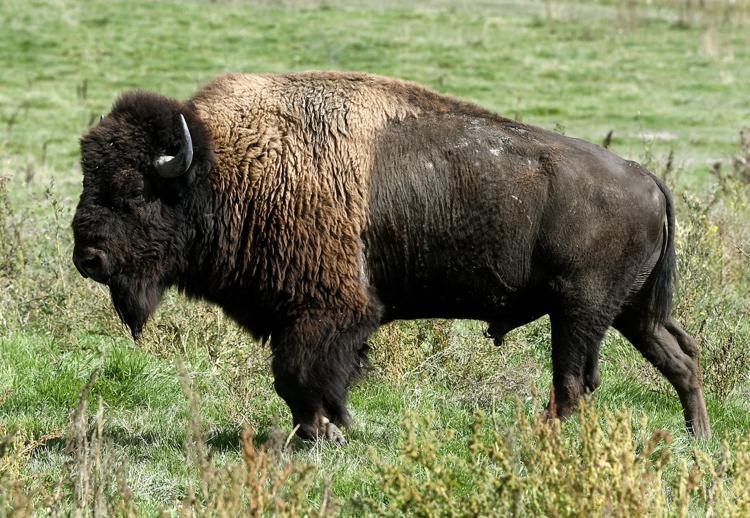 "It's a pretty amazing meat," he said. "It's high in protein. It's got less fat than skinless chicken. It's easily digestible. I'll eat a ribeye beef steak, and then I'll need to go lay on the couch afterwards because all my energy is going to digestion. Buffalo doesn't marble unless they're fed an incredible amount of corn, so it's just a lot easier to digest."
Because it has much less fat, he says people need to be careful about overcooking buffalo steak because it can dry out easier.
"It's just a healthier meat," he said. "Grass-fed beef is no-doubt healthy, but I still think buffalo beats it."
Julia Arnold, the vice president of the Montana Bison Association, also said bison meat is sought after by people seeking a less fatty meat.
"More and more consumers are looking for it," she said.
There are probably 40 or so members of the association who raise bison as a commercial endeavor, and she estimated there are another 40 or so people or families in Montana raising just a few bison to sell to friends.
The bison industry in Montana had been growing steadily for the past few years, she said, but in the last year it stalled out as the U.S. trade war with China took it's toll.
"There's a lot of uncertainty for ag producers in Montana," Arnold explained.
But the future of the industry is good, she said, noting that consumers are starting to ask restaurants about bison meat more and more and are ordering it directly from producers.
Lisa Cloutier, the owner/chef of The Raven and Bonfire restaurants in Woods Bay on Flathead Lake, said customers are big fans of the meat she buys from Sullivan.
"Absolutely (it's been popular)," she said. "We love them. They have been a great company to work with this year. At The Raven we feature their burgers and they have become a favorite of both locals and tourists over the summer."
At The Raven, she makes a "Bison Bolognese" dish that's turned into a bestseller.
"The slow-cooked bison shines in this dish," she said.
Starting Oct. 13, they'll have a bison dumpling at their monthly dim sum brunch.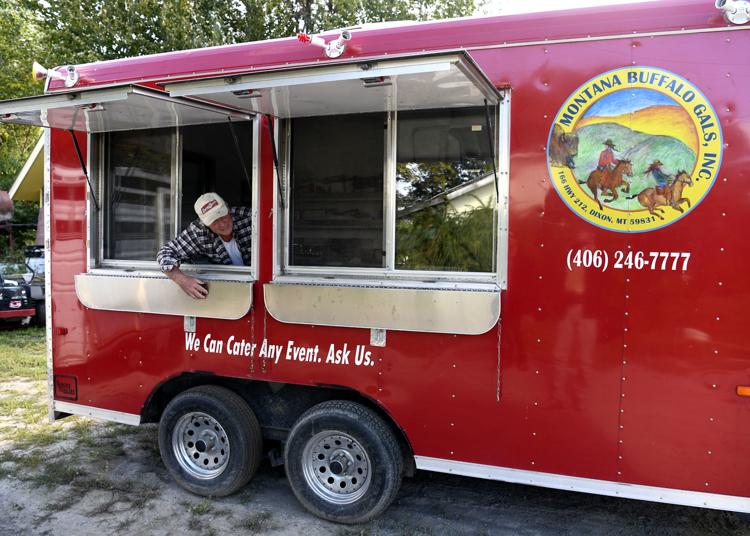 Sullivan has a good relationship with the National Bison Range in the hills directly to the east, but he says the high fences mean his bison don't interbreed with those animals, although he did buy a bull from the range recently. He also buys bison from Utah to keep his herd genetically varied. People often stop along the highway to take pictures of his herd.
Sullivan knows the feeling of being awed by their huge horns and distinctive bushy coats. He grew up in Colorado, and he would often go and watch a herd of bison outside of Denver. He moved to Trout Creek, Montana, in the 1970s and worked as a ranch hand and learned to care for animals. He later bought the current ranch and was able to fulfill the dream on his own piece of land.
"Buffalo was always something I wanted to do," he said. "When this place came for sale, I figured it was a God-send. I might as well try it."