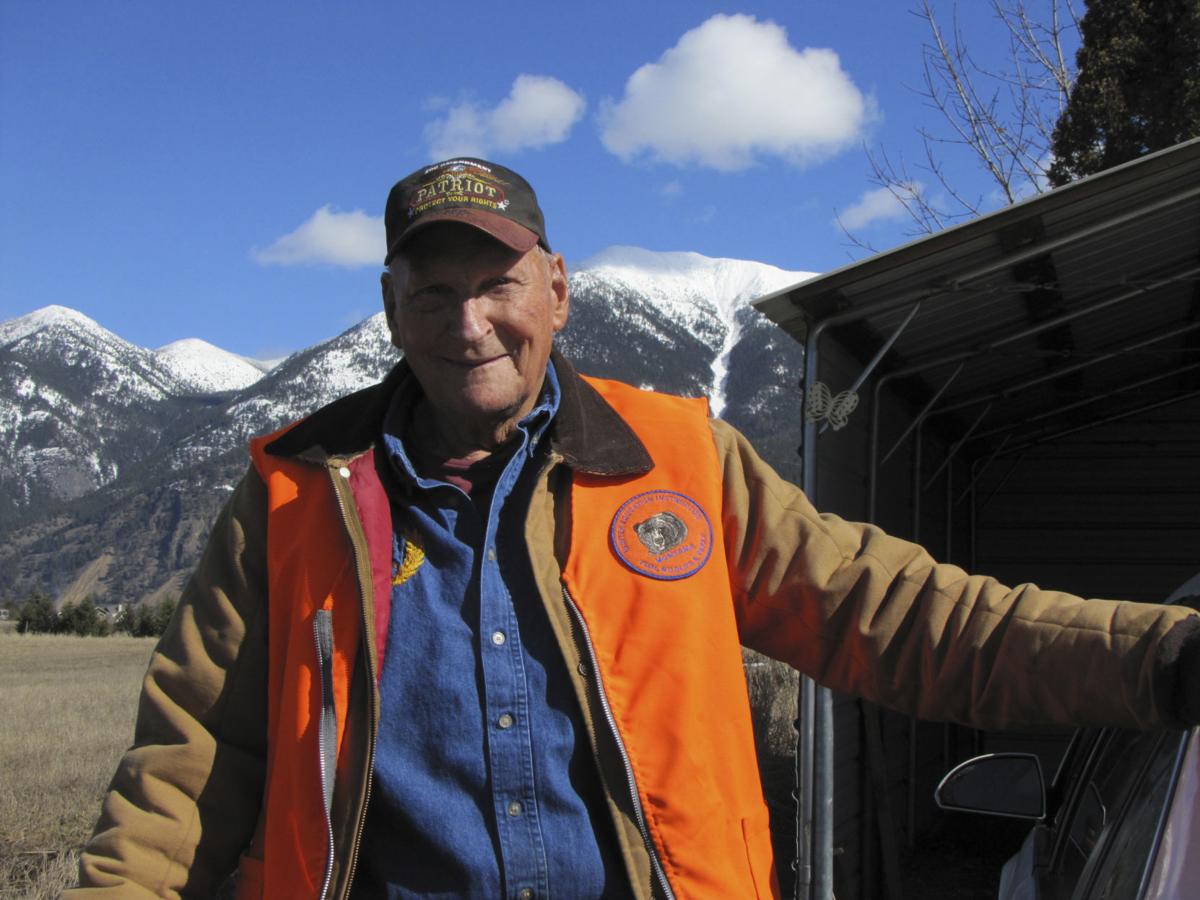 Pat McVay, Montana's first certified hunter education instructor and longtime shooting sports advocate, died of natural causes at his home near Kalispell Monday at the age of 100, his family said.
Following several hunting accidents in northwest Montana in the early 1950s, McVay started junior shooting and hunter safety programs in Hungry Horse, calling and collecting material from the NRA for the program. He became an early leader in 4-H shooting sports that would grow statewide and an advocate for hunter education for youth.
When the Legislature enacted hunter education in 1957, he was the first to submit his certification paperwork. And over the next six decades he would teach more than 1,000 hunters how to be safe and ethical in the field.
"He was a very generous person and his motto was 'There's never a moment wasted when it's spent with a child,'" his grandson Cody Voermans said. "He loved shooting and hunting. He was a cowboy all the way through and there wasn't a mountain range in Montana he didn't have a story about, and he wanted to share all of that."
McVay was born in Tonkawa, Oklahoma, in 1920, moving to his mother's home state of Montana when he was 18 months old. He would later move with his family to Washington state where he attended high school and worked until the attack on Pearl Harbor led to the U.S.'s entry into WWII, his daughter Marsha Voermans said.
McVay and his brother enlisted and he served two years in the Pacific Theater as a machinist. Following his service he returned to Washington, working on Grand Coulee Dam but later jumping at the chance to move back to Montana when Hungry Horse Dam opened, she said.
McVay and his late wife, Marie, raised their daughters Marsha, Verna, Kate and late daughter Chris in the Flathead Valley.
Marsha Voermans echoed McVay's love of the outdoors and desire to share it.
"That was absolutely the most important thing in his life, shooting and hunting safely and ethically," she said. "He mentored and taught and helped countless kids in 4H, in fair work, in hunter safety and shooting and those are the things that meant the most to him."
In 2016 McVay, who was the first ever inductee into the Montana 4-H Shooting Sports Hall of Fame, was inducted into the Montana Outdoor Hall of Fame. Upon his induction he told the Independent Record about the importance of hands-on learning about firearms to encourage youth safety. From his ranch east of Kalispell, he continued to teach into his late 90s.
"I wouldn't trade it for anything in the world," he said at the time.
Marsha Voermans said her father possessed an incredible knowledge of Montana history and a nearly encyclopedic memory of people and place names and dates. He also lived with tremendous enthusiasm and instilled a sense of optimism in his children.
"I can tell you he was one of Montana's more colorful characters," Marsha Voermans said. "He didn't live with any regrets. He lived every minute of his 100 years."
Cody Voermans recalled his grandfather's upbeat personality as well, including the joyful way he greeted people.
"He was a very driven and confident guy, a guy a lot of people could go to for life advice," he said.
McVay thoroughly enjoyed an Evan Williams Whiskey at 4:30 p.m. and would say, "The cap is always off the bottle," to those who enjoyed joining him.
One place the cap was always off the bottle was the country south of Malta in Phillips County where McVay, family and friends set up a hunting camp for more than four decades. He befriended landowners throughout the area who would come each year for a big tent party in what he affectionately called the "Prairie Dog Motel, Bar and Café," Cody Voermans said, recalling one year when they had to have parking attendants due to the large crowd.
"He loved that area … it was very dear to his heart and it's still going today," he said.
John Fraley worked for 27 years as the hunter education coordinator in Kalispell for Montana Fish, Wildlife & Parks. While McVay was a pioneer in hunter education, he moved in many circles including his large extended family of grandkids and the larger outdoor community, he said. McVay's 100th birthday party in March drew people from all over the region to celebrate.
"He taught and worked with thousands of people and for each one of them, when Pat passed it felt like losing a really good friend," Fraley said. "I don't know how you do it as a person, but Pat had that thing where he made you feel special."
McVay's ranch includes an impressive array of firearms, hunting trophies and oddities that seemed to enthrall the students who came to learn from him, Fraley said. Sitting next to his wood stove, he would drill into countless young minds the great responsibility they had when shooting and hunting.
"He had his own style, a little unorthodox and it's hard to say what the magic was, but those kids really loved and respected him," Fraley said. "He treated it very seriously and by far the most important part was safety. His biggest rule for hunting was to come home safe that night. Who knows how many lives he saved?"
McVay is survived by his daughters Marsha Voermans, Verna Swanson and Kate Tyner, along with his grandkids and great-grandkids. A memorial service will be planned in August or September, Marsha Voermans said.
Reporter Tom Kuglin can be reached at 447-4076 @IR_TomKuglin