Night of the Grizzlies: 2 deaths in Glacier National Park led to changes in bear management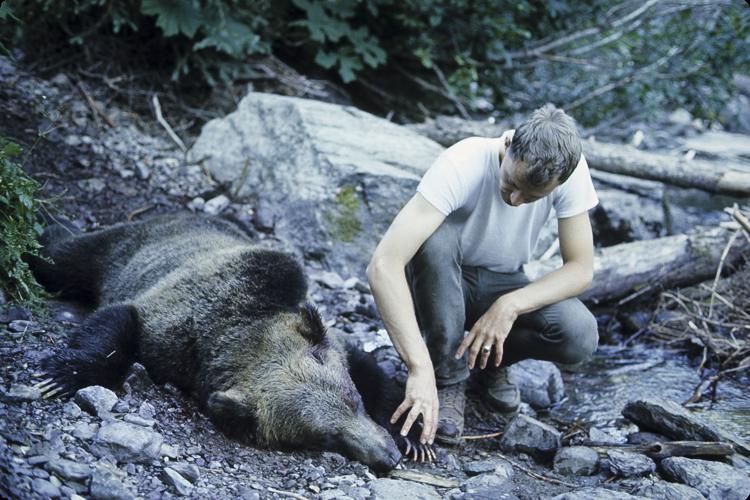 It is a story as tragic as it is unimaginable.
Glacier National Park had never recorded a fatal grizzly bear attack since its creation in 1910. On Aug. 13, 1967, different bears fatally mauled two young women camped miles apart.
The deaths of Michele Koons and Julie Helgeson, both 19-year-old seasonal park employees, brought confusion and disbelief. A firestorm of headlines followed with reports of purposely feeding bears at Granite Park Chalet and generally lax garbage and bear management park-wide. The coverage culminated when author Jack Olsen penned an article and book memorializing the events as "Night of the Grizzlies" – a title that stands to this day.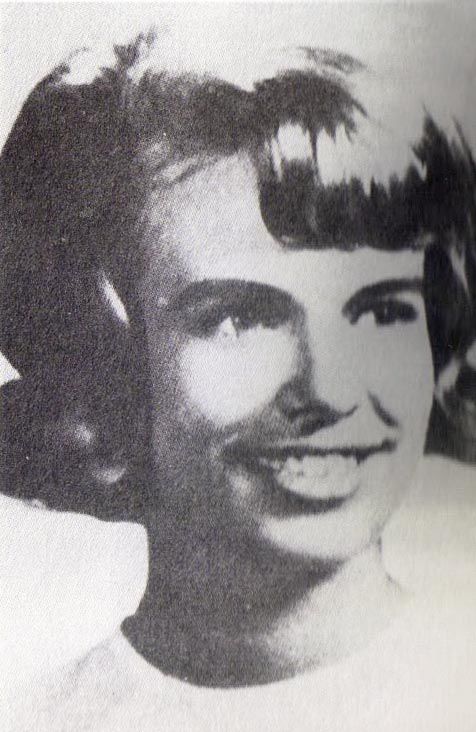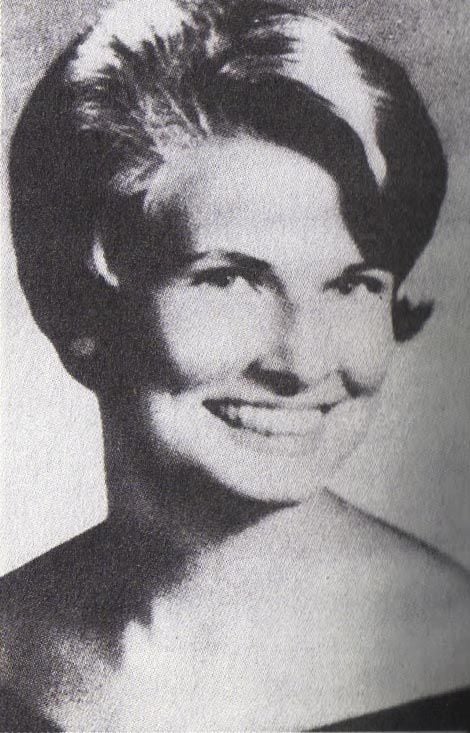 The improbability of two separate fatalities brought a host of theories as to the cause, from thunderstorms and wildfires to cosmetics and menstrual cycles. Although the attacks bore some similarities, the bears involved and their motivations appeared to differ significantly.
Granite Park Chalet stands sentry at timberline over the twisting valley below, backed by a sawtooth ridge separating the west and east sides of the park.
In the summer of 1967, concessionaires began dumping table scraps nearby, first out of necessity because of an undersized incinerator, but soon to keep the grizzlies coming for easy pickings, to the delight of guests. The known feeding program quickly became the central attraction at the chalet.
Despite some tepid warnings from the National Park Service, the program continued largely unchecked, with some later accusing the agency of intentionally ignoring the violation of park policy.
While two other bears routinely visited the garbage dump, a young sow with two yearling cubs is believed to have fatally mauled Helgeson and severely injured her companion Roy Ducat as they slept quietly below the chalet. A search team found her alive, but she eventually died in the chalet as doctors worked feverishly to save her.
To the southwest less than 10 miles away at Trout Lake, Koons slept amongst a party of five campers and a dog. The tumultuous day included a run-in with a grizzly well-known for raiding trash cans and campsites. The bear had already torn into the campers' food supply, causing them to sleep near the lake with a roaring campfire.
As they slept the bear suddenly appeared over them, with all but Koons able to scramble away. A postmortem examination of the bear revealed glass embedded in the old sow's jaw and worn teeth that likely made feeding difficult, if not excruciating. Further investigation showed that the bear had consumed some human flesh in an exceedingly rare predatory attack.
Eventually, the National Park Service and many others concluded garbage habituated the bears to humans. With two deaths and public backlash, the agency drastically revamped its food storage, garbage and bear management policies.
Many of those changes remain to this day, protecting the park's wildlife and millions of visitors. Protections and reverence for grizzlies has helped populations expand, even bringing talk of delisting the animals from the Endangered Species Act, although such a move remains highly controversial. 
And grizzly maulings and fatalities remain exceedingly rare – with the vast majority of deaths in the park resulting from falls or other accidents.
"Night of the Grizzlies" still stands as the most well-known fatal maulings in Glacier's history. And the story rivals that of Timothy Treadwell, known as the Grizzly Man for filming himself living among Alaska's brown bears, as the most famous deaths in the history of the National Park Service.
Now 50 years later, four Montanans recount that night, the aftermath and the ultimately positive changes that came to Glacier and its bears in the face of the tragedy.
Riley Johnson, Helena
Riley Johnson dozed among the sprawling campers stretched across the floor of Granite Park Chalet.
The young husband and father awoke to his wife Roberta, who had just come in from rocking their 9-month-old son back to sleep, saying there was some trouble outside. A fellow guest at the chalet reported hearing someone at the nearby campground calling for her mommy.
"What we thought and we talked about there is some little girl in the campground out and wandering around and got lost and was looking for her mommy, so we went down to find her," Johnson, a Helena lobbyist, said in a recent interview.
They grabbed a couple of dim flashlights and headed out, and then they heard somebody else yell. 
"And that's when we got back, 'Bear,' and that's when all of a sudden we panicked," he said. 
The Johnsons and friends Dan and Judy Regan hiked into the chalet Aug. 12 along the famous 7.6-mile Highline Trail running the length of the Garden Wall. The typical weekend trip included seeing a grizzly bear at a distance and stopping for lunch along the trail. Also on the trail that day were Julie Helgeson and Roy Ducat, park employees taking advantage of some time off to hike and camp.
Two years earlier the Johnsons managed East Glacier Park Lodge and knew the system of recruiting college students to work summers in shops and eateries. The commonality provided a natural topic of conversation for the two hiking parties as they exchanged a few pleasantries.
Helgeson and Ducat moved on and so did Johnson's party, enjoying the trip on one of the park's premier trails. By mid-afternoon, the Johnsons and Regans strolled into a packed Granite Park Chalet. Hot temperatures coupled with a tinge of wildfire smoke in the air, he recalled.
"I had not heard about the bears until somebody, one of the other guests, brought it up," Johnson said. "So we had a little dinner, threw the mattresses on the floor and went out and saw the bears, two of them anyway."
The pair of grizzlies had arrived on cue, lured near the chalet by dumped table scraps. The show was what many came to Granite Park specifically to see. After observing the feeding, guests turned in for an otherwise uneventful night, until several hours later when a handful ventured into the darkness for what they believed was a lost child.
The cries of mommy, they and others would soon come to know, came from 19-year-old Julie Helgeson.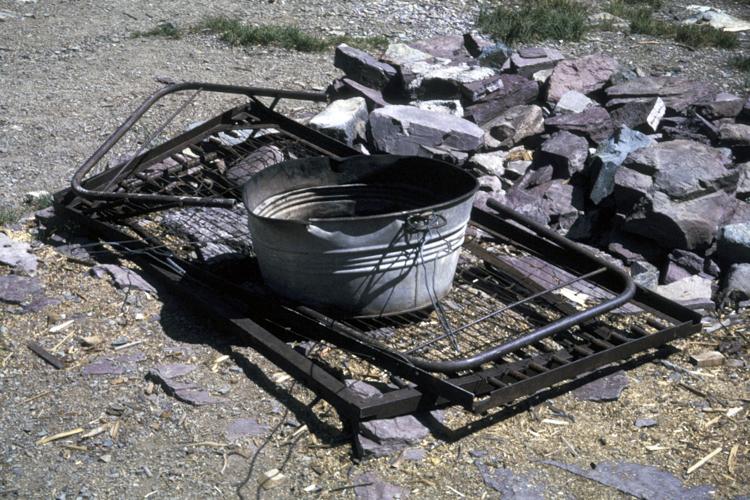 After hearing "bear," Johnson and others pushed on to a trail crew cabin where campers were tending to Ducat. Those helping him broke into the cabin and placed him on a bedspring, but they became lost in dark timber while taking an attempted shortcut to the chalet.
Johnson and Dan Regan crawled up onto the rocks above and directed the rescue team to the chalet, where by happenchance the guests included three doctors and at least one nurse.
Johnson grabbed two lanterns and stationed himself near Ducat's head in the dimly lit space, offering light to the patchwork medical team as they surrounded the wounded patient. At first they did not know the severity of his injuries, Johnson recalls, but eventually Ducat seemed to stabilize.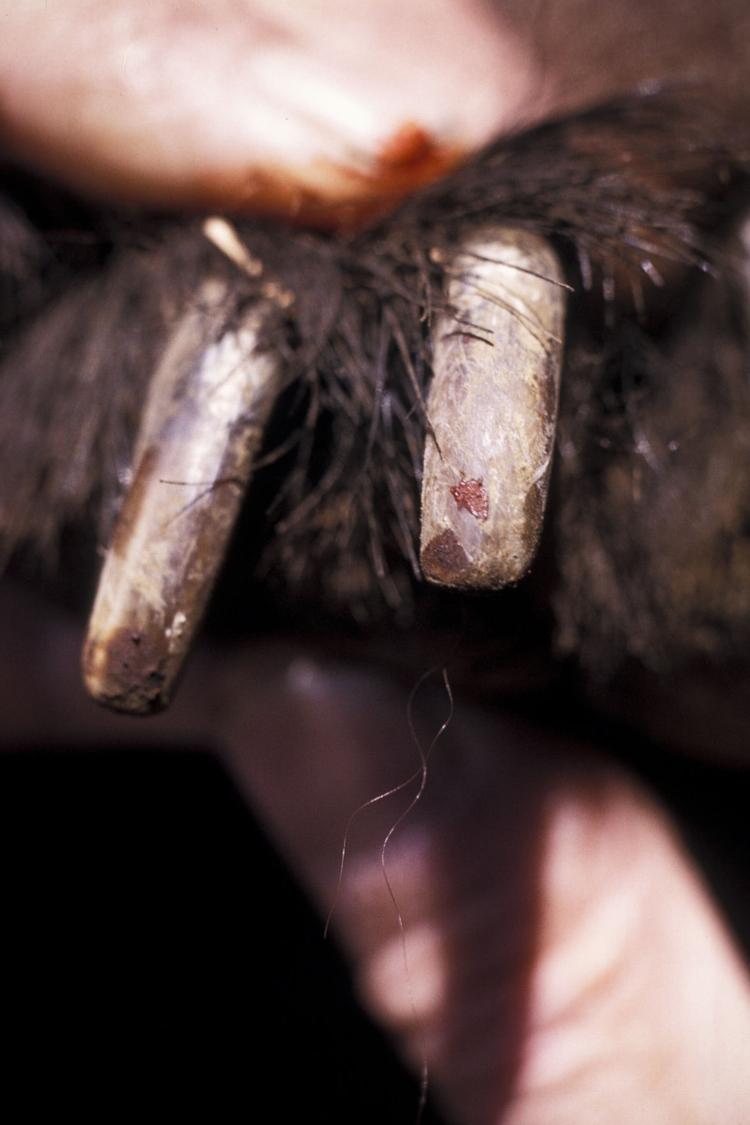 Meanwhile, a 22-year-old park naturalist named Joan Devereaux struggled with the radio but eventually got through, informing park headquarters of the mauling. A helicopter and armed ranger were on the way.
At the encouragement of Johnson and others, Devereaux, the lone park employee on site, took charge of the situation. She made the difficult call that a rescue party would not search for Helgeson until the armed ranger arrived.
"She was a little scared, but we said you have the uniform, you have to go out there and take command, and she went out and took command and did a wonderful job," Johnson said.
Soon they heard the chop of the helicopter churning toward them from the thickening smoke of the valley. 
As the helicopter hovered in the night sky and the pilot wavered on the dangerous landing, yet another opportune guest stepped forward. As Johnson recalls, the man recently came off an aircraft carrier using light to land helicopters and quickly guided the pilot to the ground.
With the helicopter landed a rescue party formed again and headed out to search for Helgeson. This time Johnson stayed back and waited with the medical team. When they arrived, he resumed his post holding the lanterns as the doctors went back to work and a Jesuit priest named Tom Connolly took to her side in comfort.
"When they finally brought her back she was alive, even talking," Johnson said. "She kept saying 'It hurts, it hurts,' and that's when the doctors realized how bad she was."
Among Helgeson's many injuries were punctured lungs. After 20 or 30 minutes, she began to slip.
"(Dr.) Lipinski was doing some sewing, he stopped and raised his head and said 'We lost her,' and that's when we first realized that," Johnson said, adding that Connolly gave her last rites at about 4 a.m.
With most of the guests awake as the events of the night unfolded, Johnson recalls many different reactions.
"It was confusion, but it was every range of emotion as I remember it," he said. "You could see everything you'd want to see, some things you didn't want to see and you put them out of your mind. There were 65 people in there that night and if you interviewed every one of them you'd have 65 different stories. I mean everybody saw it differently because it was such a crisis."
Johnson is still amazed at the people who stepped forward to help and the unique skills they brought, from doctors to someone who could guide a helicopter with flashlights.
The next morning Johnson joined the group led by Devereaux that hiked out to Going to the Sun Road. She would later receive the Distinguished Service Award from the Park Service for her actions that night, at least in part based on a letter Johnson wrote to her superiors.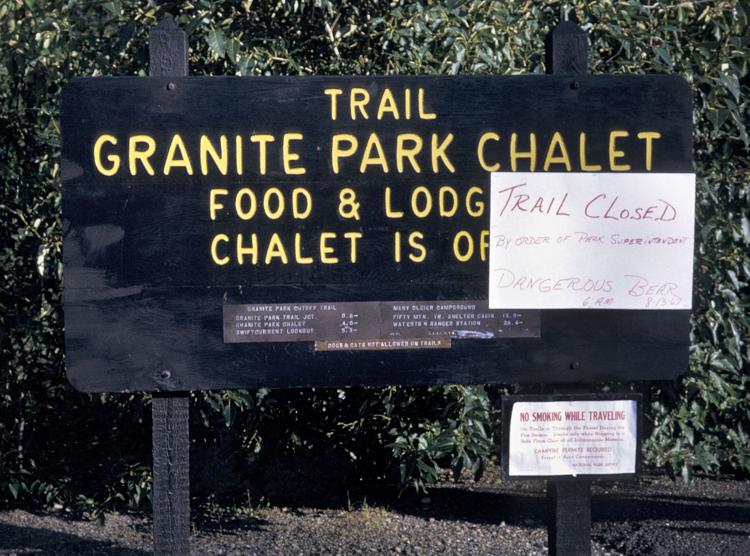 "They did the best they could and I think that's all you can ask from somebody after a crisis is over," he said. "You make mistakes and so forth, but at the time did you do everything you thought was right to do? I would say yes."
Leonard Landa, Missoula
In early July 1967 Leonard Landa started hearing about the grizzly bear at a plot of vacation cabins on Lake McDonald's west shore called Kelly's Camp.
As a mid-level ranger in Glacier National Park, Landa responded several times to the camp and the alarmed residents' accounts of the bear exhibiting bold behavior, including raiding garbage cans.
"That summer was really hot and dry and so you had the bears were coming down," Landa said recently from his home in Missoula. "The thing is with bears, and grizzlies and blacks would be the same, once they start developing a pattern of feeding off garbage cans or out of garbage cans, then it becomes a problem."
Landa was in his fourth summer with the National Park Service. His job included monitoring the backcountry in his section of the park and dealing with bears specifically.
As the summer unfolded, accounts trickled in of the same grizzly topping Howe Ridge and terrorizing campers at Trout Lake, destroying camps, stealing food and chasing hikers.
Landa says he would have shot the bear, but whenever he responded it disappeared or guests had already shooed it away. His superiors, while interested in seeing the bear eliminated as a safety threat, did not see it as a major priority as wildfires raged in the park.
"You know Glacier had never had a death and I think there was sort of a cavalier attitude when it came to grizzlies. It was like we might have a problem but it'll go away as soon as the berries come out or the snow comes and they all hibernate," Landa said. "It was just a different attitude about bears, but also there weren't the number of bears there are today."
Landa and his wife, Barbara, went to bed in the early morning hours of Aug. 13 having listened to the crisis at Granite Park. They awoke shortly after sunrise to the familiar sound of boots hitting the flat glacial rock making up the path to the Lake McDonald ranger station. That morning, the visitors seemed to be running.
"So I jumped up and went into the office and opened the door and these kids basically fell into the office of the cabin. They were all talking at one time," Landa said. "So I finally discerned they'd been in the backcountry at Trout Lake and one of their party, they didn't know where she was. They didn't know if the bear had mauled her or she'd climbed a tree or whatever."
Landa and two of the party set out over Howe Ridge and down to Trout Lake. Fellow park ranger Bert Gildart soon joined them, along with a helicopter that flew in, among other things, Gildart's rifle.
The party spread out from the campsite in search of 19-year-old Michele Koons with Landa on the trail. As they moved along, he made the first startling discovery.
"I looked on the trail and I saw this piece of something," he said. "I picked it up and it was her ear. It didn't have any blood on it or anything. It was like someone took a really sharp knife and just flicked her ear off."
They continued into the brush following the evident drag marks, encountering pieces of bloody clothing, a sleeping bag and finally the partially consumed body of Koons.
With her remains flown out, the rangers hiked to nearby Arrow Lake and provided campers an armed escort back to the trailhead. Landa and Gildart then returned with orders to find and kill the bear.
They spent much of the day at Trout Lake with canned salmon and other attractants, but once again the grizzly would not show itself. They decided to hike to the shelter cabin near Arrow Lake to spend the night.
"Well I had forgotten and Bert had forgotten I think too, how high that brush had grown along the trail and it got dark on us," Landa said. "And we were walking up to that cabin at Arrow Lake and the moon was really bright, and then the moon shown off the metal roof of the cabin. I was glad to see that place because we were wandering around there in the dark where that bear had been."
Gildart got up that morning to relieve himself and quickly began calling to Landa. The bear was outside the cabin.
"I thought, you're kidding me, you're kidding me," he said. "So I took the two rifles and sure enough … he came up out of the creek, kind of looked at us like what are you doing here, and we shot it."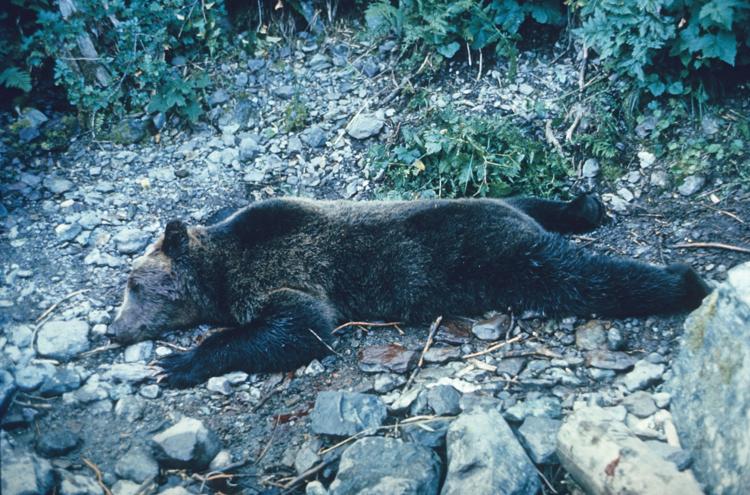 Now 50 years later, the images are still vivid in Landa's mind. He believes the bear was simply traveling through the territory and did not actively follow them to the cabin, however, the grizzly showed little fear of humans.
For Landa, dealing with the bear was simply part of the job, but he empathizes with the families of Koons and Helgeson.
Collection: Newspaper clips from after the Night of of the Grizzlies in '67
Unearthed from the collection of the Montana Historical Society, here's a collection of newspaper clipping associated with the Night of the Grizzlies maulings.
"I think the forgotten part of this story is the loss of these two girls and the impact it must have had on their parents," he said.
Landa recalls limited public paranoia following the attacks. While they certainly dissuaded some visitors, and even generated a few calls to eliminate bears for public safety, the vast majority of visitors continued to come and follow more stringent rules about food storage and garbage disposal. The incident made the Park Service aware that the unthinkable can happen, he said.
"They had a more aggressive posture as far as keeping people away from bears, but I think the Park Service to this day is not, and I don't know this for sure, but I think in general they're not going to destroy a grizzly unless it's a real problem," he said. "And my personal feeling is, that's the way it should be. We have all this wildlife that exists in Montana and we need to learn to preserve that wildlife rather than to say destroy it because a bunch of people want to hike in an area. People can hike in a different area or wait until the bears clear out of there."
Bert Gildart, Big Fork
From an early age Bert Gildart knew he wanted work for the National Park Service.
By 1965 he took a job as a ranger stationed at Kintla Lake on Glacier National Park's northwest side. The job included dispatching a problem black bear that summer.
In 1967 Gildart found himself assigned to patrolling the park's roads, including routine traffic enforcement. On the night of Aug. 12, he was escorting a large flatbed rolling along Going to the Sun Highway when his radio came alive.
"Out of the clear blue sky comes this voice and the voice was coming from Granite Park Chalet," he recounted from his Big Fork-area home. "The lady said, 'We've had a bear mauling and we're trying to reach headquarters. I said, 'I can reach headquarters for you, I think.'"
Gildart contacted his superiors, the ranks already stretched thin by wildfires blazing in the park. The helicopter was soon en route, and he refocused on escorting the truck. By 2 a.m. he was home and dozing off.
"The next morning at 6 … a ranger came knocking at my door and said, 'Bert, you've got to get up there's been a mauling. And I said, 'I know there's been a mauling, it was at Granite Park Chalet, and he says, 'No, this is at Trout Lake.'"
"I said, 'You've got to be wrong, two maulings last night.'"
Gildart set out on the trailhead to Trout Lake behind fellow ranger Leonard Landa's party, which included two of the young park employees who witnessed the attack on 19-year-old Michele Koons. As he rendezvoused with them at the lake, a helicopter arrived with his rifle on board.
"All of a sudden Leonard looks up at me and says, 'Bert, there she is,'" Gildart said.
With the body loaded on the helicopter, the two rangers hiked up the valley and escorted backcountry campers to the trailhead. Two days later, they hiked back in on orders to shoot every bear they saw.
Gildart recalled the moment he emerged from the Arrow Lake cabin and laid eyes on the grizzly.
"As I'm looking around all of a sudden, and it wasn't very far away ... there was this bear," he said. "We had this river bank and it was just peering up over the top."
Gildart called to Landa to bring the rifles.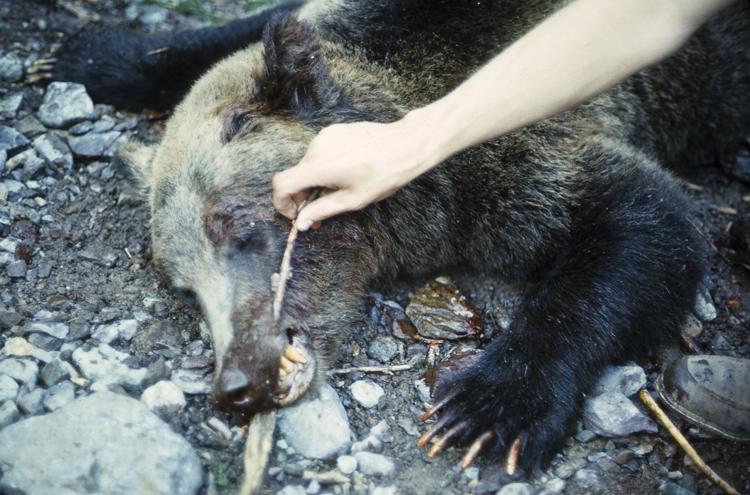 "Leonard and I both stood there with rifles just sort of looking at this bear. Then all of a sudden the bear started moving forward, and we knew it was coming our direction and that's when we shot.
"We felt like it was coming over with unfriendly intentions."
An FBI forensics expert and other officials flew in to examine the carcass. Examinations later revealed the glass embedded in the old sow's jaw. 
The various theories about why the maulings happened sparked dubious statements from the Park Service and dominated headlines.
"They were trying to blame it on something else, like these girls being up there at the wrong time, but that didn't prove out," Gildart said. "What the Park Service continued to deny is the fact that all these backcountry campgrounds were littered with garbage."
Gildart later returned to Trout Lake and removed 17 burlap sacks of garbage via helicopter, and the area was not unique in its litter problem. As he and others concluded, including the National Park Service in reports obtained under the Freedom of Information Act, garbage was the culprit. 
The mauling brought near immediate reforms with new bear management plans and food safety. Rangers policed campgrounds and delegated crews to clean them up.
In the following years Gildart's job markedly changed. His new job was to keep bears and people separated. He carried a .44 magnum and trained with shotguns shooting slugs.
"Night of the Grizzlies" author Jack Olsen came to Glacier after the attacks and Gildart spent time with him hiking to the locations. Olsen felt the probability that two women would die in two separate maulings on the same night must be astronomical.
"As I think about it now, I don't think it was a one-in-a-million probability at all, I think it was going to happen. The probability was 100 percent that it was going to happen if conditions prevailed like they did back in those days," Gildart said. "You had bears that were habituated to people. You had people throwing food all around. I think it was bound to happen."
Dave Shea, Choteau
Dave Shea's 36 seasons in Glacier National Park as a ranger and biologist often put him in close contact with both grizzly and black bears, particularly when he became the park's first bear manager.
In 1967 he was in his second year with the Park Service, tasked with studying bears, tracking banded elk and surveying fisheries.
On Aug. 9, Shea hiked with ranger Bert Gildart into Granite Park Chalet. There they witnessed the feeding program and five grizzly bears, at first two adults and later a sow with two cubs.
"It was just an accident waiting to happen," he said, as he glanced up from his kitchen table at the cattle in his pasture, "and that was four days before the incident occurred."
A day after the tragedies at the chalet and Trout Lake, Shea returned to Granite Park with other rangers and the task of killing the bear or bears responsible for Julie Helgeson's death.
"We ended up killing three grizzlies there," he said. "Basically we were told by folks in Washington, D.C., to start shooting bears. And looking back on it, that was probably not too bad of an idea because these bears were very much tuned in to human garbage thanks to what the chalet was doing."
The last bear killed – the sow with cubs – is widely believed to be the one that killed Helgeson and severely mauled Roy Ducat as they slept. Shooters also wounded one of the cubs and the Park Service destroyed the pair the next year after they began raiding garbage cans near Many Glacier.
Killing bears was not something Shea relished.
"It was distasteful for me anyway, to be shooting the bears," he said. "I hate to kill bears, but sometimes you have to."
Despite initial theories about lightning storms or wildfires triggering the attacks, Shea believes garbage and coincidence offer the best explanation.
"Just the fact it was two girls on the same night by two different bears in two different areas was just the astounding thing, it was just an amazing coincidence," he said.
The summer of 2017 marks the 50th anniversary of Night of the Grizzlies, but also the first in a number of years that Shea will not return to Granite Park. The chalet has long invited him to stay during the anniversary and recount the events and lessons from that night, but the 77-year-old says age has caught up with him.
"This is the part I like to emphasize are all the good things that came out of this," he said. "What was going on before this incident, I'll never forget the bear management plan was something like three pages long. Today it's something like 50 pages long and it virtually covers every conceivable situation and it's much better because everything is covered in detail."
The laxness before the attacks included disorganized campsites and garbage that made easy targets for bears.
By the next season the park, with input from Shea and others, rewrote the grizzly management plan. That included many common sense practices and education campaigns still used today, such as a pack-it-in, pack-it-out policy, bear-proof garbage cans, established backcountry campsites and cook areas and a backcountry permit system.
"Certainly us as biologists, we had input into that and it just made good sense," Shea said. "It's too bad it took an incident like this to make the changes."
Shea, now living near Choteau, often speaks publicly about living and traveling in grizzly country and enjoys offering advice. Although he only recently began carrying bear spray himself, he supports and encourages hikers to carry it. Bear bells take away from the overall natural experience, hearing birds sing and seeing wildlife, he believes.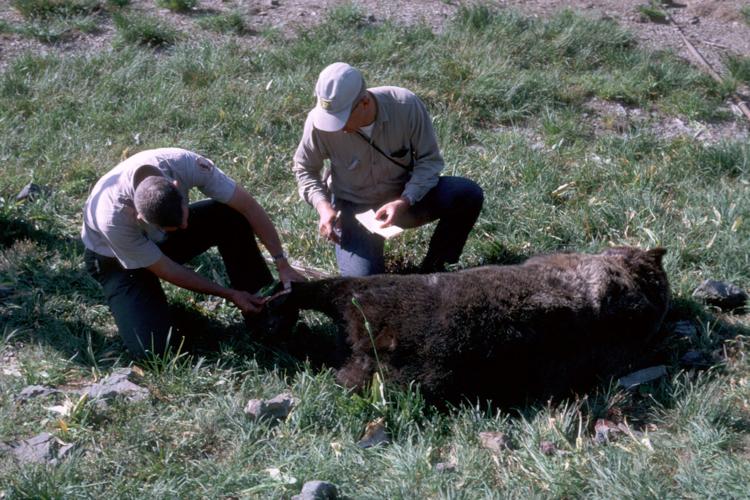 "Having dealt with bears for 60 years I'm very comfortable with them, but most folks are not and that's alright, too," he said. "I can't emphasize enough to hikers the real thing to do is train yourself to be alert. There are so many times I've avoided potentially interesting situations just by looking ahead. Not only do you see more bears you see more of everything."
The growing popularity of the park does concern Shea, noting that during peak season every bear in the area likely hears a motorcycle or helicopter at least once a day. It is a an issue that the park must address to maintain the wilderness values, he says.
Shea has had his share of run-ins with bears, including bluff charges and seeking a tree for safety. Those encounters have not dissuaded him from enjoying the wildlife and the places they call home.
"Basically for me it's just a treat to see a bear and it's a treat to know that you might see a bear, that you're in good enough country that there might be bears," he said. "If you live in a place with grizzlies and then you live in a place where there's not grizzlies, life is pretty tame. They make you more alert, make you more aware and they add a yeast to life – sometimes too much."
Tom Kuglin, Helena Independent Record​