The massive parking lot at the new 24-hour WinCo grocery store in Missoula was completely full on Monday morning for the store's first official day open, with customers flocking from far and wide to check out the new space.
Masks are required and social distancing precautions are in place inside the 70,000-square-foot store at 2510 S. Reserve St., and roughly half of the store's 150 employees were on hand to keep lines to a minimum. 
"It's a soft opening, so one of the main things we want people to know is that we're excited to be open in Missoula (and) the safety of the employee owners and community is the most important thing," said Noah Fleisher, the company's director of corporate communications, in an email.
"So we are not running huge specials or trying to pack the store. We want people to know we are open for the duration, 24/7, and are not going anywhere."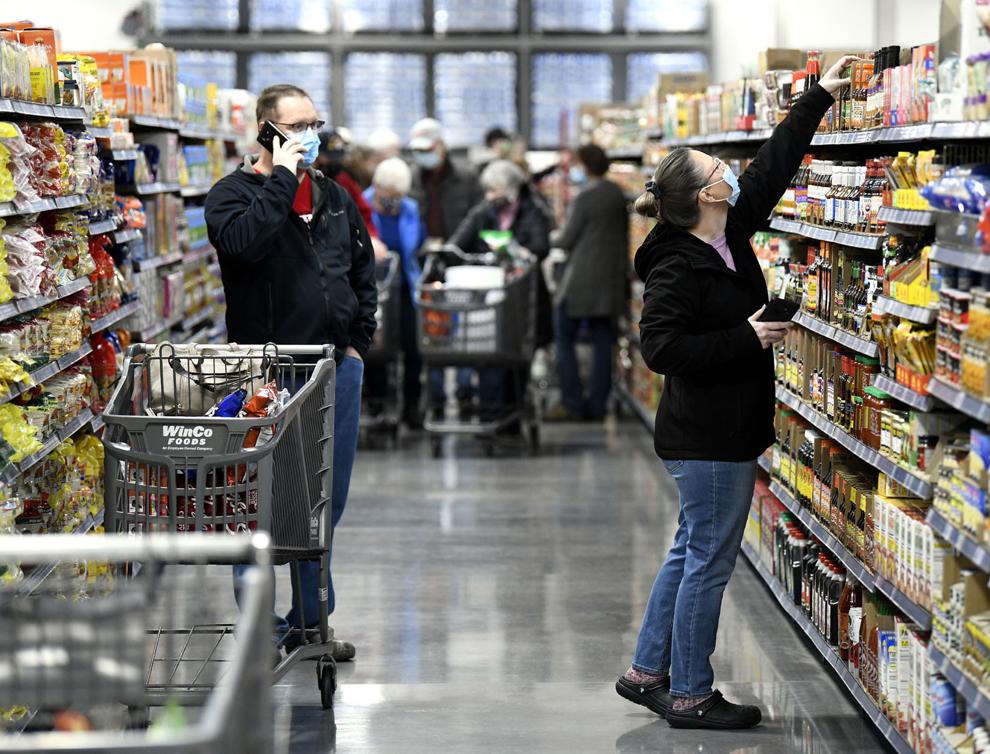 Essentially, Fleisher's message is that customers don't need to necessarily pack the store on the first few days that it's open.
"We can't wait to see them, but we want them to continue their normal shopping patterns and come out when they would regularly go shopping so we can keep the customer flow steady and safe," he said.
Store manager Shawn Early said the opening was officially scheduled for 9 a.m., but they actually opened the doors at about 7:45 as a crowd-management tactic.
"It wasn't too bad," Early said. "We opened earlier just to make sure there wasn't a big line. As soon as 9 a.m. hit, it filled up pretty quick. We have roughly 250 parking spots. The thing is, normally our stores have around 400, so that's the only thing about this parking lot. With the opening, we're shuttling our employees just because we know we're going to get the surplus of people coming to check the store out."
Normally, the store would have 600 shopping carts but right now they're limiting that number to 260 to keep the number of people inside below capacity. Early said they're actually imposing stricter guidelines for COVID safety than Missoula County's health department requires.
"We're going off stricter ones that we've had in other states," Early said. "Because it just makes it safer. That's the other thing with how much more floor space we have, people can kind of safely space themselves if they want.​"
"We offer basically everything that the biggest box stores or conventional stores have, whether it be organics, regular, gluten-free, keto or paleo," Early said. "We have pretty much a variety of everything. As you see it's a 70,000-square-foot sales floor, so we have a lot of space. Now as far as the difference between us (and other grocery stores), we go around and make sure we're beating everyone on prices. So it's not a gimmick as far as what is the deal this week. It's every single day. It's every aisle."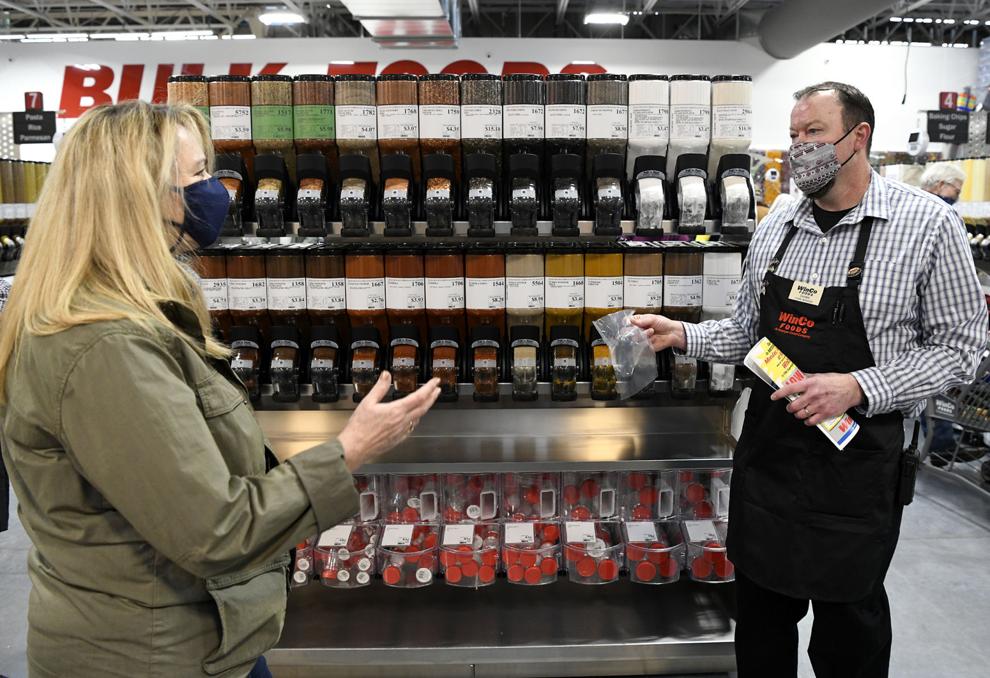 The square footage of the sales floor of the store is about 12,000 square feet larger than an NFL football field, for size comparison.
The goal is to pass cost savings on to consumers.
"We just keep cheap prices," he said. "That's the mantra of 'low price leader.' We buy in bulk so we can give the discounts on to the customers."
But unlike Costco, he said, you can still find a small jar of mustard along with a huge container, for example. There's no membership required to shop at WinCo.
However, the store does not accept credit cards. They do accept debit cards, cash, checks and EBT (electronic benefit transfer) for customers using the Supplemental Nutrition Assistance Program.
"The credit card thing, with the surcharges the credit card companies charge, we're able to keep our costs down," Early said. "We've tested it in different areas. That's the thing, we can keep lower prices without the credit card charges."
Customers also bag their own groceries, but Early said anyone needing assistance will get help.
"A lot of people are doing that now because of COVID, so it actually worked in our favor," Early said. "We did that because it saves costs."
The store has a meat and seafood deli, along with a sushi bar, a beer and wine selection and a health and beauty section. Early is particularly proud of the bulk section.
"We've got candy, nuts, flour, sugar, spices," he said. "We've got more selection than any other retailer around, and the pricing is cheaper. Most of the time, you'll find something that's $14 a pound at other stores and it's $3 a pound here."
They don't allow outside containers due to COVID precautions, but Early said there's an in-house supply of containers and people can get a pinch of turmeric for 20 cents if they want.
WinCo is a privately held, majority employee-owned company with an Employee Stock Ownership Plan.
"Every single employee gets stocks into the company," Early said. "That's part of their retirement. So not only the 401K but they get stock options as well. Basically everybody has a piece of ownership so they take a little more pride. It's kinda cool. Yesterday we had a big meeting and social distanced all the way back to produce, talking about how everybody's starting a new career. It's pretty cool.​"
Early himself started as a shopping cart gatherer 31 years ago, and said the company's model provides an incentive to stay.
"That's the reason I've stayed so long," he said.
Opening a massive new store in the midst of a pandemic is a little complicated, Early noted.
"It is a different animal," he recalled. "Even the hiring process was completely different. I did Zoom and phone interviews. Most of the time when I actually finally got to meet people was when we got occupancy of the building, so that was definitely interesting. Sometimes you can actually get more out of an individual when you're interviewing somebody on the phone. People I think are really nervous in person and people talk a little better over the phone."
It was a huge team effort by the entire staff to stock the whole store, he said.
"They did an awesome job too because we did it in about two weeks where we got everything in and stocked up," he said. "Produce got done in two days. Produce, meat, deli and all that, we waited until the last two days you know because you want it as fresh as possible."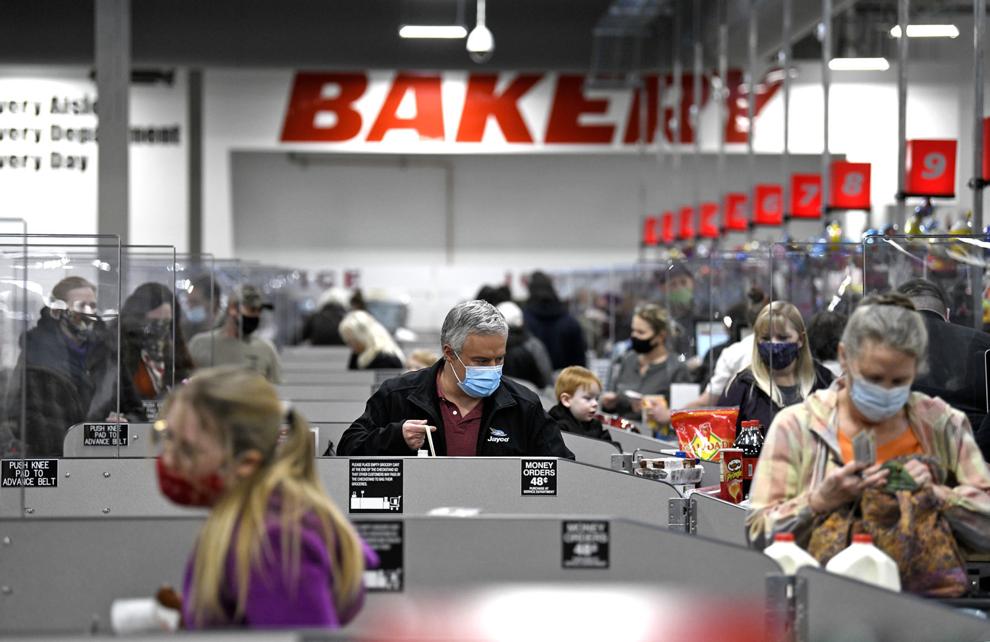 Customer Lisa Stellmach said she was impressed with the new store.
"They have wild rice here, and any other store around here you can only find it in a mix," she said.
She didn't necessarily mean to come on the store's first day open, but that's how her schedule worked.
"I live out of town and I needed to get groceries," she said. "The line wasn't too bad at all."
Fleisher with WinCo Foods said the store will welcome new customers even if they hold off for a few weeks before coming in to avoid crowds.
"We will be thrilled to see them," he said.