Multiple wildfires sparked following an early afternoon thunderstorm that passed through Lewis and Clark, Jefferson and Broadwater counties Tuesday.
The York Volunteer Fire Department requested firefighters to respond to the area of Owl Gulch and Beaver Creek Road north of York.
Two fires sparked in the area following the thunderstorm. Owl Gulch fire was sized at 3 to 5 acres and Devil's Tower fire at 10 acres as of Tuesday evening.
Owl Gulch, burning about a mile south of Nelson, has so far displayed minimal to moderate fire activity burning in grass and brush, said Kathy Bushnell with the Helena-Lewis and Clark National Forest. One Hotshot crew is assigned to the fire.
Devil's Tower, burning about a mile and a half southwest of Nelson, is much more active, she said. The fire is burning in timber and firefighters on scene reported seeing some trees torching and crowning. Two air tankers and more than 20 firefighters were on the fire Tuesday evening. 
The small community of Nelson and other residences in the Beaver Creek area have been ordered to evacuate due to this fire, according to Lewis and Clark County Sheriff Leo Dutton. A total of 12 homes were visited by law enforcement to issue the warning, he said. 
A roadblock is in place at the York Bar preventing traffic from traveling north. Travel is still permitted east toward Vigilante Campground. 
Near Clancy, The Kelly Gulch fire sparked west of Interstate 15. Crystal Beckman with DNRC said the fire is burning in heavy fuels and that multiple engines and two helicopters were on the scene Tuesday evening. 
You have free articles remaining.
The fire is located 5 miles west of Clancy off of Lump Gulch and sized at about 4 acres. Beckman said the fire is at least 3 miles from the nearest structure and no evacuations have been ordered.
An air tanker was ordered for Kelly Gulch but called off once crews got on scene and assessed the fire, she said. Firefighters expected to remain on scene through Tuesday evening.
Crews were also responding to fire near Boulder Hills called the Amazon fire. Additional information on that fire was not immediately available. 
At 7:30 p.m. firefighters were hiking into the Pine Crest fire located just south of the Strawberry Butte Lookout south of Montana City. Officials believe the fire was small but no other information was immediately available.
Firefighters, with the assistance of air resources, responded to the 1-3 acre Dalton fire located in the vicinity of the head of Washington Creek near the Helmville Gould Trail south of Lincoln.
There was minimal fire activity early in the evening, but it is in heavy dead and down fuels so smoke could become visible, according to the Forest Service.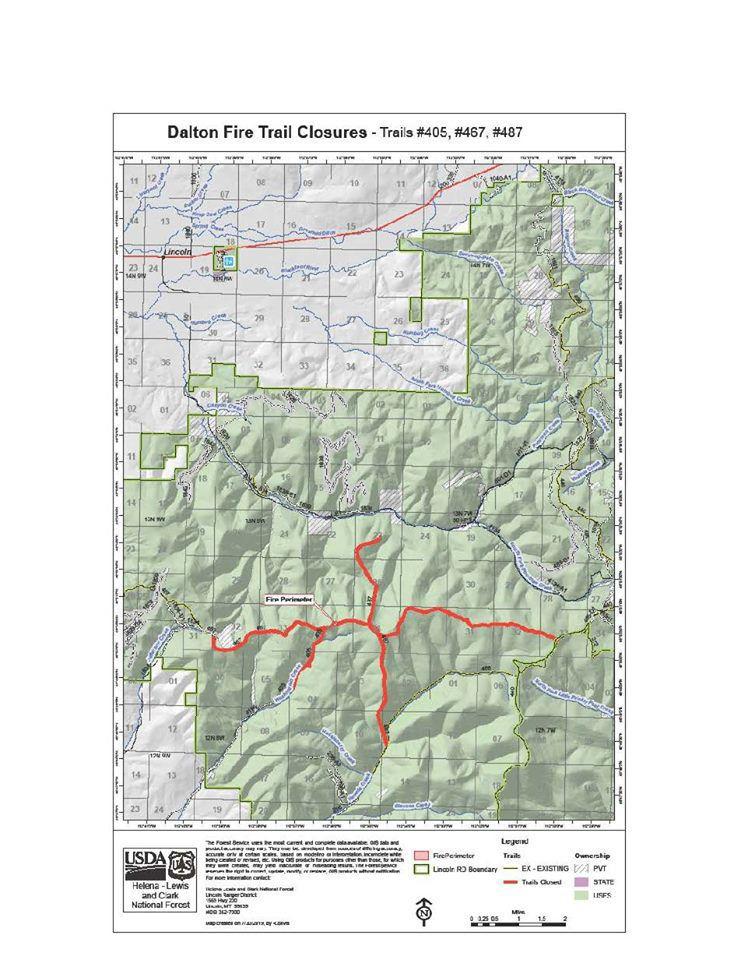 For public safety purposes during fire suppression work, there is a temporary trail closure, the Forest Service said.
The Helmville-Gould Trail is closed from the trailhead at Forest Service (FS) Road #1834 on the west to the trail end at the Continental Divide Trail (FS #440). FS Trail #487 is closed from the intersection of FS Trail #466 on the south to its end near Stemple Pass Road (FS #601). FS Trail #405 is closed from the trailhead at Forest Service Road #4196 to the junction of FS Trail #467.
Crews also responded to small fires near Winston and Craig following Tuesday's storm.