The slow-motion video shows a snowmobiler jumping his machine across the plowed two lanes of the Beartooth Highway, taking off and landing on the snow piled several feet high on either side. A spectator raises his arms in celebration. Another rider is filmed wearing shorts as he powers his machine across the shallow spring snow.
Snowmobile and snowbike use like this has grown steadily over the past decade atop the 11,000-foot high pass along the Montana-Wyoming border, prompting some hikers and skiers to protest.
"It's a culture around skiing and snowmobiling that I'm a part of in Cooke City in the winter," said Austin Hart, who grew up in the nearby community of Red Lodge, spending his early summers skiing on the mountain pass.
Snowmobiles allow backcountry skiers and snowboarders to penetrate deeper into the mountains to ski and ride. Yet even Hart doesn't see the use of snowmobiles atop the Beartooth Plateau in spring as appropriate, and said riders can easily damage the fragile tundra by riding across dry land between snowy areas.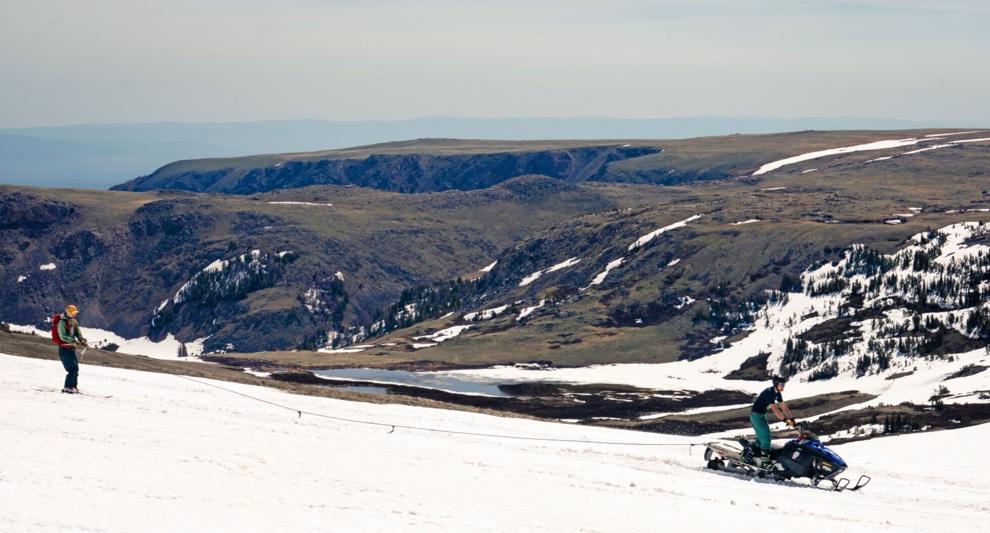 Scenic byway
The Beartooth Highway is scheduled to open to vehicles on Friday morning, May 26. Known also as the Beartooth Scenic Highway for its incredible mountain views, the nearly 68-mile stretch of road connects Red Lodge to Cooke City at Yellowstone National Park's Northeast Entrance.
Since the late 1930s, when skiers were first able to drive atop the pass, they have been gliding down the mountains on early summer snow. In cool springs, following winters with heavy snow, some patches of snow could be skied in July. But it was a pretty small cadre of gritty skiers and racers who braved the steep slopes.
Some used the lifts erected in the 1970s to ride back up (Beartooth Basin Summer Ski Area is scheduled to open on May 27), while others chose to hike out of places like Gardiner Headwall or Reefer Ridge. On the Rock Creek Headwall, skiers and snowboarders could hike across the plateau before gliding down to a car left at a pullout along Highway 212.
"You do not need a sled, that's the whole point," said Hilary Eisen, of the Winter Wildlands Alliance, referring to snowmobiles.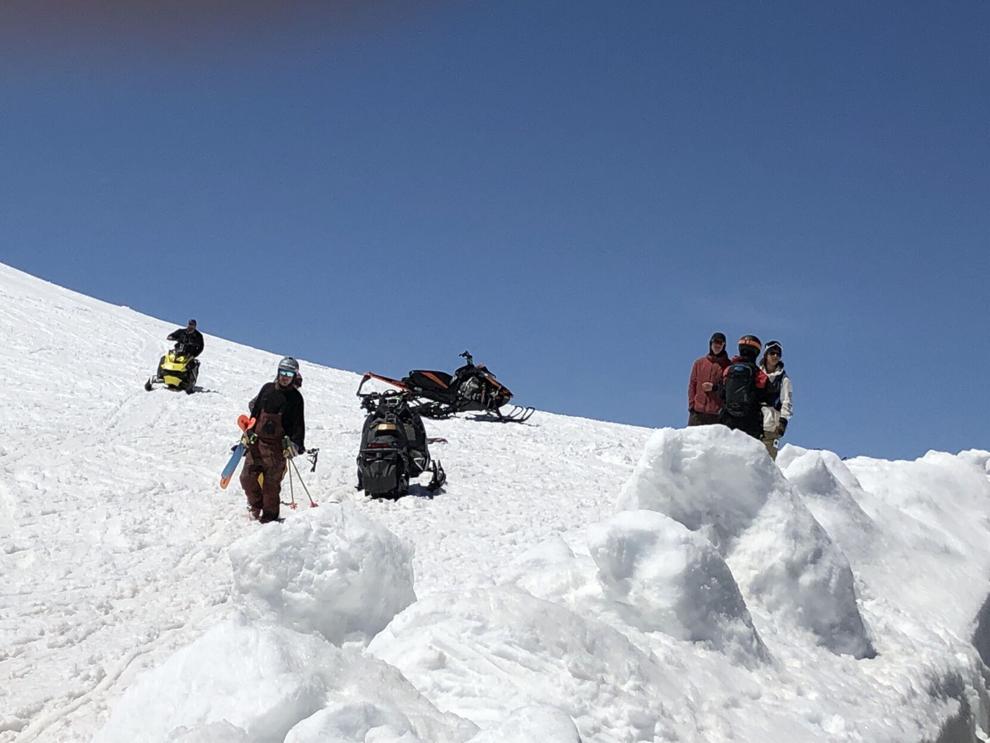 Congested
Eisen grew up in Red Lodge, skiing the pass with a few others after the Beartooth Highway would open around Memorial Day weekend. Now, she said, many locals avoid the pass because of congestion caused by snowmobilers, especially near the popular Gardiner Headwall.
"Now it feels like the Thunderdome," Eisen said, referencing a 1985 post-apocalyptic movie that featured a domed arena for cage fights. "When you add more people plus machines it becomes unsafe."
Bert Miller, a board member for the Cody Country Snowmobile Association, said snowmobilers near the ski area are a different breed than those in his Wyoming club. Instead, they are riders using their machines to tow skiers and snowboarders back up the mountain.
"The machines you see up there are older and more used for work and pulling people up and down," he said.
Shoshone
The most crowded areas atop the pass lie on the Shoshone National Forest, headquartered in Cody, Wyoming. In its October 2021 Environmental Assessment for its new Travel Plan, the forest acknowledged "the system of (over-snow vehicle) use has been largely unregulated."
The forest has been working on updating its Travel Plan for seven years, but progress has been repeatedly stalled as the agency has seen continual staff turnover.
"As of now, there's not much leadership or transparency on the Shoshone, which makes action harder," said Sarah Walker of the Wyoming Wilderness Association. "There's no decision-maker for the public to work with."
Kathy Minor, acting forest supervisor, said in a statement the agency is continuing to review public comments it received following the release of the EA. There is no anticipated date for completion of the review or when a draft decision will be issued.
In its EA, the Shoshone's preferred management alternative would limit over-snow motorized use from Nov. 1 to June 15. Eisen and Walker would rather see the end date pushed back to April 30 to avoid conflict with skiers atop the pass.
"We want it closed when the Beartooth Pass opens," Eisen said.
They also favor restricting use in the 14,700-acre High Lakes Wilderness Study Area to where it occurred prior to the area's establishment in 1984, maintaining access to Beartooth Butte and the designated trail system around Night and Beauty lakes. Protecting that area would benefit bears leaving winter dens and ground-nesting birds, conservation groups have suggested.
In addition, conservation advocates are arguing for protection of the Line Creek Research Natural Area and the Clarks Fork Canyon.
"They can have snowmobiles up there all winter long, but come springtime it's a different place," Eisen said.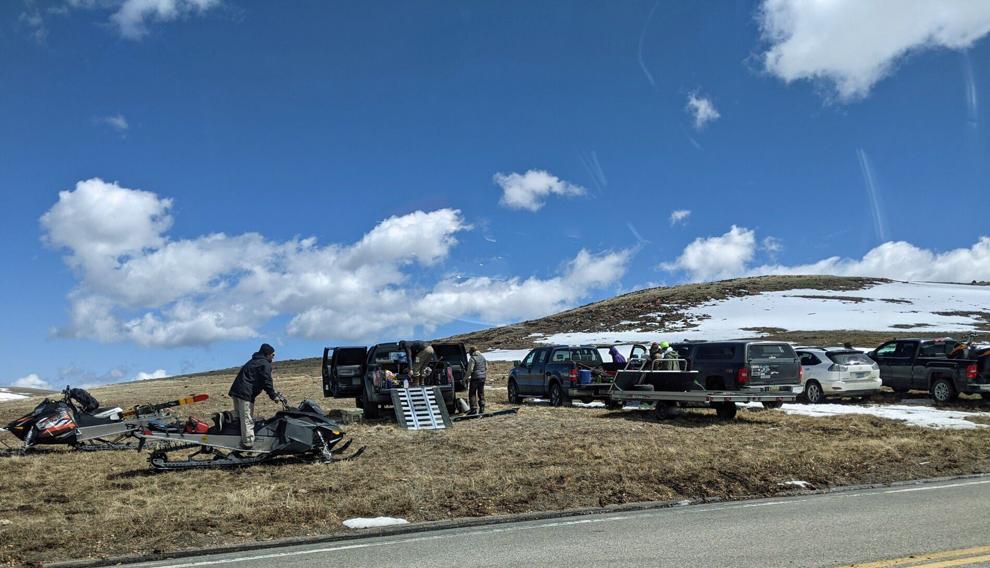 High riding
Miller, of the Cody snowmobiling group, said he's been riding in the region for 35 years and sees the machines as having little impact on an environment that's covered in snow. He's ridden into July in heavy snow years. He avoids riding atop the pass, however.
Miller's group opposes reducing the length of the snowmobiling season and any suggestion that district rangers should monitor snow depth to make decisions on when to close or open areas for use.
Across the Shoshone National Forest, over-snow motorized use is allowed on more than 522,970 acres, including more than 200 miles of groomed and 85 miles of ungroomed oversnow trails across five ranger districts.
Until the Shoshone Travel Plan is completed, some skiers, boarders and hikers are hoping snowmobilers and snowbikers will voluntarily choose not to ride atop the Beartooth Pass.
"Through this planning process we have the opportunity to address issues that affect people and the resource," Eisen said.
"Of all the Winter Wildlands projects I've worked on, this is the most personal for me."