The cost to the state of Montana for battling wildfires that have burned more than a million acres this summer has reached $53.7 million, a staggering price tag that has completely drained a state fire fund that was already slashed in half by decisions made in the 2017 Legislature.
In April lawmakers passed a cost-cutting bill that called for taking $30 million from the roughly $62 million fire fund to maintain an informal $200 million rainy-day account for state government and to reduce the depth of cuts to other state operations and services, cuts that would be triggered if state revenues came in lower than projected. That happened in July.
The fire account was left with $32.5 million, which has all been spent. The state is now paying for its share of fighting fires out of the Department of Natural Resources' budget. So far $3.4 million has been spent out of an available $11.84 million. The remaining $21.4 million has been covered through DNRC's operational budget and the governor's emergency fund.
During the heavy snows of last winter when lawmakers decided to tap the fire fund, it would have been hard to imagine the smoke-filled skies, numerous evacuations and burned range land that has dominated this summer. But an incredibly dry spring led to significant drought, creating prime fire conditions.
Nearly 1,700 fires statewide have burned 1,005,803 acres this year.
Legislators also considered the average annual cost of fighting fires for the state is about $20.6 million, offset by an average of $5.2 million in federal reimbursements, according to legislative records. But there are outliers — in the past decade, fire suppression costs to the state topped $100 million in 2008 and in 2013 reached $57 million.
While the cost of fighting fire has come in dramatically higher than expected this year, tax revenues have been much less than the Legislature projected, leaving Gov. Steve Bullock to seek another possible $236 million in cuts from state agencies. More information about those cuts is expected Friday.
State Sen. Jon Sesso, D-Butte, said the fire fund was still probably the most logical place to look for money.
"It was as good a place as any to provide a contingency, and when you compare using available cash assets compared to making deeper cuts in other areas of the government, I think it was still a prudent contingency plan."
He called current conditions "almost like the perfect storm."
"Not only did we get less revenue than we had anticipated for '17, but the fires are probably going to hit an historical level of expense."
The Northern Rockies Coordination Center's website tracks the total cost — including those to state, federal and tribal governments — of fighting all active fires. Who picks up the tab depends on where the fire is burning. On Thursday, updated figures put cost for all active fires at nearly $211 million. That estimate is only for active fires, not ones that were put out earlier this summer like the 270,000-acre Lodgepole complex in Eastern Montana, which cost an estimated $9.27 million, though that tally is not final. Federal agencies do not track fire costs in real time as closely as the state does and stressed that total costs will not likely be known for about a year.
The most expensive fire currently burning in Montana is the Lolo Peak fire, 10 miles southwest of Lolo. It has consumed 48,686 timbered acres, has 415 people working the fire and has cost $39.6 million so far. The second-most expensive are the Sapphire Complex, burning 15 miles southeast of Clinton, and the Rice Ridge fire, six miles north of Seeley Lake. Both have cost about $32.6 million so far. The Sapphire Complex has burned 43,516 acres and Rice Ridge has burned 119,857 acres.
The state has applied for and been approved to receive assistance from the Federal Emergency Management Agency for the Lolo Peak fire and the Lodgepole complex. The grants can match up to 75 percent of approved state costs for fighting fires.
On Thursday, Bullock met with FEMA administrator Brock Long to urge more assistance and resources to help fight Montana's wildfires.
"It has been a long and challenging fire season in Montana," Bullock said. "We've had losses to homes, livestock, forage and infrastructure, and we've tragically lost the lives of two wildland firefighters. We are experiencing impacts to individuals and businesses across the state, who have endured losses due to evacuations, hazardous air quality, and sustained threats to our tourism and recreation industries.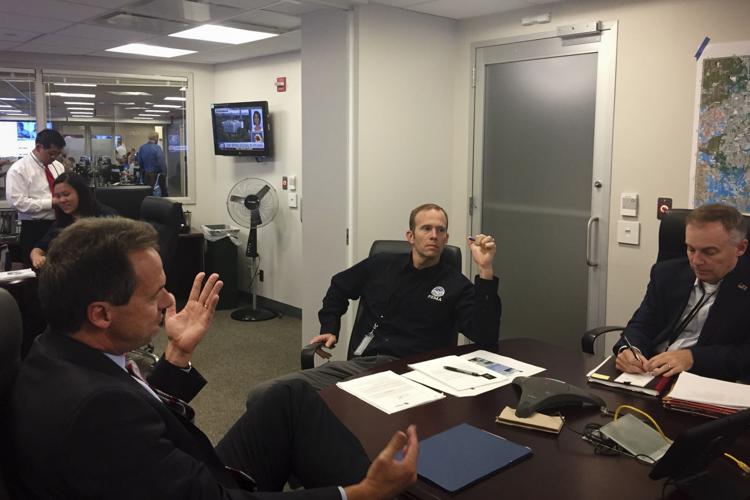 "The situation is likely to get worse before it gets better. While I will continue to pursue every available resource to support fire response and recovery, I am asking that we work together to ensure the long-term health, safety, and livelihood of Montanans impacted by this disaster," Bullock continued.
Bullock asked Long to expedite the review and approvals of additional grants and consider the ability to apply for grants across multiple fires.
Bullock also asked Long for help accessing assistance for individuals affected by fires. The governor requested that criteria and thresholds across multiple fires be addressed to make resources available for those who have faced significant impacts.
Stacie Greff, a spokesperson for FEMA, said the conditions that exist in the state at the time of the request and whether the fire threatens enough destruction to constitute a major disaster are part of what determine funding decisions.
"We're trying to fend off a major disaster," she said.
FEMA evaluates based on four key criteria:
• Threat to lives and improved property, including critical infrastructure and facilities and watersheds;
• Availability of state and local firefighting resources, such as aircraft or firefighters;
• High fire danger conditions, as determined by a national rating system; and
• Potential major economic impact.
FEMA assistance grants can pay for things like equipment and supplies, the cost of emergency work like evacuations, police barricades and traffic control, unified command centers, meals for firefighters and other costs that directly go to fighting fire. They are not for helping people who lost homes or property to fires. States have to submit receipts and documentation to receive funds.
FEMA funding is the primary way the state can get help from the federal government to pay for the cost of fighting fires. Both of Montana's U.S. senators, Republican Steve Daines and Democrat Jon Tester, took to the Senate floor this week to impress upon their colleagues the magnitude and impact of fires burning in Montana and ask for help as Congress worked to approve aid for Texas, which has been devastated by Hurricane Harvey.
"Saving lives and property when disaster strikes is a fundamental pillar of government," Tester said. "It is not a Democrat or Republican issue, it is an American responsibility. I am confident we can work together to ensure the victims of Harvey get the relief they need and the states that are burning, like Montana, have the resources they need to protect our citizens, our economy, and our way of life."
Tester also on Thursday invited Republican President Donald Trump to visit Montana and tour areas that have burned.
Daines told the Senate that of the top 30 wildfires in the nation, 28 were burning Montana. "Our crisis in Montana isn't water, it's not too much water, it's not hurricanes, it's fire. It is smoke filling the air and filling our lungs. … We need to ensure Montana gets the resources it needs first of all to stop the fires."
U.S. Rep. Greg Gianforte, a Republican, took to the House floor, saying:
"I hope this image and the others from back home will make my colleagues more aware of the fires' devastation and the need for relief in the Treasure State."

Be the first to know
Get local news delivered to your inbox!