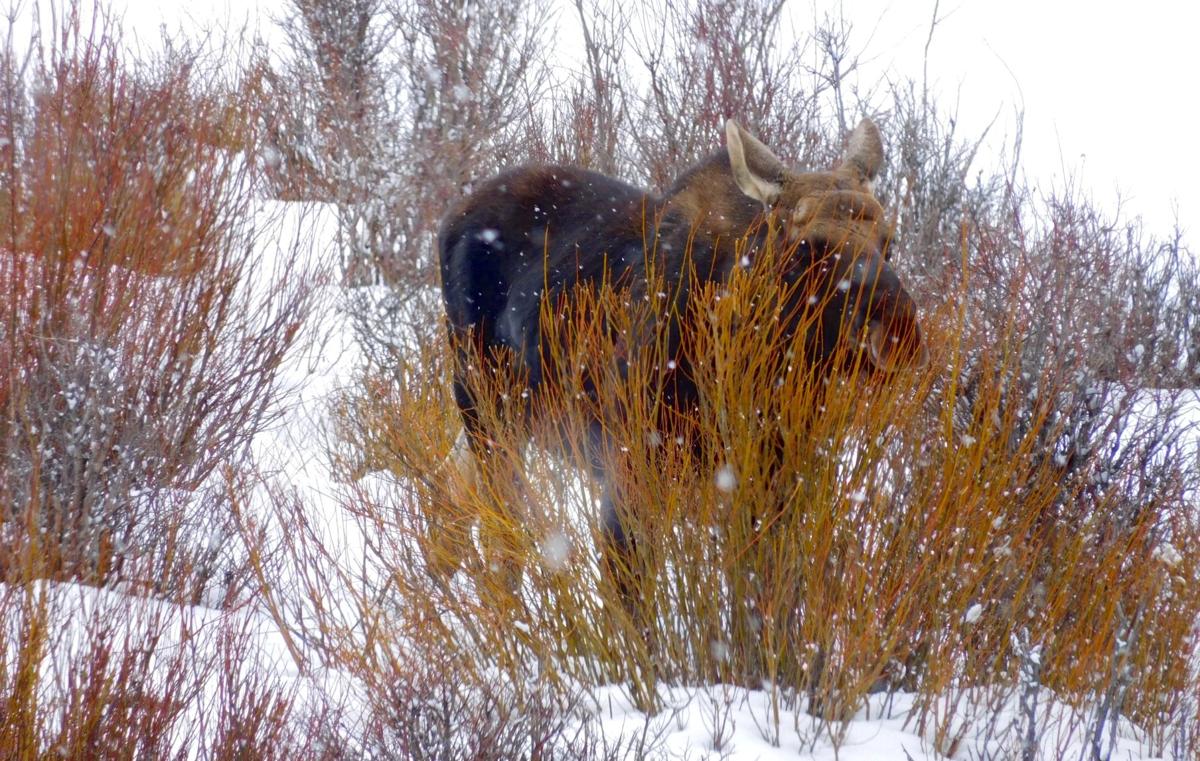 A bull moose near Troy has tested positive for chronic wasting disease, which is the first known case in that species in Montana.
The bull was harvested in late October near Pulpit Mountain north of Troy, and about half a mile west of the existing Libby CWD management zone.
CWD was detected in white-tailed deer in the Libby area earlier this year, which prompted the creation of the management zone. Within the zone, Montana Fish, Wildlife and Parks is taking samples from animals harvested during the hunting season this year, and sending the samples to the Veterinary Diagnostic Lab at Colorado State University in Fort Collins, Colorado, for testing.
So far, 30 deer tested positive for CWD. Five were deer taken by hunters during the archery and general hunting season, and all of the deer were within the management zone.
Dillon Tabish, a spokesperson for FWP Region 1, said the agency doesn't plan on expanding the management zone during the big game hunting season, which ends Dec. 1, because it could be too confusing for hunters.
"There's only a couple of weeks left in the season, and we'll review and discuss extending the zone with what makes the most sense," Tabish said. "One of our big concerns is that changing the boundaries creates confusion."
Tabish added that as far as he knows the animal wasn't showing any signs of illness, but the hunter decided to have it sampled as a precaution.
"The hunter was not expecting it to come back positive," Tabish said on Thursday. "But it takes 14 to 18 months for the symptoms to show up and an animal to die."
FWP offered to give the hunter a new license, but he declined.
You have free articles remaining.
"He wanted to keep the antlers and said it was quite an adventure getting it," Tabish said. "So he cleaned the antlers … there was no velvet on them and the skull plates were out so there's no brain matter left where the prions exist."
The hunter took the rest of the moose to a landfill, where it was properly disposed.
CWD is a fatal disease that affects the nervous system of white-tailed and mule deer, elk and moose. Virus-like prions can be carried in an infected animal's saliva or body tissue secretions. Transmission usually occurs through direct contact among the infected animals, but also can be shed in urine, feces, saliva, blood and antler velvet. Carcasses of animals that have died from CWD also can be a source of infection.
Tabish said they can only speculate on how the moose became infected, noting that they're solitary animals that typically don't socialize with other animals. However, CWD has been detected in both moose and elk in Colorado and Wyoming.
"They basically stick to cow-calf groups, then they're on their own," Tabish said. "In some ways that's a positive thing because there's more chance of CWD spreading among groups of herd animals like deer and elk.
"We're not sure how it became infected. It could have stuck its nose in a deer carcass or shared a water source with an infected deer that died and left prions in the water. Unfortunately, we'll never know," Tabish said.
The Centers for Disease Control and Prevention notes that CWD hasn't been known to be transmitted from wild animals to humans, pets or livestock. The federal agency recommends hunters harvesting deer, elk or moose in known CWD areas to have their animal tested prior to consuming the meat, and Tabish added that FWP will pay for the testing across Montana.
"The testing is free," Tabish said, adding that moose are a little more labor-intensive to get sampled, and that hunters should contact their local FWP office to get the samples.
Hunters who want to collect their own samples and mail them to the FWP lab can see instructions and a video on the FWP website. Test results are usually available within three weeks.
CWD has been detected in deer in Yellowstone and Carbon counties in Montana, and along the northern border.