Cy Jamison said he knew George H.W. Bush would someday be president after meeting him at the 1984 Republican National Convention where Ronald Reagan was nominated for a second term.
"I just knew that Vice President Bush was going to be our next nominee, and I made contacts with his higher-ups shortly thereafter," said Jamison, a Montanan who 40 years ago made his way to Washington, D.C., as a congressional staffer, then stayed. "I just volunteered to help him any way I could."
Bush died Friday night at age 94. He will be buried Thursday on the grounds of his presidential library at Texas A&M University at the family plot next to his wife Barbara, who died in April, and their 3-year-old daughter Robin, who died of leukemia in 1953. 
Jamison said he couldn't think of a more qualified president. A Yale graduate, Bush had been director of the Central Intelligence Agency, an ambassador to China, a war hero, and a successful businessman in the oil industry. Considering the Bush family held the presidency twice and governed two states, their political significance to Republicans is similar to the Kennedy family's significance to Democrats, Jamison said.
Jamison became Bureau of Land Management director under the 41st president in 1989. In 1994, when Jamison challenged Democratic incumbent Pat Williams for Montana's lone House seat, Bush campaigned for the Montanan in Billings.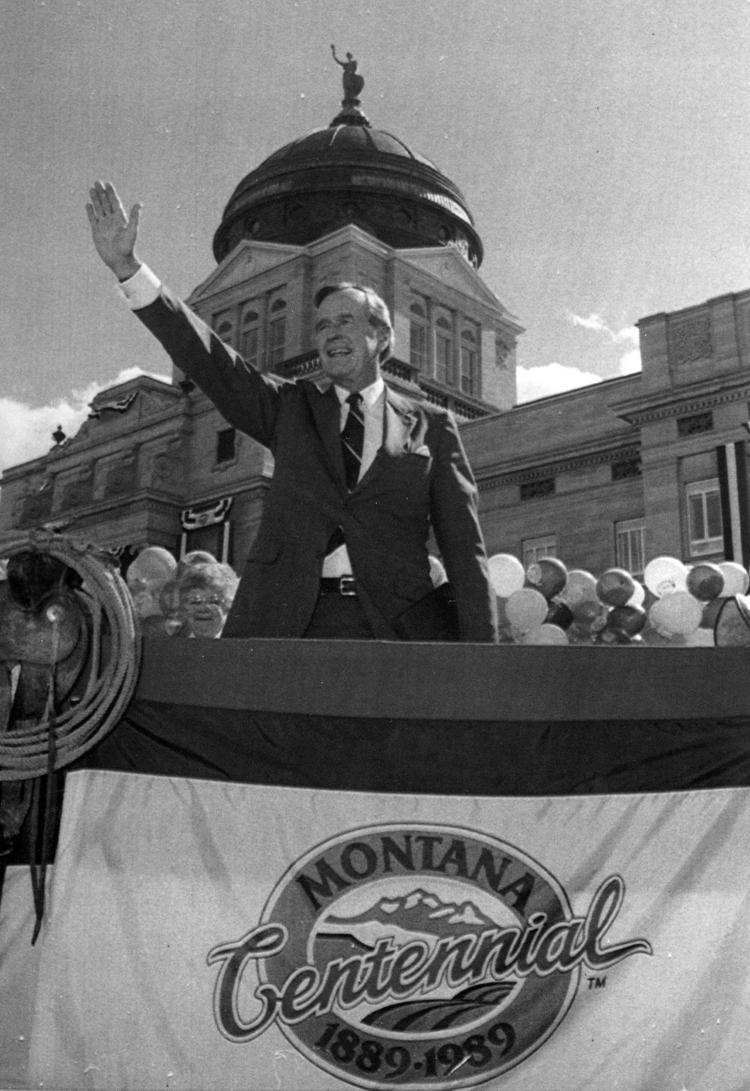 His relationship with the president helped secure public ownership of Pompeys Pillar, the historic Yellowstone River landmark signed by explorer William Clark in 1806.
"I got the green light from the White House to go out and get it, and that was something," Jamison said. "I can still remember the secretary of the Interior saying, 'What's Pompey's Pillar? Is this that important?' I said, 'Yes, it's that important.' And we got it with help from Sen. Conrad Burns."
Bush hoped to be the longest living president, Jamison remembers hearing through mutual contacts. "He made that goal. I'm told he reached it about six months ago."
Bush's ties to Montana were professional and political. His launch of multilateral trade agreements set the table for Montana's farm economy for 30 years, mostly for the better. Bush said "trade is the engine for a sustained prosperity around the world" and next three presidents who followed him stayed that course. Former U.S. Ambassador to China and former Sen. Max Baucus became the Senate's champion of multilateralism in the early 2010s.
Bush was also a former ambassador to China, and he and Baucus both appreciated the importance of U.S.-China relations and favored a multinationalism when ironing out disagreements.
Baucus recognized Bush for the former president's commitment to public service and civility.
"President Bush set the gold standard for public service. I've never meet anyone more warm, gracious, caring and decent in or out of public service. He was one of a kind," Baucus said in an email. "Whether in meetings with him determining China policy at his residence or figuring out how to sell more beef to Japan in his White House office. He worked with you and he treated you as family. It was a privilege to be with him. George Herbert Walker Bush made us proud."
The former president also maintained long-lasting friendships with Montanans. One of the president's closest family friends, Church Heringer, lived in Billings and was Montana manager of President Bush's 1988 campaign.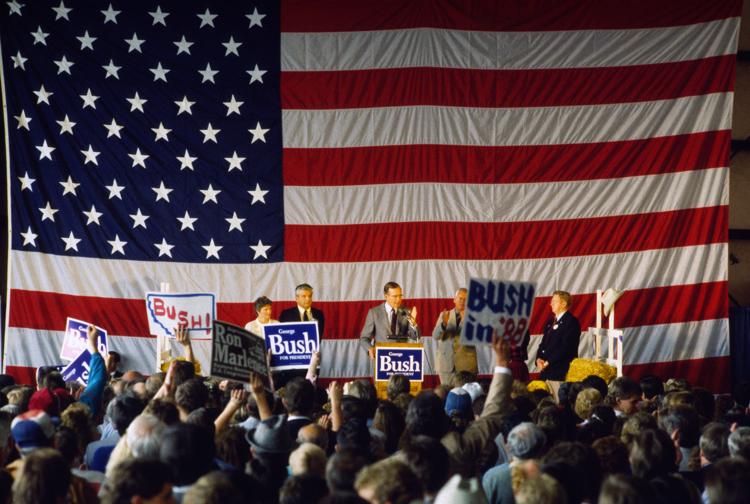 Heringer and Bush worked in the Texas oilfields together in the 1950s. They played on the same community football team, the Midland Misfits. When George and Barbara wanted a night on the town, Heringer babysat the Bush children.
When Heringer died in 2008, President Bush told the Billings Gazette that Heringer was a "family friend of long standing," a loyal supporter who stood by Bush in good times and bad.
Former U.S. Sen. Conrad Burns, before dying in 2016, told The Gazette that Heringer's relationship with Bush opened the door Burns' friendship with the president.
Burns and Bush were both elected in 1988. Burns had unseated Democrat John Melcher that year, which was significant. Before the election, Democrats held both Montana's U.S. Senate seats and one of two U.S. House seats.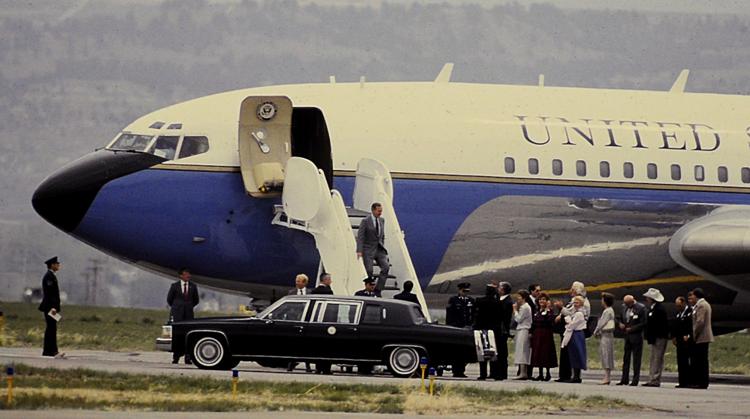 "He's a good, honorable man, I'll tell you that," Burns said. "He was always personable with everybody and was very comfortable in his own skin."
The Montana senator kept a photo in his Billings home of President Bush signing a congratulatory anniversary card to the Burns' parents, while Burns sat at the president's Oval Office desk.
"He'd tell you, 'You've got to take me warts and all,'" Burns said. "He and Barbara. The only lady that had a sharper wit than me was Barbara. He used to say, I wish Barbara was here. She could shut you up, Conrad."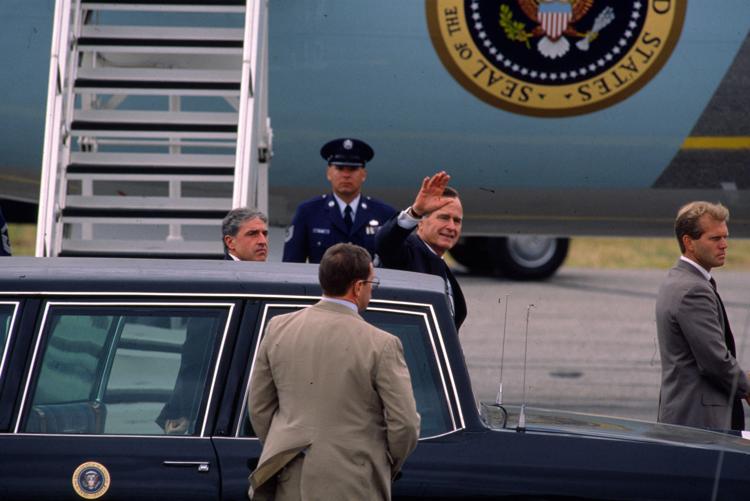 President Bush was known for his thoughtful letters of thanks and commendation. The Billings Athletic Club framed a letter it received from the president thanking the club for lending him an exercise bike during a visit to Billings in 1990.
President Bush stopped in Billings in May and October of 1988 to campaign and visited Helena in late 1989. In 1990 Bush visited Billings on behalf of Allen Kolstad, who was challenging Democratic U.S. Sen. Max Baucus that year. He also campaigned in Billings in fall 1992, the year he lost to Bill Clinton.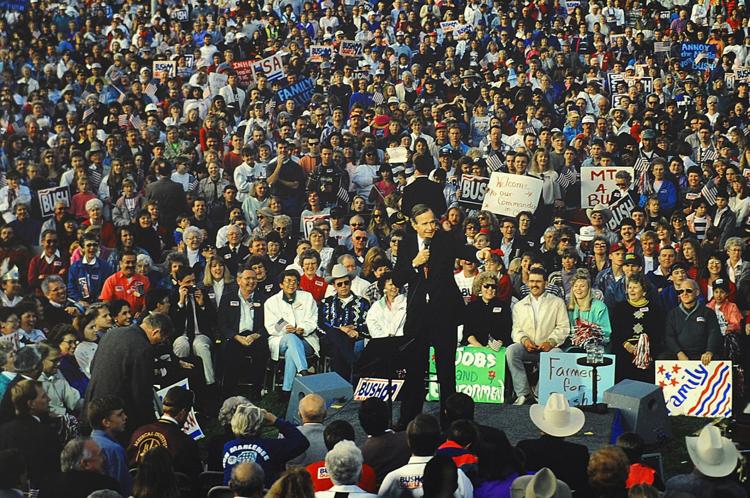 After leaving office, President Bush returned to Billings in November 1994 to campaign for Burns and Jamison.
In that 1994 visit, Bush told an audience at Rocky Mountain College that from that point forward, he would be seen only on "Saturday Night Live," and then did an impression of comedian Dana Carvey impersonating the former president, a skit that helped launch Carvey's career.