On Sept. 11, 1988, almost exactly three months after the first fire began burning in Yellowstone National Park, rain and snow began to fall.
The precipitation signaled the beginning of the end of a historic fire season that just days before had seen its highest daily total for fire growth.
While one of the most famous days that fire season earned a foreboding nickname (Black Saturday on Aug. 20, when gale-force winds led the fire to burn up 250 square miles in one day), the single largest day of fire growth goes without a special title.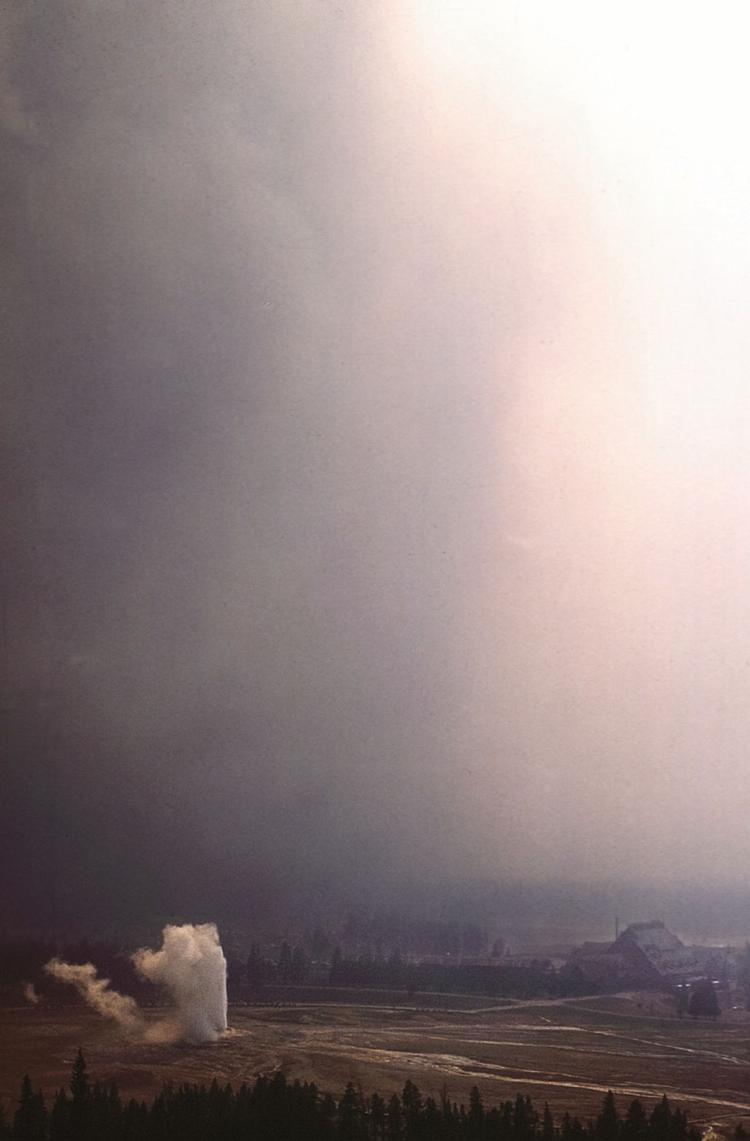 The relative anonymity of Sept. 9, 1988, the day that 356 square miles burned, is just one indicator of the enormous scope of fire activity that summer.
Extreme fire behavior fueling previously unseen rates of growth left firefighters that summer often unable to safely fight fires or have any noticeable effect on the numerous blazes and complexes burning in and around the park.
Efforts to protect infrastructure and park buildings throughout the fire season weren't completely successful as 67 structures, including cabins and mobile homes, burned. More than 10 miles of power lines and 300 utility poles were also destroyed, according to "Yellowstone in the Afterglow," a 130-page examination of the fires authored by Mary Ann Franke of the Yellowstone Center for Resources in 2000. 
Franke tabulated that more than 25,000 firefighters, including more than 11,000 military members, were assigned to the fires. By Franke's count, 665 miles of firebreaks were dug by hand, 137 miles were bulldozed and more than 10 million gallons of water were carried into the park by helicopter. Fixed-wing planes dropped 1.4 million gallons of fire retardant in the park, and pilots logged 18,000 flight hours.
The total cost was $120 million.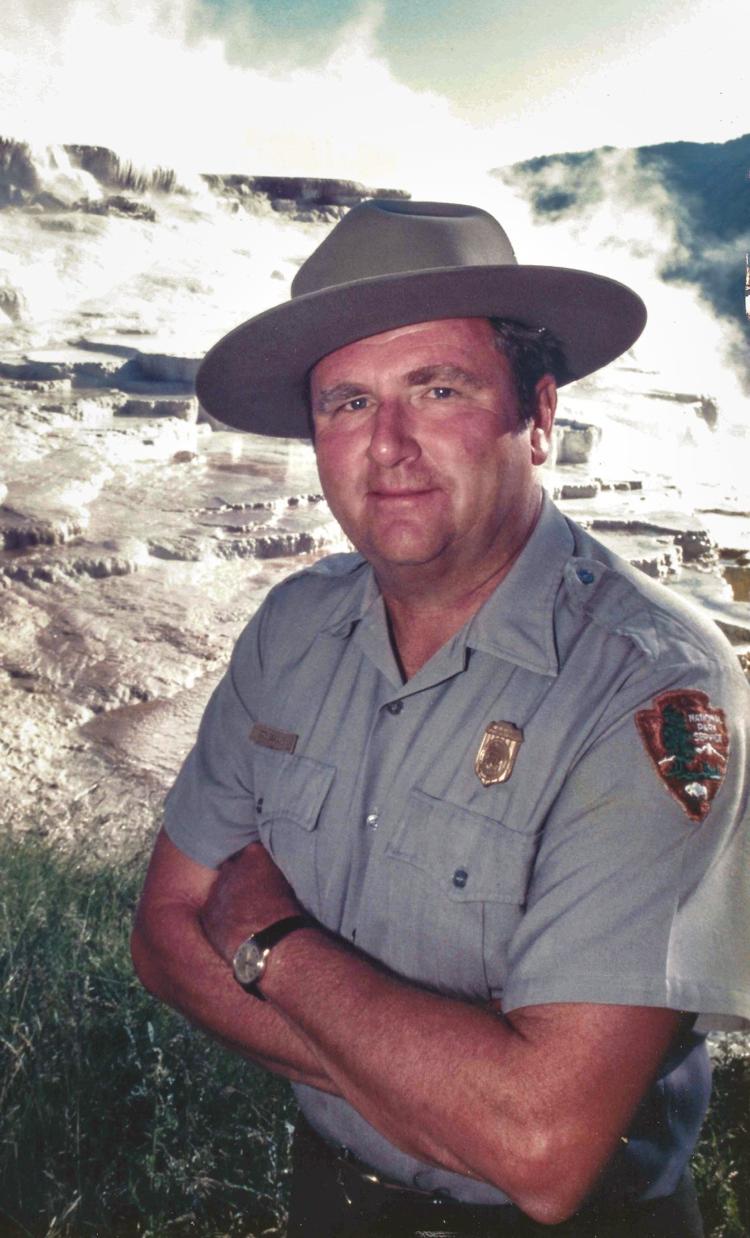 Looking back on the historic fires, with massive blazes in single days and more than four months of constant burning, it's difficult to comprehend the season in its entirety.
About 25 years later for a New York Times documentary, Bob Barbee, the park's superintendent at the time of the fires who passed away in 2016, distilled the summer of fire:
"People don't really understand the nature of wildfire, even people that live nearby. They do after they've been through it a time or two. I mean, it's a tremendous force, and it's like, 'Well, why don't you put it out?' Well, why don't you just stop a hurricane or a tornado?" Barbee said.
"You don't just put it out."
Relying on rain
South of the river in Gardiner and not far from the famous Roosevelt Arch north entrance stands the park's Heritage and Research Center, a tan, multi-story building completed in 2005 that houses millions of items detailing the park's history.
On the second floor of the building behind a locked door sit unremarkable boxes filled with nondescript manila folders, their cardstock covers nestled around memos, reports, transcripts, maps and a host of other documents concerning the 1988 Yellowstone Fires.
One document, dated Oct. 1, 1988, and titled "The Yellowstone Fires: A Primer on the 1988 Fire Season," begins by explaining the park's policy instituted in 1972 to let some naturally occurring fires burn.
"Ecologists have known for years that wildfire is essential to the evolution of a natural setting," the report says. Fires bring new life; suppressing them leads to reduced and altered biodiversity.
It was with this policy in mind that park officials let the lightning-caused Shoshone fire burn June 23 in the southwestern portion of the park between Shoshone Lake and Lewis Lake.
Nine days earlier, the lightning-caused Storm Creek fire had already begun burning northeast of the park.
Lightning-caused fires had already been allowed to burn themselves out earlier in the summer, and the decision to let the Shoshone fire burn was influenced in part by recent weather trends.
Summers stretching to at least 1977 "were abnormally wet; sometimes reaching 200 to 300 percent of normal rainfall in July," the document explains.
Spring in 1988 also was abnormally wet, with 155 percent of normal rainfall in April and 181 percent of normal rainfall in May.
Yet from June until August "practically no rain fell," something described in the post-fire report as "an event previously unrecorded in the park's 112-year written record of weather conditions."
Rapid growth
By July 15, it was clear the rain wasn't coming. At that point, the Fan fire, the Red fire, the Lava fire and the Mink and Clover fires had all begun to burn.
About 13 square miles were burning at that time.
Dry conditions led to park leadership deciding natural fires would no longer be allowed to burn unless they were adjacent to existing fires and would burn into them regardless.
Just six days later, the decision came down that all fires would be "subjected to full suppression as manpower allowed," according to the primer report.
But the decision to fight fires did nothing to stop the flick of a woodcutter's burning cigarette along the park's western border with the Targhee National Forest in Idaho. The North Fork fire had begun.
"From the very beginning, it was apparent that this was a fire that was going to go places and do things, and indeed it did,"  wrote photographer, writer and former Yellowstone park ranger Jeff Henry in his 25-year-anniversary book "The Year Yellowstone Burned."
"It was destined to become the largest of all the Yellowstone area's individual fires during 1988's summer of fire — it would burn over an area of more than 531,000 acres (830 square miles) by the time November snows finally snuffed it out. The North Fork would also directly threaten seven developed locations within the park, as well as the Montana towns of West Yellowstone and Gardiner," according to Henry.
Two other fires that summer were human-caused. The Hellroaring fire was started by an unattended campfire, and the Huck fire began after a tree fell on a power line.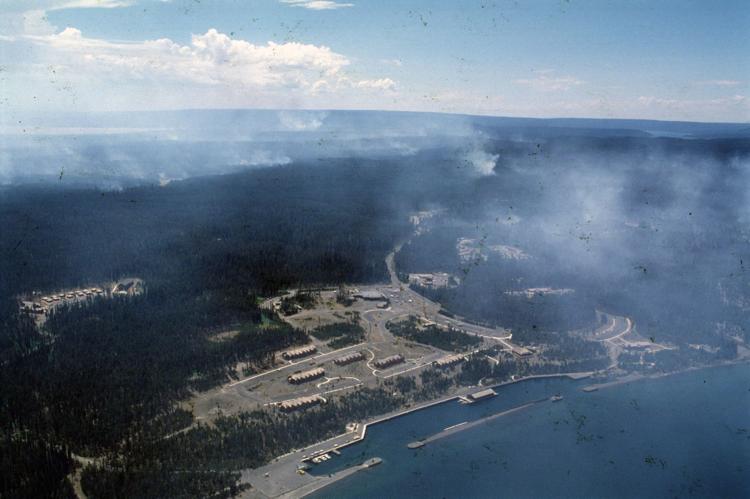 On July 26, the Shoshone fire made a run at Grant Village in the southwestern portion of the park. Just days earlier about 4,000 people were told to leave the complex.
A quickly planned back burn operation ordered by Incident Commander Dave Poncin stopped the fire as it surged forward and ultimately turned the fire away from the establishment. A close call at West Thumb the day before sent firefighters scrambling into West Thumb Bay for protection.
By August, the largest fire in the park was the Clover-Mist Complex burning along the park's northeastern boundary.
Fires in the park continued to grow and show aggressive behavior fueled by high temperatures, strong winds and low humidity. Fires hopped fire breaks and burnout lines and crossed rivers by the time Black Saturday rolled around with red-flag warning conditions on Aug. 20.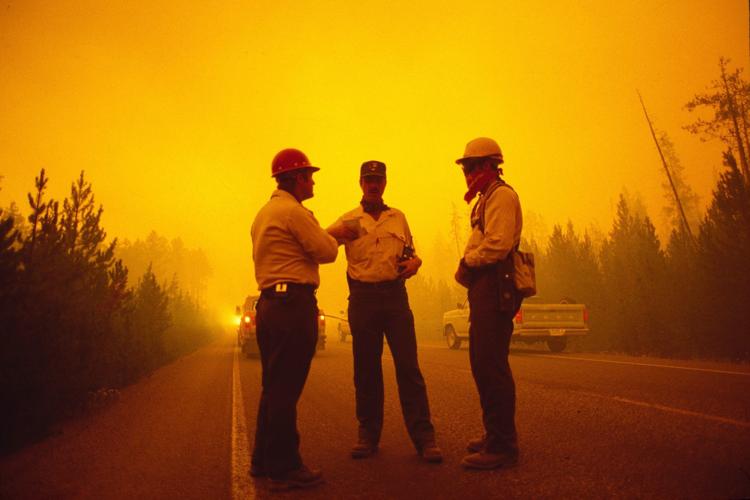 Wind speeds were so powerful that the Clover-Mist fire grew 87 square miles on Black Saturday and escaped the park's boundaries into the Shoshone National Forest.
Fires inside the park reached about 625 square miles as about 250 square miles burned that day alone.
Interviewed in 2014 for an oral history project undertaken by history students at Montana State University, Phil Perkins, the park's assistant fire manager that summer, described the day's conditions.
"We had a remote weather station up on Mount Norris — anyway for about eight hours it was clocking winds between 40 and 60 miles an hour. Then for a four-hour period, it clocked winds at over 80 miles an hour," Perkins said.
He said he and a crew, already awake for 17 hours, stayed up through the night digging lines to prevent the fire from spreading into the Soda Butte Creek drainage, after which it would've had what Perkins described as a straight shot into the northeast entrance of Cooke City.
"We dug line all night long, mopped up all night long there, and the fire was kind of paralleling us. Fortunately, it was just kind of coming up. It was bumping us pretty good, and we were getting some spotting and a lot of tree torching out. It was more than exciting, I can tell you that," Perkins said.
'Hell on both sides'
By September the pressure on firefighters and park officials from the fires and the public scrutinizing them had reached a point that it felt as if the fires were growing "almost exponentially," said Henry, who was tasked with photographing the fires.
"There was fear that Livingston and Bozeman were about to be threatened, and it wasn't an irrational fear really, given how fast the fires were moving," Henry said. "We had no success at all in fighting the fires. Things were getting drier and drier, things were getting bigger and bigger."
Gardiner, Cooke City, Silver Gate were all at risk. West Yellowstone was "desperately threatened."
On Sept. 4, Cooke City and Silver Gate were evacuated for a burn operation that destroyed cabins and sheds and was halted within feet of Cooke City. 
And then on Sept. 7, the North Fork fire made one of its most dramatic runs of the summer as it began burning toward the Old Faithful Inn, which had just earned National Historic Landmark designation the year before.
Fire prevention measures and fuel removal had already been ongoing for weeks in the event that fire might reach the inn, and on that day every last bit of help was needed to prevent the wooden shingles from catching fire and burning the historic building to the ground.
Firefighters stationed on the roof worked to put out spotting flames, and a sprinkler system also worked to extinguish flames.
As the fire approached, the decision was made to evacuate the building and surrounding structures.
John McCutcheon, a tour guide that summer who would go on to a multi-decade career in protection and emergency services for the National Park Service, spoke by phone with MSU researchers about his experience.
"The fires came in, from what I remember, all angles," McCutcheon said. "The day started off bad and kept getting worse and worse."
Few visitors remained at the inn or surrounding facilities, but when the call came for employees to evacuate the area, a tense scramble ensued.
McCutcheon was charged with driving a bus full of evacuees out of the area to Mammoth Hot Springs.
The fire was charging closer, and McCutcheon grew concerned and anxious to get going. But first, he had to find Nino.
While waiting to depart, he came across a female park employee panicked that she couldn't find her boyfriend Nino, a burly park security guard at the Snow Lodge.
"I had to go behind the inn to get to the Snow Lodge," McCutcheon said. "It had been blocked off and, believe me, the flames were coming, and I could see them. I just kind of grabbed the bull by the horns, I took my MCI Motor Coach, I drove up on the sidewalk, and I drove straight across the obsidian gravel to the front of the Snow Lodge. I thought it was an emergency because when I drove in between the two buildings you could see a wall of flames coming down. I think it was behind the complex but it was moving toward us. It was this huge wall of flames and that really frightened me."
After getting out of his bus, McCutcheon ran to the manager's office at the back of the building and knocked loudly. There was no response, so he kicked the door down.
"It was large old wooden door, and my goodness here was Nino, a very large man, but sound asleep, the night watchman sound asleep with the curtains drawn. He had no idea what was going on."
The drive to Mammoth Hot Springs was terrifying, said McCutcheon, who repeatedly used the phrase "fire tube" to describe the feeling of driving a bus full of passengers down park roads with crown fires burning up the trees on either side.
"You had mature lodgepole pine, which are anywhere from 60 to 80 feet, are totally engulfed. It was crown fire, a major crown fire. There was a wall of flames well over 100 to 150 feet tall. The energy that was being released from this wall of flames rocked the bus back and forth sideways as we were trying to escape," McCutcheon said. "All I could think about was that I had 144 gallons of diesel fuel underneath all these passengers. But we made it. The road was clear even though we had hell on both sides of us. It was incredible drama. I think some firefighters probably never saw such drama. We were right in the middle of it. Thank God the road did not collapse on us or a tree came down on us and we were stopped, but we were let out."
Unexpected weather
The day before snow came, the forecast was wrong.
The largest burn of the entire fire season was only a few days in the rearview as incident commanders looked over what Jeff Henry described as a "confidential communication" for Sept. 10, 1988.
"The noteworthy issue now is that the dramatic fire behavior on Sept. 7 — flame lengths 100-200 feet above the tree canopy, fire whirls crowning and torching runs, fire-induced tornado-type winds — is only a prelude to conditions that are going to take place to produce a whole new magnitude of fire behavior on Saturday, Sept. 10. We know the fuels are cocked and primed," Henry quotes the memo as saying. "Fires will be massive in scale with tornado-like winds, fire whirls, and the potential for long-distance spotting up to 6 miles."
The fires still burned Sept. 10, but grew only another 156 square miles, which, as Henry notes, failed to reach the prediction of "a whole new magnitude of fire behavior."
Still, the park's headquarters in Mammoth Hot Springs was evacuated and the park was closed for that day, going against an ongoing commitment that summer to keep the park open.
Though the Sept. 11 snow did knock down some flames and slow fire growth, the fire season didn't end for well over a month, according to Perkins' recollection.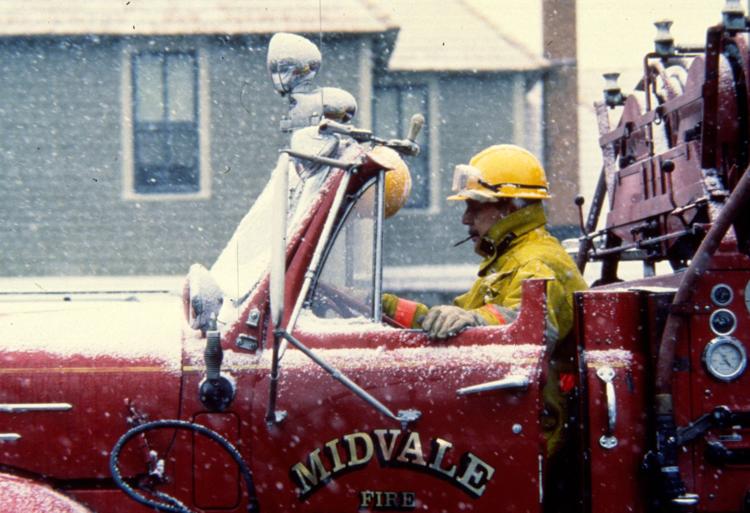 "It really warmed up the rest of September and October," he said. "It got back into the 80s and low 90s in September. It was in the 80s in October. It burned inside the perimeter, so we still had a heck of a lot of activity and crown fires, ripping fires, and big columns of smoke through the rest of September and October. It was into November before it snowed enough to kind of take things out."
The last rehab crews were sent home on about Nov. 15, according to Perkins' account.
"We had started on basically with the Fan fire, on June 25, so we had gone into July, August, September, October, so about four-and-a-half months we'd been going," he said. "I think I had five days off in four-and-a-half months. Two days off in one stretch, that was a real bonus. We were more than tired. We were literally burned out; it was tough. Well, we were working, during the height of it; a 16-hour day was a short day. This was before they had limits. I think we could work 28 days then before we had to take a day off. You could work 28 and you got two days off."
Learning from 1988
After the fires subsided, rehabilitation of the park began immediately in the form of trail cleanup and restoration of dozer lines, helicopter pads and other firefighting-related impacts on wildlife.
Almost everywhere the fire had burned, the trail signs had gone with it. In one instance, residual heat from the fires was so hot, metal pins inside wooden guardrail posts along some roads had heated and burned the wood around their circumference, leaving them sitting loosely in a widened, charred hole.
Two fatalities were attributed to the fires that summer. Don Kuykendall crashed a plane he was piloting Sept. 11 on its way to Jackson. The other fatality occurred in the Shoshone National Forest, when Ed Hutton, a Bureau of Land Management employee, was killed Oct. 11 by a falling tree. 
Before the fires were even fully extinguished, the park service had begun to issue reports and memos analyzing in detail what improvements could be made for the next fire management season.
Communication would have to be better. Organization would have to be better. Strategies would have to be better. But improvement could only do so much to stop the force of nature encountered that summer.
In another folder, inside another box, inside the park's archives in Gardiner is another document dated Feb. 22, 1989, and titled "Fire Review," which examines the North Fork/Wolf Lake and Clover-Mist fires. It begins not with suggestions for improvement, but with a section introducing the fire behavior observed that summer: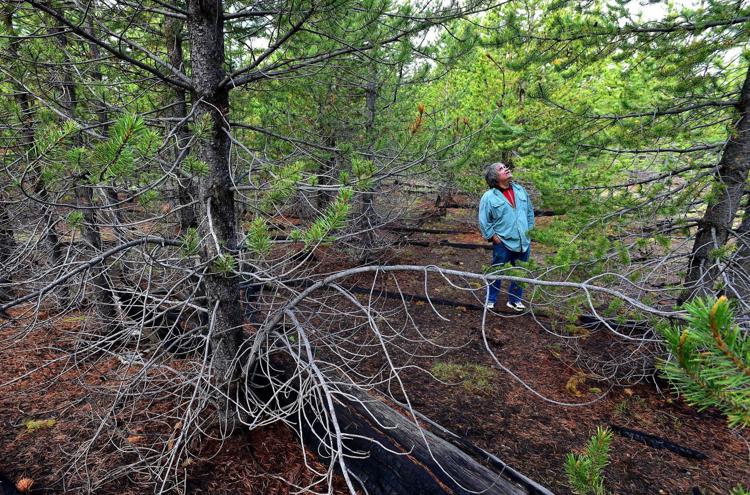 "At least six dry cold fronts crossed the Greater Yellowstone Area producing winds to 60 mph. At such times, the fires made runs of up to 2 miles per hour for 5 to 10 hours. Often there was fierce burning both day and night. Fires spotted up to 1 ½ miles beyond the flaming fire front, contributing to situations that, if not managed appropriately, had great potential to injure or kill firefighters.
"The fire behavior record book was rewritten," the memo reads, adding that "firefighters had to re-frame their mental images of fires using new scales and perspectives."
And then there's the line tucked toward the bottom of a bulleted list of observations about the fire: In one four-hour burnout, the North Fork fire released enough energy to heat the city of Bozeman — for two years.
The North Fork fire was declared fully extinguished on Nov. 18.
Be the first to know
Get local news delivered to your inbox!