The Montana Department of Natural Resources and Conservation manages state trust lands under the oversight of the State Land Board. Montana has about 5.2 million surface acres and 6.2 million mineral acres with a staff of about 125 managing those lands.
Revenue produced through programs in forestry, minerals, agriculture and real estate from state lands mainly benefits K-12 schools, as well as universities, the school for the deaf and blind, the Montana Veterans Home and public buildings.
In fiscal year 2019 state trust lands produced roughly $99.2 million in revenue. School funding from state lands comes through a combination of direct revenues and interest on the fund account. The 2019 bump is nearly $12 million over last year and the second consecutive year of growth.
"It was a good year for us this year," Shawn Thomas, Trust Land Division administrator with DNRC, told the Land Board. "We continue to see some overall increases in our revenue streams for the last couple of years, so we've kind of come through the trough."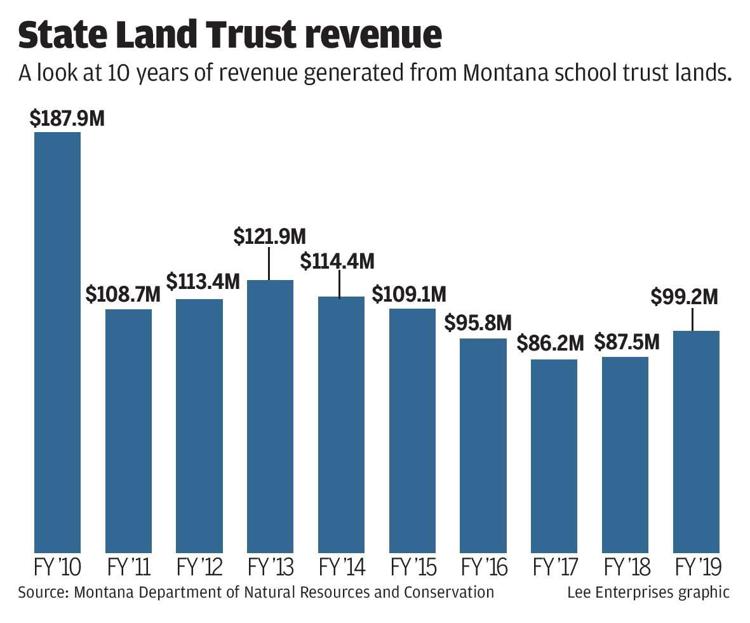 Trust revenues, which typically fluctuate from year-to-year, saw a significant drop from 2010 when they produced nearly $188 million, dipping as low as about $86 million in 2017. This year's total is still below the 10-year average of about $111.7 million but above the five-year average of about $94.2 million.
DNRC presented this year's trust land report to the Land Board earlier this week, giving a ceremonial check to Superintendent of Public Instruction Elsie Arntzen for nearly $46 million. Arntzen serves on the board along with fellow Republicans state Auditor Matt Rosendale, Secretary of State Corey Stapleton and Attorney General Tim Fox and Democratic Governor Steve Bullock.
"Increased trust lands revenues this year means additional opportunities for Montana students," Arntzen said in a statement. "As Land Board Commissioners, we have a responsibility to manage our state Trust Lands in ways that produce strong funding for our schools and create greater opportunities for Montanans to access their public lands. I am proud of the work of the Montana Board of Land Commissioners and our public and private partners."
The $46 million represents about 5.5% of OPI's $840.2 million budget.
"While (5.5%) doesn't seem like a huge percentage number to a lot of people, all of you who have worked in state government and worked with budgets realize a $46 million differential in the general fund is a lot of money, it's really significant to a lot of other programs and to the taxpayers of Montana," Thomas said.
You have free articles remaining.
Trust lands also receive revenue through the sale of about 500,000 conservation licenses, as $2 from each sale goes to the trust. The lands are open for public recreation with the purchase of the license for hunters and anglers or a general recreation license for other activities, such as wildlife watching.
"Trust lands are not only critical to protecting our lands for hunting and fishing, they also provide a dependable source of funding for our K-12 schools," Bullock, who chairs the board, said in a statement. "I'm pleased to see that as we continue to diversify and improve these lands, so too are we benefiting our kids and grandkids."
DNRC saw an uptick in coal revenues of about $11 million in 2019 despite sluggish prices, Thomas said.
"As coal mines move across a landscape they come on and off of the state (land), so over time in any one year they may be doing a lot of production out of the coal mine that's happening on state trust lands, then they leave and it takes them a while to work their way back," he said. "So even though coal prices have not been great, we had an increase in coal revenue based on the timing of that production and the fact that they happened to be working on state trust mineral leases."
Oil and gas leasing on state lands jumped 57% last year, Thomas said, but leasing tends to be largely speculative.
DNRC's forestry division sold about 54 million board feet of timber and planted about 200,000 seedlings. Revenues rose three years ago and have remained largely steady, Thomas said.
"In the forest management business, that's actually a pretty good thing and it's pretty unusual to have three pretty consistent and three non-volatile years in that particular commodity," he said.
The agricultural division, which includes both grazing and crop-land leasing, produced about $16.8 million in revenues last year. DNRC saw a bump in per-animal grazing fees from $11 to $13.10 per month and crop production came through the year well.
"We've had some good rain around the summer the last couple of summers, so ag production has been really strong and that's outweighed any decreases in the prices for most of those commodities that may have occurred," Thomas said.
DNRC's real estate division handles a variety of programs including commercial and cabin site leasing, land banking sales, hydropower leases and easements. The division has seen an increasing interest in commercial leasing with renewable energy a major player, Thomas said.
"Renewables are a big deal, we've had a lot of discussions with a lot of different people on solar and wind over the last year and will continue it looks like in the next year," he said.