Revenue generated by Montana state trust lands rose for the first time in five years, but still remains below five-year and well below 10-year averages.
Trust lands are managed by the Montana Department of Natural Resources and Conservation mainly for the benefit of K-12 schools. In addition to public schools, trust lands also benefit Montana universities, the school for the deaf and blind, the Montana Veterans Home and public buildings.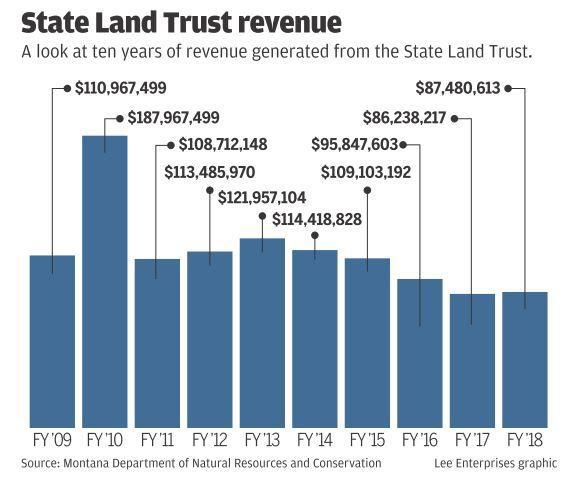 Fiscal year 2018, which culminated with a ceremony during last week's meeting of the Montana State Board of Land Commissioners, saw gross revenue of $87.4 million. That's up from last year's total of $86.2 million, but still below the five-year average of $98.6 million and the 10-year average of about $113 million.
"We're generally coming through the bottom with all revenue from all sources trending down," said Shawn Thomas, DNRC trust land division administrator. "We bottomed out and we're starting to head back up or probably more flattened out because it's not a huge increase between '17 and '18."
Trust lands produce state revenue through four main programs: minerals, forestry, agriculture and real estate. The lands are also open for public recreation with purchase of a conservation license for hunters and anglers or a general or recreation license for other activities, such as wildlife watching. 
School funding from state lands comes through a combination of those revenues and interest on the fund accounts. Montana has about 5.2 million surface acres and 6.2 million mineral acres, and a DNRC staff of about 125 managing those lands.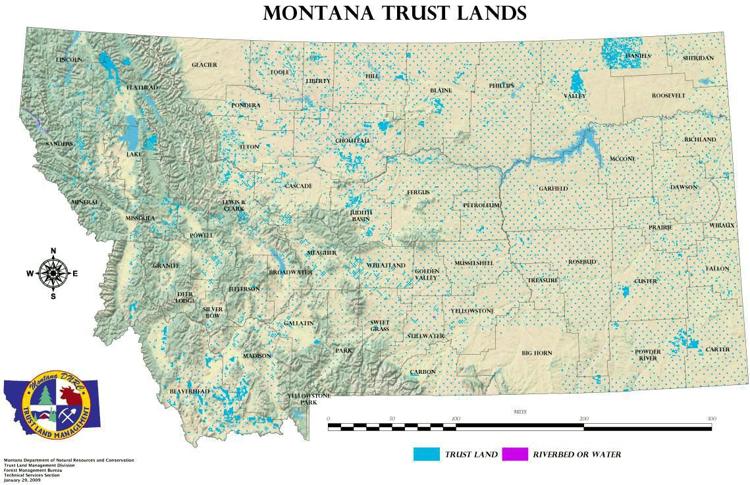 You have free articles remaining.
Projections for the current fiscal year are looking "pretty good," Thomas said.
"Gas and oil is really volatile, and when that's your primary revenue along with coal, you're operating in the whim of large commodity market and those forces that affect those prices," he said.
DNRC saw a drop in recent years in oil and gas leases with companies dropping many speculative leases that they pay to hold whether developed or not. Recent sales have been hit-or-miss but generally on the upswing. Thomas does not believe prices are strong enough to see oil production rebound to levels from the height of the Bakken oil boom.
During the last fiscal year, state lands generated $41.9 million for schools. Superintendent of Public Instruction Elsie Arntzen accepted a ceremonial check from Thomas during last week's Land Board meeting. Arntzen serves on the board along with Gov. Steve Bullock, state Auditor Matt Rosendale, Attorney General Tim Fox and Secretary of State Corey Stapleton.
"I am honored to serve on the Land Board to ensure that our state trust lands are working for Montana students," Arntzen said in a statement. "We have a great responsibility to provide robust management of our trust lands to produce strong funding for our schools and create greater opportunities for Montanans to access and recreate on their public lands."
The Office of Public Instruction's budget is over $800 million, with general fund dollars making up the bulk of funding.
"We owe it to the next generations to preserve and protect our public lands both for their intrinsic value as open space and as a means to generate funding for Montana's K-12 schools," Bullock said in a statement. "I will always work to diversify and improve Montana's Trust Lands to ensure that we continue to provide a critical and dependable source of funding."