The odds of Montana picking up another U.S. House seat remain favorable as the 2020 U.S. Census approaches.
U.S. Census Bureau projections released Monday put Montana and five other states on track to gain a U.S. House seat. If the numbers hold, Montana would have two representatives in the House for the first time in 30 years, possibly edging out the next closest state by a few thousand people.
"Most of the scuttlebutt we have been hearing from interested parties has been increasingly positive on prospects for a second seat," said Commissioner Jeff Essmann of Billings. "But Montana should not be complacent as there is always a fight when it comes to power and money, which is why the Commission is encouraging every Montanan to respond to the census. Please answer on the number of people in the house, even if you don't want to answer the rest of the nosy questions, is what I am advising."
In 2010, Montana narrowly missed receiving a second U.S. House seat, losing out to Rhode Island, which had barely enough people counted to justify two districts.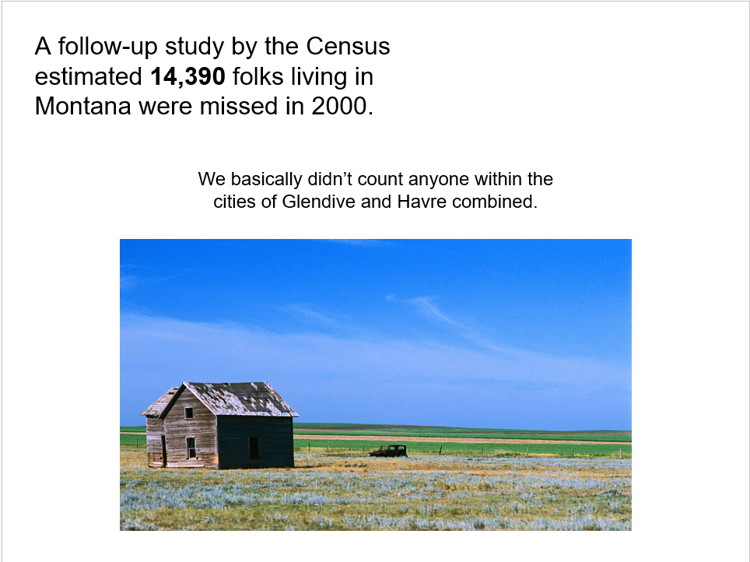 Only seven states have a single representative in the U.S. House: Alaska, Delaware, Montana, North Dakota, South Dakota, Vermont and Wyoming. Among the seven at-large states, Montana is most populated, with 1,068,778 people by current estimates. Because Montana has only one district, a large segment of the population doesn't get its preferences represented in the House.
Montana's population is roughly twice the combined population of the two House districts representing Rhode Island, which are the nation's smallest. To get ahead, Montana needs a population count larger than the least-populated current two-district state. There are 435 House seats. After every state gets one, the next 385 are awarded according to a mathematical formula that determines the right district size based on the recent U.S. census.
You have free articles remaining.
Getting a second seat is no slam dunk, said Commissioner Joe Lamson, who has worked on Montana political districting issues for more than 20 years.
The federal government's crackdown on illegal immigration has raised concerns that the decennial head count of the people living in the United States will become a tool for identifying people to deport. Lamson said those concerns in households with anyone who has a Hispanic last name could discourage participation. It's the reason Essmann asks the public to at least provide a headcount on the census form even if the remainder of the questionnaire goes unanswered.
There are billions of dollars in federal aid distributed based on state population. A census count that's short reduces the amount of federal support for public programs.
For the first time, some people will answer census questions online. There's a concern that people will lack internet service or computers needed to complete the information, Lamson said. Paper census questionnaires are always an option, which people need to know how to acquire.
Reaching snowbirds, Montana's elderly residents who winter out of state, is a concern as well. The census takes place in the spring at a time when snowbirds are away. Lamson said it's important Montanans touch base with neighbors wintering elsewhere to remind them to participate in the census count in Montana, by filling out a paper questionnaire or responding online.
If Montana picks up a second U.S. House seat, it will likely be by only a few thousand people. Census estimates put Montana ahead of Rhode Island by 9,417 people.
Lamson said the state is doing a good job in promoting the census.
"Our folks in Montana have been pretty aggressive, on the state level, putting together networks of people who have been visiting with folks. So far, we've had good communications with the (U.S. Census Bureau) folks in Denver," said Lamson. "Certainly through the governor's office, the effort headed up by (Lt. Gov. Mike) Cooney has really gone out to set up these complete-count committees pretty well across the state and they've had above average participation."