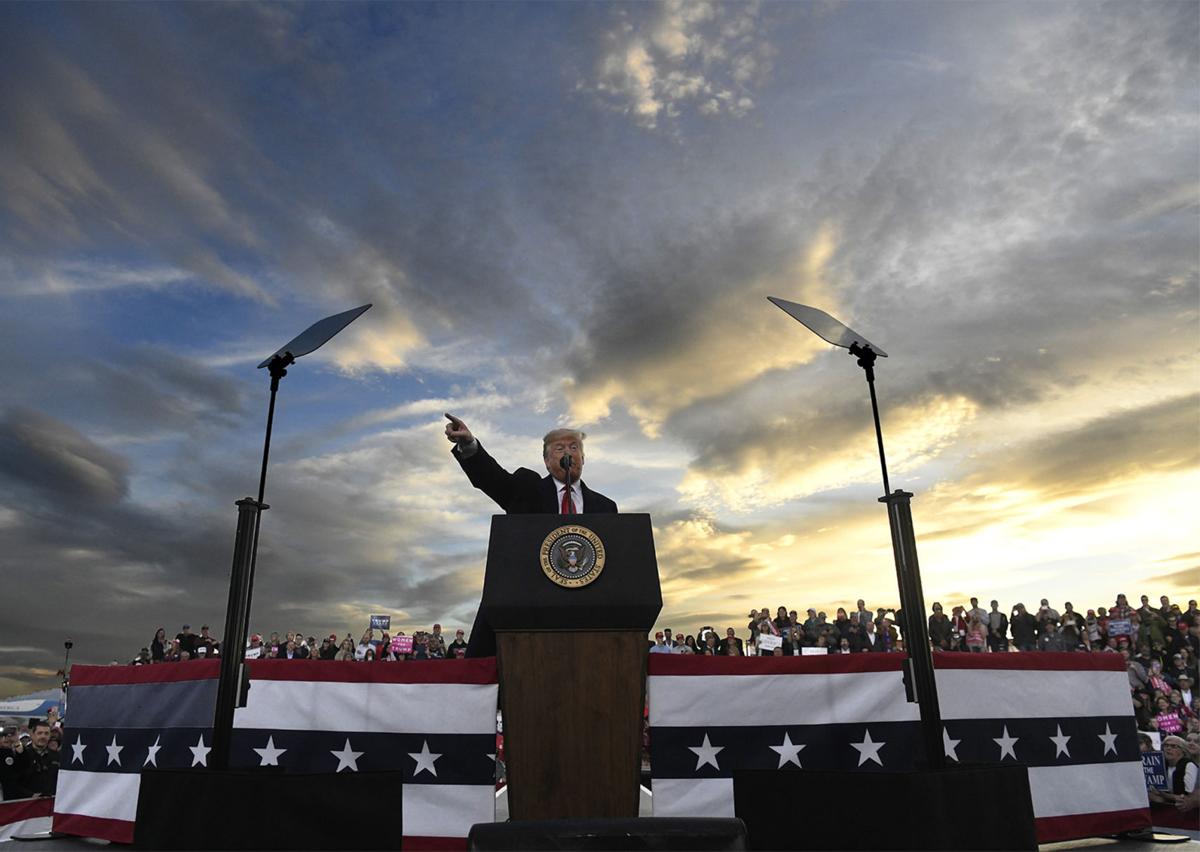 Missoula County is sending Matt Rosendale's campaign a letter seeking reimbursement for $12,923 in costs incurred during President Donald Trump's Oct. 18 rally.
The amount only includes $11,170 incurred in overtime and other costs by the Missoula County Sheriff's Office, and $1,753 from the Office of Emergency Management. The Missoula County Airport Authority had additional costs for preparing and cleaning the parking venue, and the Montana Highway Patrol sent 50 troopers to help with public safety. The MHP costs won't be available until next week.
"I'm of the mind that Missoula taxpayers shouldn't be footing the bill for a pretty partisan event," Commissioner Dave Strohmaier said. "It was planned and was by no means an emergency."
A representative from Rosendale's campaign said the event "boosted the local economy and sold out hotels, and if you have any additional questions go take it up with the Secret Service."
"We were excited to have President Trump visit Missoula to support Matt Rosendale and declare, once again, his opposition to Jon Tester," Shane Scanlon wrote in an email.
After the event, local tourism experts and economists said it was tricky to project the economic impact of events like Trump's visit, noting that visitors to Missoula hotels could have been attending weddings, sporting events or an education conference. They also weren't able to accurately count how many of the estimated 8,000 people in attendance were from outside Missoula.
The rally did prompt a broader discussion among the commission as to how to address large events and campaign rallies in the future. They noted that when Bernie Sanders, Hillary Clinton and even the Pearl Jam and Rolling Stones concerts came to Missoula, additional security also was needed but no reimbursement was sought.
"We need to be careful about politics," said Commissioner Cola Rowley. "Historically we haven't requested money from people campaigning here. I support doing this, but in a nonpartisan way.
"From the outside this looks political because it's from a party that we are known not to be from. I see that viewpoint, but want to see more of a policy for when any candidate comes to campaign."
Strohmaier compared the rally to the former Testicle Festival in Rock Creek, noting that when event organizers requested support from the sheriff's office, they agreed to pay for the extra patrols.
"The distinction should be made about when a large event occurs and we determine we need to be there for public safety, rather than when the Secret Service makes a direct ask," Strohmaier said.
The commission also wondered aloud whether the Rosendale would have to declare the costs as an in-kind campaign contribution. The Federal Election Commission has determined that "Goods or services offered free or at less than the usual charge result in an in-kind contribution …"
But Erin Chlopak, an attorney with the nonpartisan, nonprofit Campaign Legal Center in Washington, D.C., adds that federal regulators don't require campaign stops like this to be reported as a contribution. Candidates also aren't required to pay for security required when a president visits.
"The Federal Election Commission addressed similar questions under advisory opinions and enforcement matters," Chlopak said. "They've been consistent in concluding that presidential candidates with security, that those expenses are not contributions. … I think the rules are relatively clear and the commission has been pretty consistent."
A visit by Trump to Great Falls in July cost local, county and state agencies about $80,000, which mainly included law enforcement staff. Cascade County Commissioner Joe Briggs said they were reimbursed costs for renting the Four Seasons Arena, but didn't seek money for law enforcement.
Billings police did ask the Republican Party and Rosendale's office for reimbursement of $45,000 in expenses for Trump's visit in September, when he stayed overnight, according to Brian Korell, a captain with the department. The Republican Party initially said they'd look into it but Korell said they never heard back, and Rosendale's office didn't respond at all.