The quiet slap of water hitting cliffs along the Gates of the Mountains was suddenly interrupted by a low rumble downstream.
The roughly 200 people gathered along the river's edge turned their sights to the sky, many raising cellphones and cameras just as the metallic outline of a plane flew between the highest cliffs into view. The distinctive sound of props churning in the wind grew as Miss Montana made its first pass overhead, the drum of the engine disappearing with the aircraft behind the canyon wall.
On Aug. 5, 1949, 15 smokejumpers leapt from the DC-3 over nearby Mann Gulch to fight a routine fire. They gathered their gear and began making their way toward the Missouri River joined by James Harrison, guard and former smokejumper at the nearby Meriwether Station.
As they hiked to the river, spot fires jumped the gulch and a shifting wind created an inferno. Crew foreman Wag Dodge ordered them to drop their gear and run. Only two, Robert Sallee and Walter Rumsey, would make the safety of the cliffs while Dodge managed to burnout a small patch of grass and ride out the fire under his coat just as the blaze passed by. Harrison, William Hellman, Philip McVey, David Navon, Leonard Piper, Stanley Reba, Eldon Diettert, Robert Bennett, Marvin Sherman, Joseph Sylvia, Henry Thol, Newton Thompson, and Silas Thompson perished on the steep hillside.
Seventy years later the crowd had come down the river by boat to remember those who died and witness Miss Montana's flight of honor.
The aircraft reappeared up canyon, flying above limestone outcroppings and timbered mountainsides. As the plane passed overhead three wreaths appeared from the door, floating down through the sky to the forest below. Several more passes sent more wreaths into the air -- 13 in all.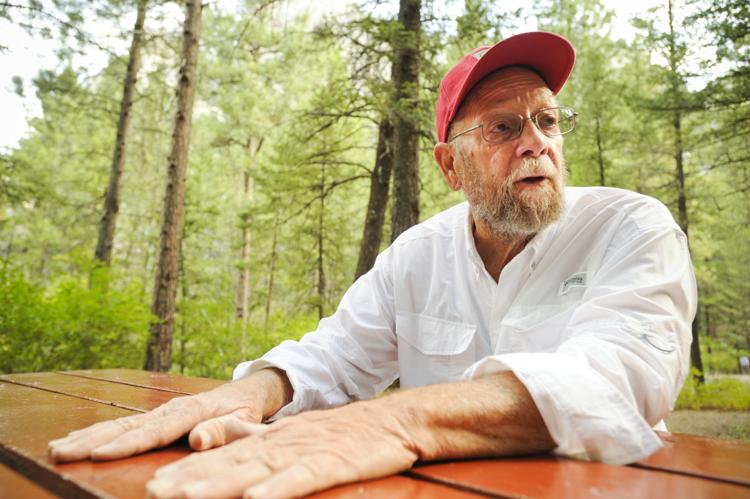 Dave Turner manned the Meriwether Guard Station in the mid-1970s. In those days rarely did anyone know of Mann Gulch much less come to the area to see it or the monuments placed across the gulch.
"I think it came so close after World War II where so many people were killed and this additional tragedy, people just didn't want to talk about it," he said. "Then in 1991 (Norman) Maclean's 'Young Men and Fire' was published."
The book chronicled the jump, the fatal mistakes made and the men who died in 1949. Turner was still with the Forest Service and interest quickly grew as Maclean's work drew national attention. Soon he was leading hikes into the gulch for firefighters, the military, schools and next of kin. Even after retiring in 2002, he continued to lead hikes by request, also penning "The Thirteenth Fire," the agency's book about the tragedy at Mann Gulch.
"Maclean captured that they were all young men, boys struck down in the prime of their lives," Turner said, when asked why he believes the story resonates. "Most of them were vets from WWII, the majority were students and there was some hype and misinformation about them being trapped against this wall of rock.
You have free articles remaining.
"I think most would agree that you learn by reading, or you look at a map or photos, it's not honestly until you get up on that hillside and see what it's like today, you can't really appreciate what they were faced with in 1949."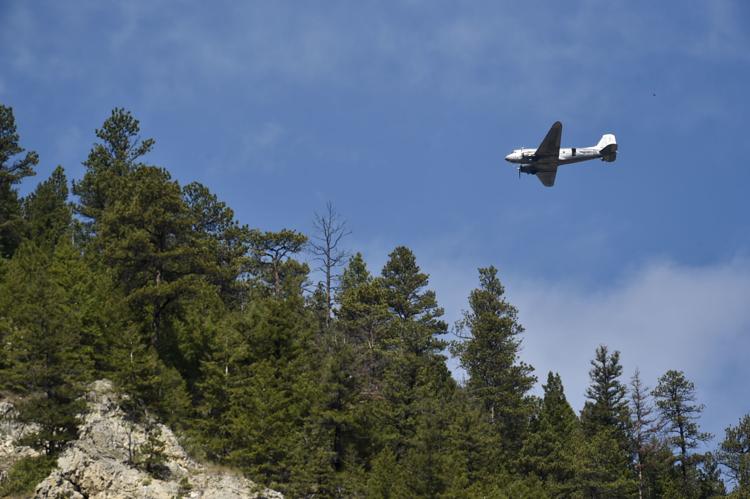 Retired smokejumper Carl Gidlund traveled from northern Idaho to both see his fellow former smokejumpers of the National Smokejumper Association and Miss Montana's flyover. He began jumping as a college student in the late 1950s, making his 99th jump in 1961 before entering the military.
"It's one of the best jobs in the world to see a lot of country when I was in school and young and adventurous," he said.
Gidlund recalled the sense of adventure that drove him and many fellow smokejumpers to jump. While the story of Mann Gulch was certainly part of their training, the youthful sense of invincibility gave them little apprehension about their chosen profession. He agreed that the nature of the work bonds many smokejumpers together, and Gidlund still counts several smokejumpers as closest friends.
"It's special to be here and gives all the old friends the chance to get together," he said.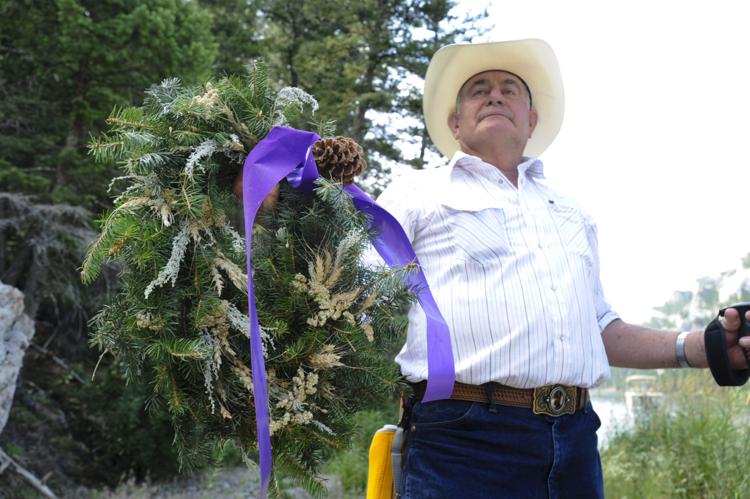 Brian Sallee, cousin of Mann Gulch survivor Robert Salle, drove from Lewistown to take part in Monday's anniversary. Brian was only 2 years old when Mann Gulch happened, but recalled that later in life Robert said little about what happened.
"He never spoke about it," Brian said. "I mean imagine going through that and I think that's why."
Robert only spoke out about it years later following the death of Wag Dodge and wanting to set some misinformation straight, he said.
Brian came Monday to pay his respects to his late cousin and seeing Miss Montana fly overhead was both "pretty cool" and also a chance to recall what came out of the tragedy. Much was learned from what happened at Mann Gulch that changed the way fires are fought and how they are studied.
"I think it means a lot to me because what happened here, it saved a lot of lives because of what they learned," he said.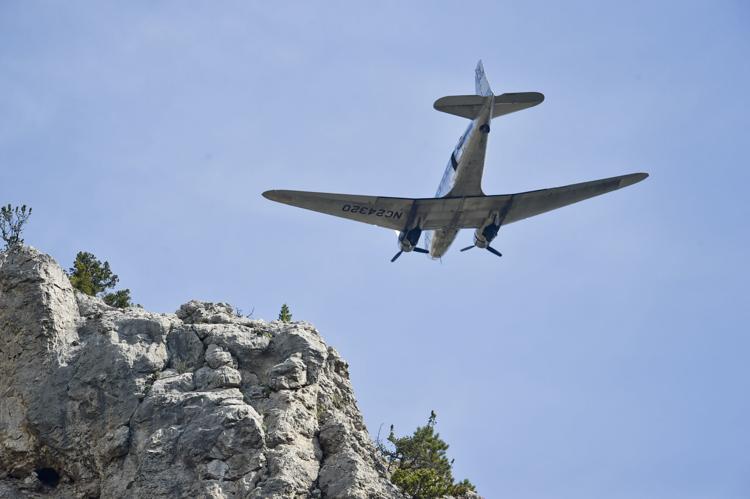 Reporter Tom Kuglin can be reached at 447-4076 @IR_TomKuglin
Be the first to know
Get local news delivered to your inbox!