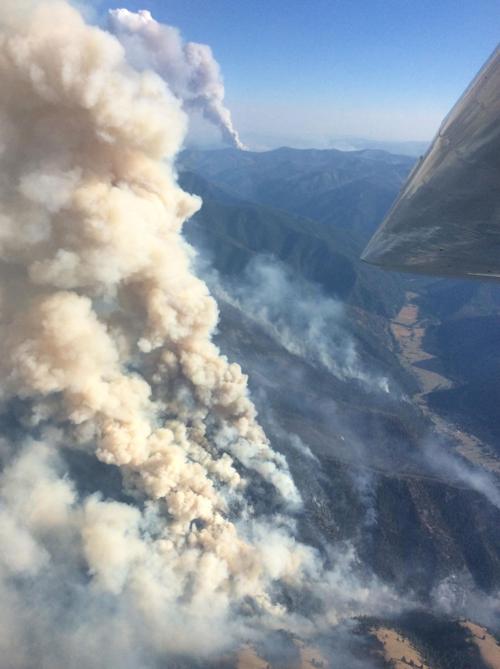 The 2017 fire season set records in some locations for days in extreme fire danger with prolonged hot and dry weather stoking blazes and stretching resources thin, state officials told lawmakers this week.
"One thing is clear, and that is that we do not have a fully sustainable program for fire seasons such as this one," said Sue Clark, acting administrator of the Department of Natural Resources and Conservation forestry division.
On Thursday, Clark appeared before the Environmental Quality Council, a legislative interim committee that meets between sessions, to update lawmakers on the fire season.
Fire suppression costs have run close to $400 million in Montana, including about $62 million of state dollars. The state received eight federal grants that pay for 75 percent of eligible costs for fires, such as Alice Creek northeast of Lincoln, Lolo Peak in the Bitterroot Valley and the Lodgepole Complex in eastern Montana.
The most expensive fires this year include Lolo Peak at $48 million, Rice Ridge at $47.9 million, Sapphire Complex at $36 million and Meyers at more than $32.5 million.
More than 1.2 million acres, including about 300,000 acres on DNRC-protected state and private lands, burned in Montana this year. That puts 2017 above 2012 by more than 20,000 acres and makes it the highest year in terms of acreage in the last two decades, according to records. In 2012 costs were about $113 million, compared to the $393 million spent in 2017.
State and county firefighters officially controlled about 2,100 fires during initial attack for a 98 percent success rate. DNRC conservatively estimates county crews caught another 500-700 fires that went unreported, Clark said.
During a governor-declared emergency, about 850 National Guard soldiers and five helicopters deployed on firefighting.
EQC may study ways to bolster the fire program, including funding for staging more resources in anticipation of fires.
With fires across the northwest, the number of incident management teams was insufficient and resources were prioritized where officials saw the best chance of success to protect people, property and structures, Clark said.
Michael DeGrosky, chief of DNRC's Aviation Management Bureau, told lawmakers that state and federal officials often have different philosophies on fighting fires. State and county officials are typically responding to fires on private land and DNRC focuses on keeping fires small, while federal agencies have fire protection responsibility on federally managed lands.
Reporter Tom Kuglin can be reached at 447-4076 @IR_TomKuglin
Be the first to know
Get local news delivered to your inbox!