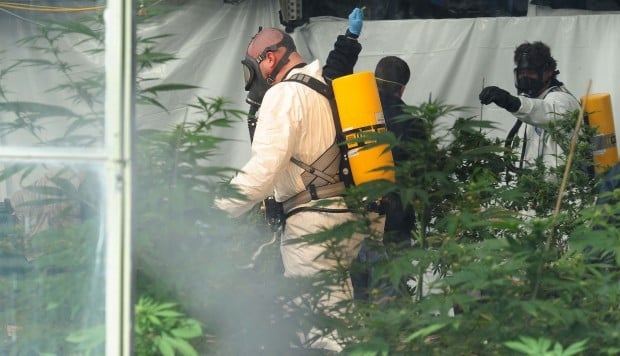 The collapse of the state's once-booming medical marijuana industry after lawmakers passed tough restrictions and federal agents raided dozens of pot providers was Montana's top news story of 2011, according to The Associated Press' annual member poll.  
It's the second straight year Montana editors have chosen medical marijuana the top story, but the industry couldn't be any more different after just 12 months. In 2010, towns were scrambling to figure out how to deal with the pot shops that were popping up on street corners as a rapidly expanding registry rose from 2,000 users at the beginning of 2009 to a peak of more than 30,000 by June of this year.  
Since then, the bottom has fallen out. The number of registered users has dropped more than 36 percent from that peak, to just 19,239 people in November, as tougher standards to qualify for the registry have prevented many people from obtaining or renewing cards. The number of medical marijuana providers has dropped even more precipitously, from a peak of 4,848 in March to just 383 in November.  
The decline started in March, when federal agents raided dozens of medical marijuana businesses, warehouses and provider homes. Agents seized drugs, cash, guns and vehicles, and the U.S. Attorney's office warned state leaders that prosecutors would pursue anybody suspected of trafficking in the drug.  
The raids were the first blow to providers. Those who were raided went bust and many others closed down or went underground out of fear.  
As federal agents were carrying out the raids, state lawmakers were considering a repeal of the medical marijuana law that voters approved in 2004. The Republicans leading the Legislature said medical marijuana had gotten out of control and turned into a retail industry that went far beyond what the voters had intended.  
The Legislature passed the repeal and would have outlawed medical marijuana altogether had Gov. Brian Schweitzer not vetoed the bill and sent lawmakers back to the drawing board with time running out in the session. They emerged with an overhaul that added many restrictions to the law, including a ban on making a profit from marijuana sales, stronger medical proof to register as a patient and a requirement to investigate any doctor who recommends more than 25 patients in a year.  
A marijuana advocacy group immediately sued to overturn the new law and began gathering signatures for a 2012 ballot initiative to repeal the changes. District Judge James Reynolds blocked several provisions from taking effect, including the ban on profits and the investigation into doctors.  
The judge's block is temporary until the legal challenge plays out, but the Montana Cannabis Industry Association has gathered enough signatures to put a repeal question on the 2012 ballot. In the meantime, numerous medical marijuana providers who were targeted in the raids have pleaded guilty to federal drug trafficking charges.  
An Exxon Mobil pipeline broke and spilled an estimated 1,000 barrels of crude oil into the Yellowstone River, sickening residents, oiling or killing hundreds of animals and leading to an increased scrutiny of pipelines crossing waterways in Montana. Federal officials have not yet determined a cause for the break and Exxon has said the cost of the spill and repairs could reach $135 million. But that estimate doesn't include possible fines or the potential cost of a lawsuit filed by landowners dissatisfied with the cleanup.  
You have free articles remaining.
Montana Republicans stormed into the 2011 legislative session with control of both legislative chambers and an ambitious plan to tackle everything from medical marijuana to the way the state takes federal money to run its programs. But some of their most conservative measures crumbled under legislative examination or were stymied by Montana Gov. Brian Schweitzer, who famously called some of the proposals "bat-crap crazy."  
Flooding swept through towns and counties across the state as heavy spring rains coupled with the melting of an unusually high mountain snowpack swamped low-lying areas. Flooding cut off whole communities, destroyed crops and damaged irrigation systems, leading federal emergency officials to approve more than $29 million in public and individual assistance and loans. Some 48 counties and five Indian reservations received aid.  
A district judge freed Barry Beach after nearly 28 years behind bars for the 1979 murder of a Poplar teen. District Judge E. Wayne Phillips ordered a new trial and released Beach on his own recognizance after Phillips said there was enough evidence presented at a hearing last summer to raise doubts about Beach's guilt.  
6. Rehberg challenges Tester
Republican U.S. Rep. Denny Rehberg decided to challenge first-term Democratic U.S. Sen. Jon Tester in a 2012 campaign considered as one of the pivotal races for control of the Senate.  
Congress lifted endangered species protections for the Northern Rocky Mountain gray wolf, effectively ending a court battle that had lasted years and allowing Montana and Idaho to hold their second-ever wolf hunts. Protections remained in place in Wyoming, where the state law is considered hostile to the species' survival.  
8. Yellowstone grizzly attacks
A quarter century without a fatal grizzly bear attack in Yellowstone National Park ended last summer when two hikers were killed in separate attacks a month apart. Park officials killed a 250-pound female bear that left DNA evidence at the site of both maulings, though officials said they may never know definitively whether the same bear killed California hiker Brian Matayoshi and John Wallace of Michigan.  
9. Mortenson's claims questioned
Author Jon Krakauer and "60 Minutes" revealed discrepancies in humanitarian and Bozeman resident Greg Mortenson's best-selling book, "Three Cups of Tea," about how Mortenson started building schools in Pakistan and Afghanistan. Mortenson denied fabricating anything and denied allegations that he benefited financially from his charity, Central Asia Institute. The allegations led to the Montana attorney general opening an inquiry into the charity and a civil lawsuit filed by Montana and Illinois residents who bought his books.
10. Baucus on supercommittee
Senior Montana U.S. Sen. Max Baucus joined the congressional supercommittee tasked with crafting a bipartisan deal to reduce the nation's deficit. Baucus, a Democrat, remained optimistic that a deal could be reached, only to see the talks crumble amid partisan finger-pointing.