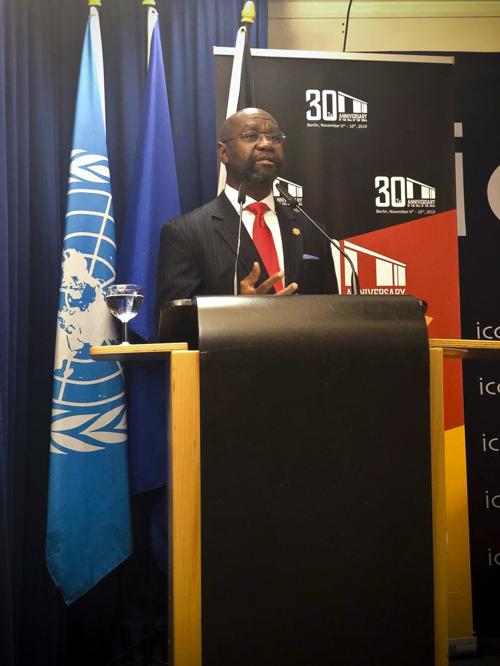 Helena Mayor Wilmot Collins traveled to Germany this week to speak at an international summit commemorating the 30th anniversary of the fall of the Berlin Wall.
The Academy for Cultural Diplomacy invited Collins and 59 other leaders in politics, economics, religion, academia and the arts to speak at the multi-day summit being held in conjunction with celebrations in Berlin this week. Titled "From the Divided to the City of Freedom," the summit focuses on the political and cultural shifts following the fall of the wall and the metaphorical walls that still exist limiting cultural exchange today.
Founded in 1999, the academy is headquartered in the U.S. and Berlin and researches and promotes diplomacy between cultures including artistic, economic or scientific with the theory that cultural exchange will lead to improved relations between divergent groups.
Collins, who is seeking the Democratic nomination for next year's U.S. Senate race, was invited to speak by the academy after his election as Helena's mayor made international news, campaign manager Trent Bolger said.
After his historic election in 2017, Collins became Montana's first black mayor since statehood. His and his wife Maddie's story of coming to Helena as refugees more than 25 years ago from war-torn Liberia and raising two children put him in the national spotlight.
In Berlin, Collins told his story of immigration and the warm reception he received in Helena, but also a disturbing act of racism when he awoke to racist graffiti spray painted on their garage door. As he went back inside, neighbors congregated to wash the graffiti away.
"These former neighbors of mine chose not to be encompassed by the fear of living by a black family that would expose to them the uncomfortable truths of racism, but instead, chose to stand unified against the rhetoric of intolerance and fear-mongering," he told the summit.
Collins said it was the community that kept his family in Helena, instead of moving away to somewhere more diverse. 
You have free articles remaining.
"The authentic and genuine spirit of a community is what can propel a skinny refugee from West Africa to get involved in as many civic groups as possible and one day become mayor of the Capital city in the least black state in America," he said. "A community is about more than just what you can find in common with your neighbors, but also about what you can learn from them and how they react (to) the experiences that are unique and difficult to you, personally."
Collins went on to say that he recognizes that racism and bigotry are present everywhere, but it is how a community responds that makes the difference. Differences between people can be a chance to learn from and strengthen cultures, but they can also be used to further divide, he said.
"What always gives me hope in times of despair, is what my story like so many others, embody. And that is the power of when ordinary people come together to organize and accomplish extraordinary things," he said, citing the collective movement that led to the fall of the Berlin Wall.
"We are stronger against the evils of terror, corruption, greed and power, when we tear down walls and build bridges to relationships that outlast the hands of time," he said. "When we embrace unity and do not allow ourselves to be subdued by fear, we are ensuring a better world for the next generations."
Collins said that collective voices must continue to speak for a vision that promotes peace and tackles the world's most serious problems, naming climate change, poverty and equality.
"Let us utilize the commemoration of the fall of the wall not only to celebrate, but to inspire a new wave of activism, powered by the organizing of ordinary people who choose to be motivated by the possibilities of unity and not by the easy undertakings of fear," he said.
Collins in an email called speaking in Berlin an honor and said that America remains a beacon of hope for many around the world.
"It is pertinent that we continue to remind ourselves why we've aligned ourselves with Germany and their mission to fight for a more unified world, why we've called on their leadership to tear down walls meant to divide and helped them fight against the evils of Nazism and white supremacy," he said.
"The commemoration of the fall of the wall should also serve as a reminder to us as Americans, to live up to our own internal promises as a country that led us to a globally respected position for decades and inspired us to be the very best version of ourselves."
Reporter Tom Kuglin can be reached at 447-4076 @IR_TomKuglin