Carrying signs and cheering upcoming "personhood" legislation, more than 250 opponents of abortion rallied at the Montana Capitol on Friday before walking in unison for the annual March for Life.
Montana's march was held in coordination with others across the country, including the main event in Washington, D.C. The march's timing coincides with the 1973 U.S. Supreme Court decision Roe v. Wade, which recognized a legal right to abortion and which the ralliers hope will be overturned.
"When I think about the pro-life movement and I think about the debate for abortion, for me it's pretty simple, it comes down to the miracle of life," Willy Frank, the march emcee told the crowd.
With multiple clergy speaking and in attendance, the rally focused heavily on the view of abortion as immoral.
The Rev. David Severson decried an erosion to objective truth in religion and society, saying that "we will be accountable of how we use and care for the gift of truth and the gift of precious life."
"My dear brothers and sisters for life, I encourage you and I beg you with eagerness and hope to rise up with great and compassionate zeal, not to a self-righteous fortress mentality, but a monolithic movement of a convicted sacrificial love to stand for what is right and just, to stand for all the poor, especially the most vulnerable."
While religion grounded many of the speakers' speeches, others made a legal argument for ending abortion while advocating for upcoming legislation.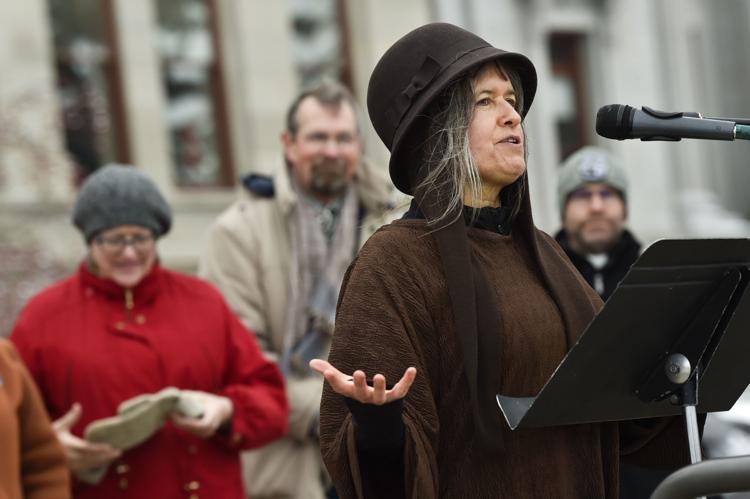 "The purpose of government is to secure the rights of life, liberty and the pursuit of happiness, and if somebody snuffs out your life, there is not liberty or happiness," said Dr. Annie Bukacek, president of the Montana ProLife Coalition. "Government is meant to protect innocent life."
Montana Republicans are expected to again bring a "personhood amendment" to the floor, this session carried by Jefferson County Republican Rep. Greg DeVries, which if passed and approved by voters, would assert life as beginning at conception.
Montana Democrats have fought attempts to limit abortion in the past and Gov. Steve Bullock has vetoed several such bills, saying in 2017 that lawmakers should not interfere with "deeply personal medical decisions."
Rep. Kim Abbott, a Democrat from Helena, said Friday she thinks Montanans care deeply about individual privacy, which many of the abortion bills introduced over the years would fly in the face of.
Democrats are committed to making sure women's rights aren't limited, Abbott said.
"We want to make sure women have access to the health care they need," she said.
After the passage of the Affordable Care Act made access to contraception more equitable, some of the battle over the issue died down at the state level. This year Rep. Laurie Bishop, a Democrat from Livingston, is carrying a bill that would allow women to be prescribed 12 months of contraception at a time.
A 2011 study by the University of California San Francisco found that a year supply of contraceptives, instead of the typically prescribed one- or three-month supply, reduced unintended pregnancy by 30 percent and the chance of a women having an abortion by 46 percent.
Bishop said her bill approaches unintended pregnancy from a place of consensus among both parties.
"Where we stand on women being in control of their bodies and access to care is what I think are shared values we all have about bringing a child into the world and the choices women make on the other end (about abortion)" Bishop said.
Among those speaking at the march was Sen. Jennifer Fielder, R-Thompson Falls, who delivered emotional and personal remarks.
"Life is full of choices, some good and some bad," she said. "With most bad choices we have an opportunity to fix them. But when it comes to life, we make a bad choice about life, it's permanent."
Fielder recalled speaking on the Senate floor in a previous session in support of the personhood amendment. While she did not use the word "abortion" directly, she talked about how "a choice" she made as a young woman has affected her life and views. She was thankful for high school students in attendance during her floor speech that opened up afterwards, sharing their personal hardships, regrets and difficult choices, she said.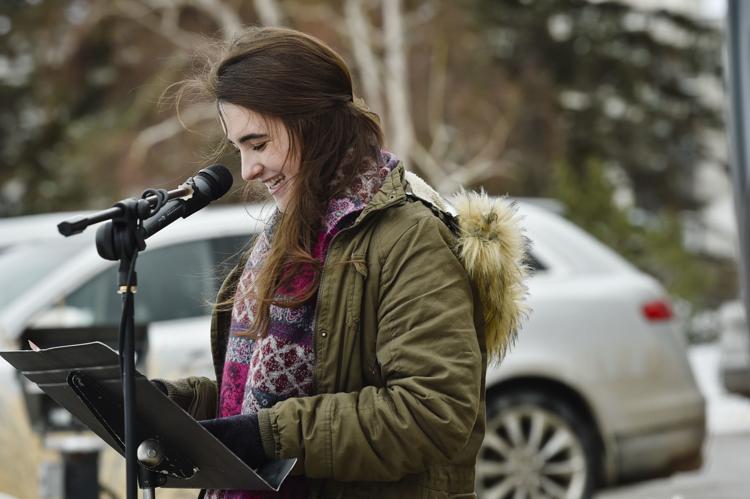 Briana Morgan became involved with Saints for Life at Carroll College and spoke of a difficult upbringing. As she grew up her parents divorced, and while attending public schools, the morality of abortion was a conversation topic among her friends.
"I'd hear people say that if a child were to be born into a situation of poverty, or a situation where they weren't loved or fed properly, that means their life should be terminated before it started," she told the crowd. Morgan soon realized that her life of hardship was the life others theorized should have been terminated, but she is convinced that every life has dignity at "every stage."
"This cause that we stand for is not a mere difference of opinion, the right to be born is a matter of life and death," she said.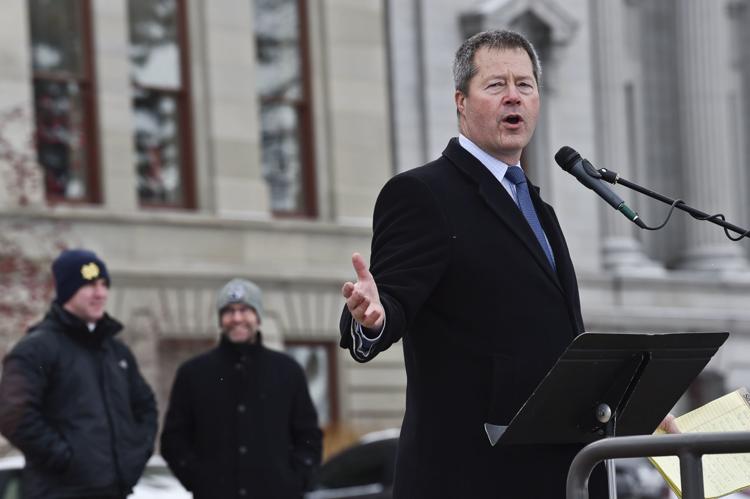 Sen. Al Olszewski, R-Kalispell, closed the march, telling attendees that have been ridiculed for their beliefs to reply that they have the truth on their side.
"The truth is that all life is created equal," he said. "All life is sacred from conception to natural death, without exception."