Longer wildfire seasons in Montana are challenging agency models of employing firefighters seasonally, officials said Friday.
Gov. Steve Bullock held the annual state fire season briefing at the Capitol, which included a roundtable of state, local, tribal and federal fire officials to gauge their preparedness for the upcoming summer. Along with details about numbers of firefighters and early weather outlooks, highlighting the meeting was climate change and its associated challenges maintaining a firefighting workforce.
The briefing was more about preparedness for fire season than predictions, Bullock said. No firefighting agency can expect to be successful on its own and cooperation is important when facing the uncertainty of wildfire over the next few months, he said.
Early in his remarks Bullock noted that the job of firefighting is changing across the West.
"As fire seasons have gotten longer, and by many stretches more severe, the duties that face each of our teams to just from a seasonal issue to actually a year-round responsibility to train, prepare, respond and recover from fires continuously, " he said.
Another critical part of Montana's firefighting strategy are rural volunteer departments. Like much of the country, volunteerism is on the decline in the state and volunteer stations are tasked with doing more with fewer personnel.
In an average year Montana sees about 1,800 wildfires with approximately 360,000 acres burned, said Colleen Haskins, meteorologist with the U.S. Forest Service. Last year was a relatively quiet one, with only about 147,000 acres burned, which differed from early season predictions of an above average fire year. That was primarily due to weather patterns that pushed lightning to the south, she said.
Trends across the state this year have officials concerned about prolonged dryness in northwest Montana while the remainder of the state is forecast for an average fire season, Haskins said, adding that a predicted weak El Nino favors a cooler and wetter summer.
But does cooler and wetter actually equate to closer to normal when rising summer temperatures are factored in? Haskins thinks so.
July temperatures have risen 3.5-4 degrees warmer than long-term averages and precipitation has trended down about one-third of an inch, she said. She emphasized that temperature and precipitation are only two of many factors in wildfire season, pointing to last year's dip in lightning that removed the ignition source for many fires. 
"We have to address climate change," Bullock replied when asked about long-term firefighting strategies and citing a 2050 goal of zero net emissions across the globe.
The state's seven biggest fire seasons have happened since 2000, including the 2017 season that was caused in part by a flash drought, after the state was expected to have "normal" fire conditions. About $400 million was spent fighting fires that burned about 2,200 square miles and 140 structures.
Sudden drought and thunderstorms are harder to predict, Haskell said.
"Most of the acreage (burned) is due to ignitions by lightning," Haskell said. "Unfortunately, we can't predict that more than seven to 10 days out," adding that more research is being done.
In terms of staffing fire crews, a nearly 80-day longer fire season poses significant challenges in a model that traditionally employs college students and teachers during the summer, said John Tubbs, director of the Montana Department of Natural Resources and Conservation.
"We're going to have to go to legislators, the governor, the president, and say this is more of a full-time job than in the past, and we're going to have to resource it, and it doesn't mean spending less," he said.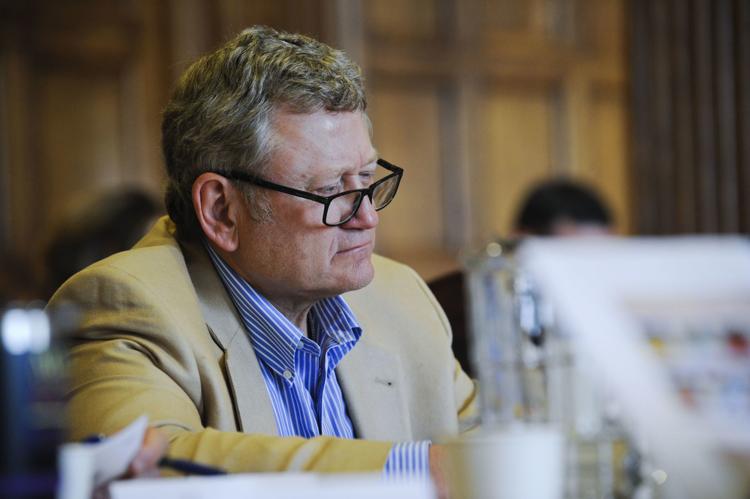 "My observation of those crews is that they're more than ready, they're rocking and rolling ready," said John Mehlhoff, state director for the Bureau of Land Management.
Regional forester Leanne Marten said she was optimistic about agreements between the state and Forest Service to increase the pace and scale of forest management. Two state programs, Forests in Focus 2.0 and Good Neighbor Authority have amplified the state's roll in logging and prescribed burning projects on federal lands.
"We're seeing that same energy and same type of philosophy across everything that we're doing out there to address the forest health crisis," she said.
Communities have a role, as well.
"We need people to understand that there are not enough resources in Montana for us to firefight our way out of this," said Mike DeGrosky, the DNRC's Fire Protection Bureau chief. He said communities are going to have to plan for wildfires in case outside crews aren't available.
While the snowpack and cooler temperatures look promising right now, "it can change so quickly," said Lt. Gov. Mike Cooney.
The good news is the various agencies are prepared to work with each other, he said.
"We're not going to always agree with each other, but we agree on one thing — we're going to be there to help each other," Cooney said.
Amy Beth Hanson of the Associated Press contributed to this story.
Be the first to know
Get local news delivered to your inbox!