In its first full year, Montana State University Billings' Military and Veterans Success Center is in full-swing and is looking to create more connections with the wider community of Billings veterans.
The center, which was unveiled last Veteran's Day, is at the beginning of its second academic year, which runs from fall to spring. In its second academic year it's seen an 8% uptick in use by student veterans or military affiliated students, according to director Dawn Githens.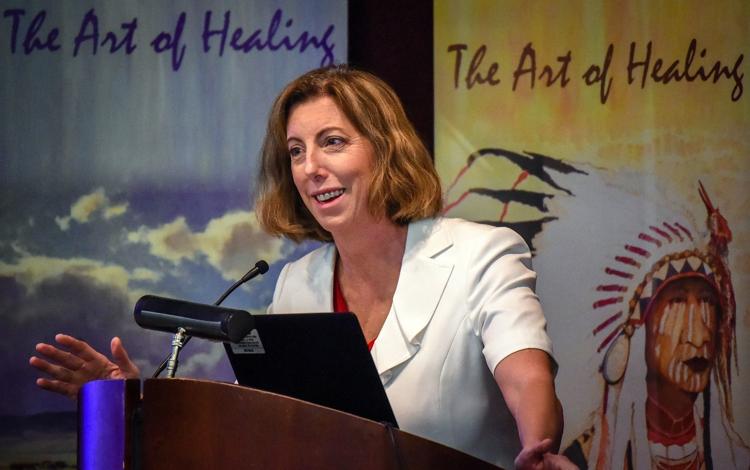 There are 245 military-affiliated students enrolled in MSUB, Githens said. Not all are veterans; some may be children or family members of veterans. The center also provides services for military-affiliated students. Statewide, Montana has one of the highest rates of military service among U.S. states, at 11.4% of adults, according to the U.S. Department of Veterans Affairs. The national average is 6.6%. 
The success center helps students with issues that may arise from using their post-9/11 GI Bill education benefits, financial aid, or issues that may arise with Veterans Affairs benefits.
Navigating VA benefits and services is probably what Githens helps her students with most, she said. 
"I process well over 100 to 200 new VA applications," she said. Many issues might arise only because many are first time students.
"Many have never done it before, and veterans don't typically ask for help, so they try and figure out issues online or on their own," she said. "Our role has moved into the point where they don't have to ask for help, we bring the help to them."
Saige Fauth is in her first semester at MSUB studying process plant technology. She's a Marine Corps veteran, and does work-study with the success center. When she first arrived in school she had a meeting with Githens to go over what she needed. While Fauth was already pretty prepared, it's not always the case for all new vets, she said.
"We get about a week of training (as a veteran) on how to use our benefits, but it doesn't really scratch the surface," she said. Many veterans don't take advantage of services, often because they don't know about them, she said.
You have free articles remaining.
While the center primarily helps veterans access resources, it's also a place for veterans to mingle and connect.
"That's a very fabulous change that the center has been able to bring them. It's really enjoyable to watch that organic networking," Githens said. "That kind of camaraderie is something that we had while in service and it's something we miss."
Githens retired from the Air Force in 2018 as a colonel after 24 years of service. Not only does the center work to help students with school resources, but it also aims to be a starting point for accessing community-wide resources.
All new students are made aware of the center, and it's become the "new norm" for them, she said. But she's still trying to make upperclassmen aware of the service, and the wider community of students who have military affiliations but aren't veterans themselves.
"One of the things we try to highlight is that the center is really focused on supporting our military affiliated community, it's not just VA or active military, its spouses and children of the vets too," she said. That could mean children of veterans who attend MSUB and may be eligible for benefits, or families that need support while a spouse is deployed.
"I have three kids and we were dual-military," Githens said. Her husband also an Air Force vet. "I'm very aware that our vets—it wasn't just them that served—their entire family served with them."
"I've never lived in a city that had so much support structure for our military and veteran population," Githens said. "But in some cases that becomes almost overwhelming because it's hard to sort through."