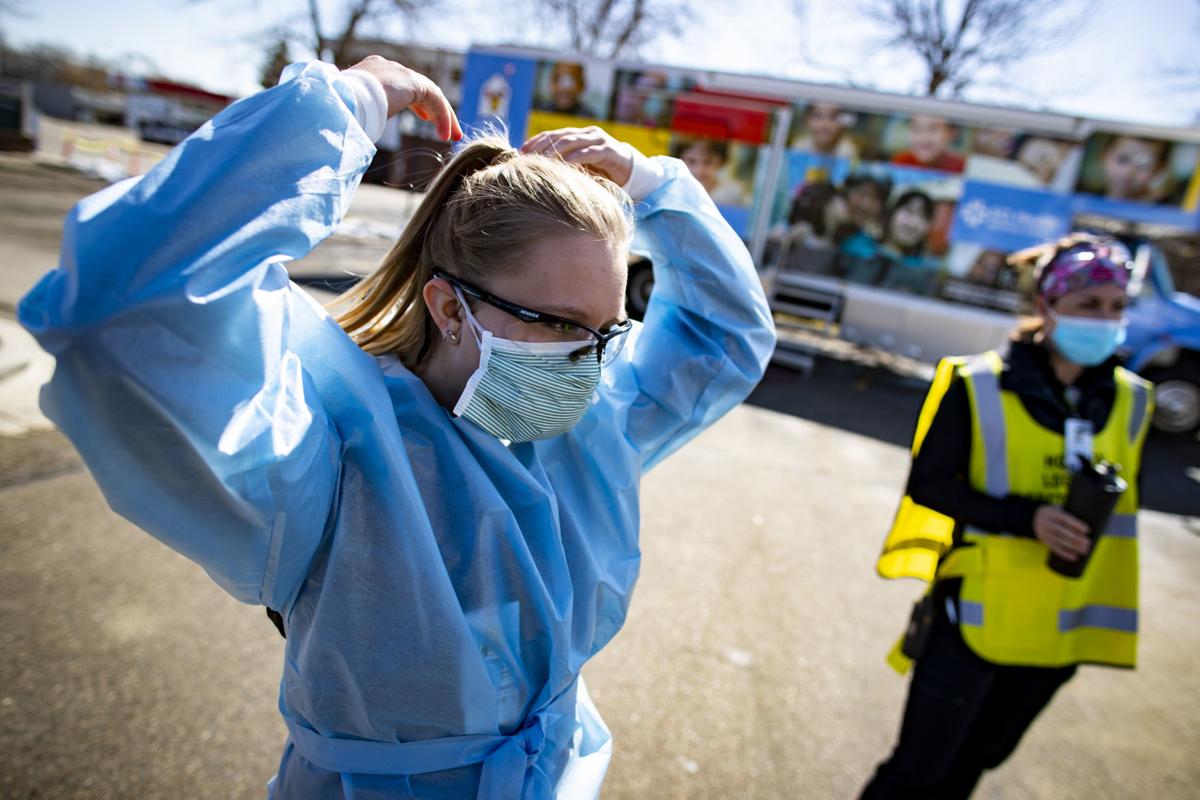 By Thursday morning, Montana had 71 reported cases of the novel coronavirus and the state's public health laboratory had run 2,193 tests. 
The state lab is currently running more than 300 tests a day, submitted from all over the state.
The state lab has been processing samples the same day they're received and immediately report any positives to local public health officials and the provider that ordered the test, Jon Ebelt, spokesman for Montana Department of Public Health and Human Services, said by email on Wednesday. 
But as the virus spreads — Gallatin County has now seen the state's first cases from community spread — the need for testing increases. To meet that demand, DPHHS has advised health-care providers to split up the solution they use to transport swabs.
"We're having to be creative on a lot of fronts that way, because we're having trouble with N95 masks and we're having trouble having enough purple wipes to wipe things down. This is nationwide," said Heather Johnson, an emergency department clinical specialist at St. Vincent Healthcare who has been testing patients for COVID-19 for a week. "This is the beginning of the nationwide shortages that we're going to be seeing."
Health care providers use a long cotton swab that looks like an overgrown Q-Tip to rub in a person's nasal cavity, and a small bottle of a liquid solution to preserve the collected sample.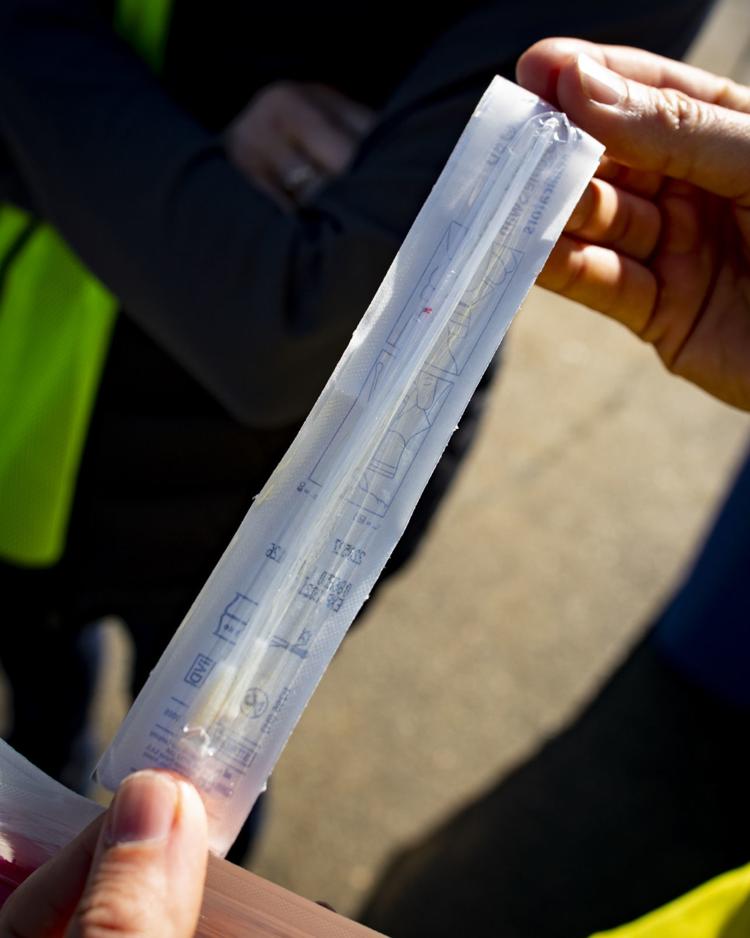 DPHHS has suggested providers aseptically remove half of the solution, (1 milliliter), from one tube and transfer it to a similar sterile tube, Ebelt said. "One milliliter is the minimum amount the state laboratory requests for testing."
The testing capacity in the state is hard to quantify because health care providers are constantly using what's available, Ebelt said. For example, the DPHHS received 3,000 tests from the Centers for Disease Control and Prevention last week.
"DPHHS continues to receive enough tests from the CDC to meet the current demand for testing at the state laboratory," he said. "DPHHS continues to conduct COVID-19 testing seven days a week."
Locally, both Billings Clinic and St. Vincent Healthcare have been splitting up the solution to transport tests to help expand their reach.
"This practice does not compromise the accuracy of the test results," said Jenn Graves, senior director of Clinical & Support Services at St. Vincent Healthcare. "The splitting of the viral transport media takes place in a controlled environment with highly-skilled, qualified lab technicians."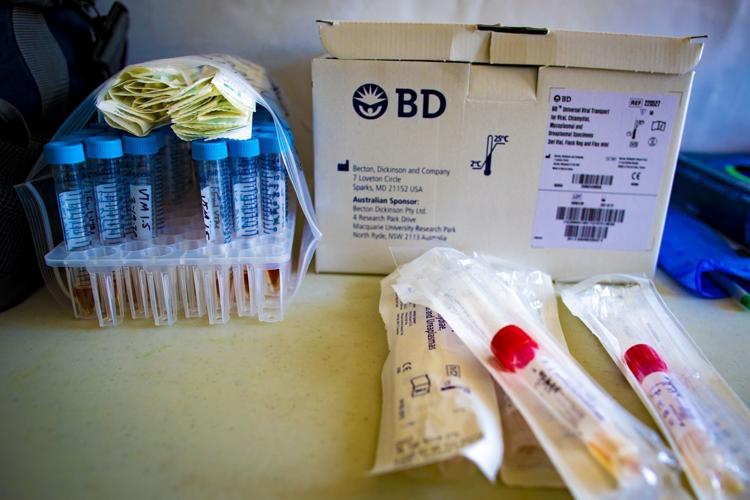 In order to get tested, a person must be referred by a doctor and then visit the drive-thru triage center set up outside of St. Vincent. Once the test is administered, it's run through the lab at St. Vincent to see if it's a match for the seasonal flu. 
If it doesn't match the flu, the test is sent to a lab in Denver, where it's checked for COVID-19, a process that takes about five days.
Hospitals and providers often have relationships with private labs, while others have been relying on the state public health lab in Helena.
State medical officer Greg Holzman said private labs are ramping up capacity, but emphasized the state lab has the fastest turnaround times right now.
"Even with those labs online, the state lab is going to be able to turn around results much faster," he said in an interview late last week.
Even with expanded capacity, testing every person in Montana wouldn't necessarily help the state's response, Holzman said.
If every person in Montana was "tested today and then they all stayed completely isolated, I would feel fairly comfortable," he said. "But if I'm testing people today and there's movement, which is going to happen because we're humans and people are still needing to do all sorts of different things, I can't tell you that the virus hasn't come in again tomorrow. So there's not a value in doing that."
Something people may not understand about testing for COVID-19, Holzman said, is that it isn't used to inform the course of treatment for a patient. This virus has never existed before, so no specific treatment exists.
Instead, the testing is used to try to prevent small clusters of outbreaks from forming and to let health-care providers know when they need to wear personal protective equipment. If they're caring for someone they know doesn't have the virus that protective equipment can be conserved, he said.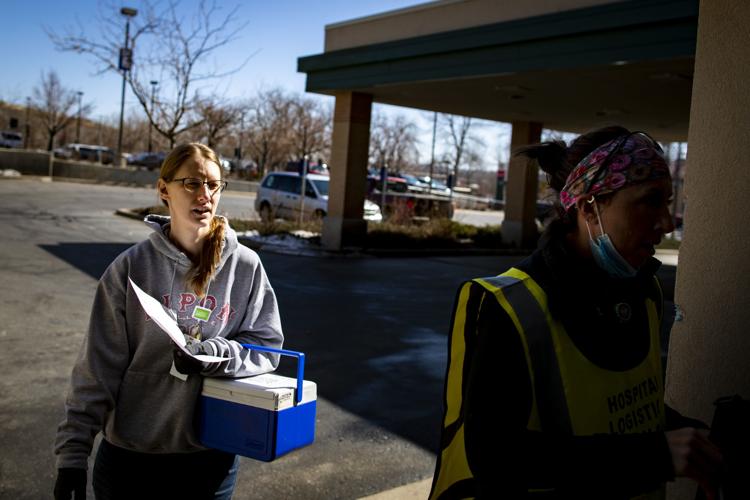 Local public health officers do not recommend testing for close contacts without symptoms. That's been something hard for people to understand, Holzman said.
"A negative test really doesn't clear you. You're still going to need to be in quarantine for those 14 days. (A negative test) is giving a false sense of security to that individual," Holzman said, adding that someone could test negative on the second day of their quarantine and positive on the fourth day, thereby infecting anyone the person came in contact with after the negative test result.  
The importance of following isolation and quarantine measures, as well as limiting all unnecessary travel and following all other measures cannot be overemphasized, Holzman said.
"We will never know the results of our overreaction, but we will live with our under-reaction," Holzman said.
Concerned about COVID-19?
Sign up now to get the most recent coronavirus headlines and other important local and national news sent to your email inbox daily.