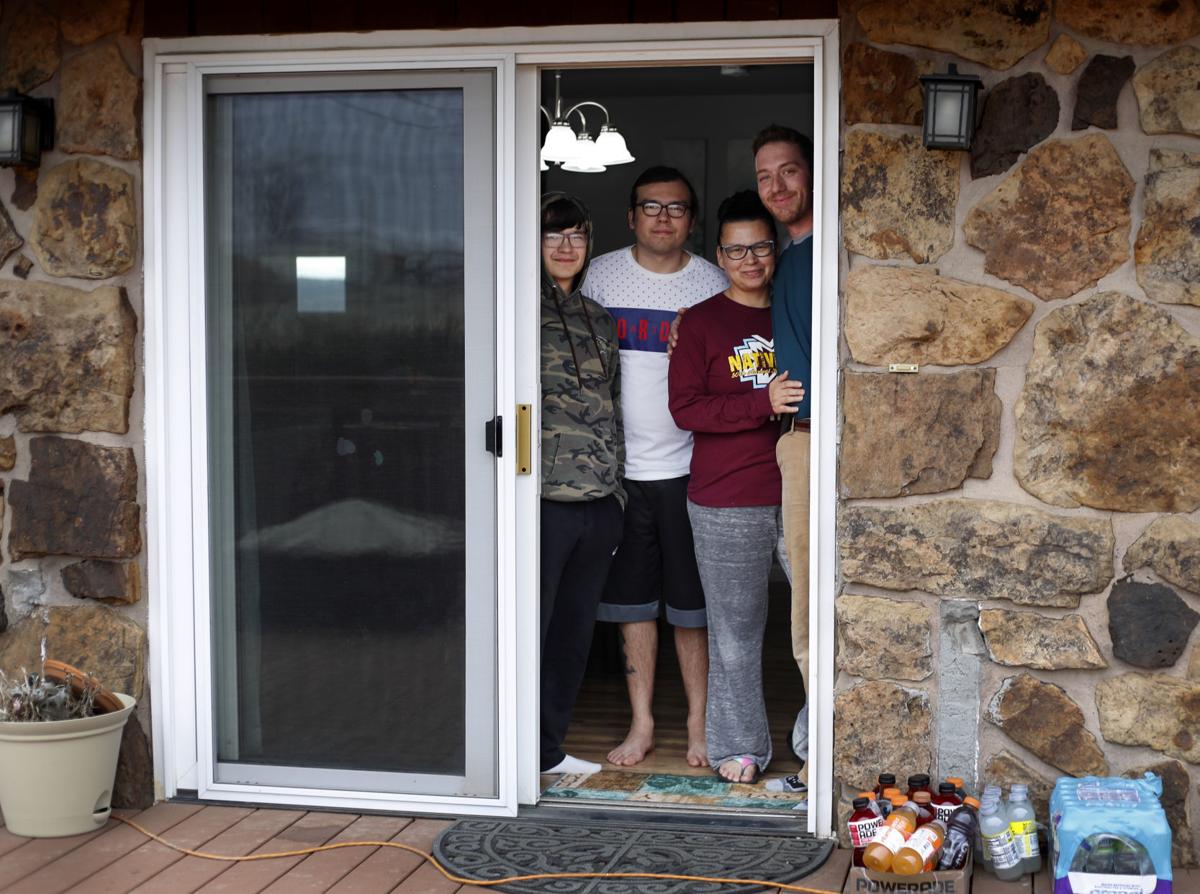 Teague Rutherford is doing it right.
He's going on day nine of quarantine, holed up in his mom's home outside of Shepherd, along with one sick brother and five other family members.
"Even video games are getting boring," Rutherford joked.
Rutherford's brother has tested positive for COVID-19. Rutherford's stepdad was tested, too, after he came down with a fever, but the results were negative.
No one else in the house has shown symptoms, but they all know they could still carry the virus.
So, they are riding it out.
Friends and family have been dropping off food. Rutherford is making his way through "Land of Nakoda: The Story of the Assiniboine Indians," a book on his tribe. His mom and stepdad have finally sat down to watch "Game of Thrones."
Meanwhile, Rutherford's brother has been in his bedroom for 11 days, as of Thursday. Aside from the occasional trip to the backyard to sit in the sun, he's been confined to the basement room, which has a bathroom but no windows.  
For meals, the family sets a plate of food outside his bedroom door, knocks and walks away. Later, they collect an empty plate. Communication happens via text or phone call, or sometimes through the closed bedroom door. 
The self-imposed quarantine doesn't come without consequences. Rutherford had to suddenly put off plans to return to Fort Belknap, where he is from, to look for a job. His mother hasn't been able to continue her work for the Bureau of Indian Affairs at a downtown Billings office building. And his stepdad, Wesley Bettelyoun, is sidelined from his general contracting business, just as the summer construction and roofing season was supposed to begin.
The sudden freeze on normal daily life is taking its toll. Rutherford said he's counting down the days until he can go to Dairy Queen.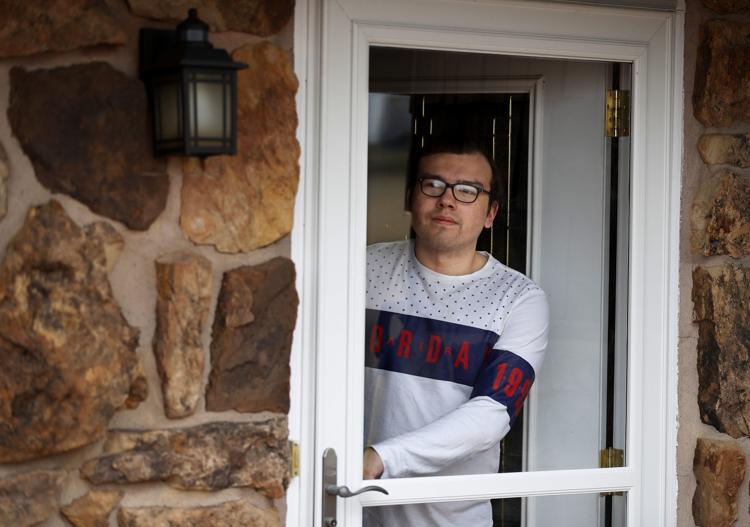 "A Reese's peanut butter blizzard for sure," he said, when asked what he'd order. "Large."
Driving there himself, walking into the business and finally cracking open his wallet again sounds like fun on its own, he said.
As Rutherford reads news of some people flouting calls to help slow the spread of the disease, he gets frustrated.
"We should be wanting the best for all of us," he said.
Public officials and health experts have urged people to stay home whenever possible. And Rutherford, who minored in global public health at the University of Montana, has been reading up on COVID-19 since before the first spate of cases hit the U.S.
He's now taking to social media to encourage everyone to do their part. He wants young, healthy people to consider how their actions could affect those with weakened immunity. 
Rutherford's brother is 28 years old and has no underlying health conditions. Still, he's had body aches, headaches, a dry cough, chills and night sweats. Food and drink have a metallic taste to them.
"Just seeing the condition he's in, for a healthy 28-year-old, it just makes me wonder about a 50-, 60-year-old dealing with this," Rutherford said. 
Queen family
One sunny day last week, Amy Queen looked out her front window and saw family friends walking by. She rushed out the door and her three kids followed.
One of a growing number of households across the U.S. under home quarantine due to the new coronavirus, the group was starved for some good old-fashioned face time.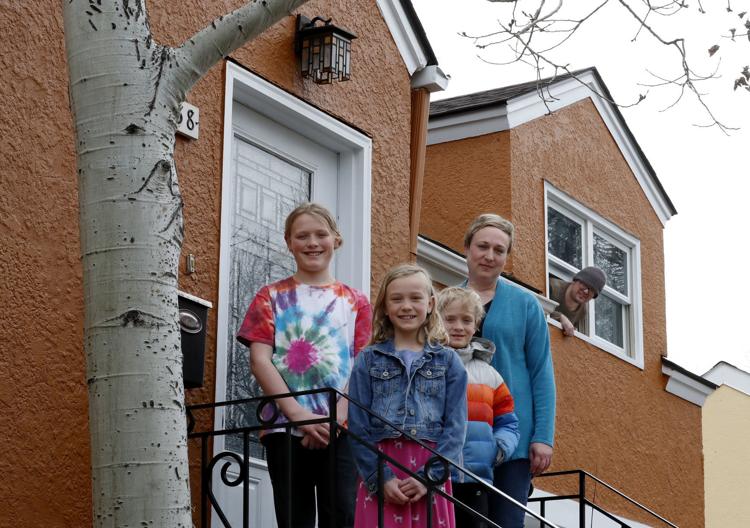 "It felt so surreal for our kids to be at the back of the yard, and the other family to be out on the (sidewalk), and everyone knowing we can't get close to each other," she said.
Queen said her kids carried on a conversation with their friends from 20 feet away.
Queen's husband, Matt, had been in contact with someone who tested positive for COVID-19, and soon Matt began showing symptoms.
But rather than seek a doctor's order for a test to confirm if he had the disease, Matt Queen chose to save one of the tests. He knows they are limited in number, and the results of the tests wouldn't change the timeline for him and his family to quarantine.
With her husband sick and confined to the upstairs bedroom, Queen has been the only parent on duty. She's been cooking and overseeing school work for their 8-year-old twins and their 11-year-old son, while trying to hold part-time hours as a lactation consultant for RiverStone Health.
Queen has a friend who works as a teacher and has her own three children. She's created her own daily schedule for her kids that includes academic time, free time and reading time, and Queen has adopted it, calling it a "life-saver."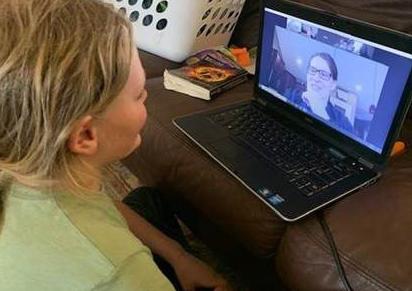 "I'm not a teacher, and so trying to serve as a teacher for our kids," Queen said, trailing off. "Our teachers definitely don't get paid enough."
The kids have been receiving their guitar and piano lessons over video chat. And they're looking forward to a "teacher parade" that the staff at Broadwater Elementary is organizing Friday.
Queen has been keeping in touch with her husband over text and phone call. When there's time, they video chat. It's been stressful, she said. But they're trying to get through it all with humor.
When she brings her husband's plate of food to him — leaving it outside his closed door, as Rutherford is doing — her 11-year-old yells out, "Feeding time!"
An employee with the county health department has been in touch with the family, advising them on when Matt can leave the upstairs bedroom and rejoin the rest of the family, still quarantined.
And friends have been keeping their pantry stocked. A restaurant owner dropped off a box of vegetables and eggs and a handwritten note, and Queen "cried like a baby" when she saw it all on her front stoop. Another woman brought over a meal of turkey soup one night.
Queen said she's grateful her family has such a solid group and friends standing at the ready to help, and she thinks about others in her situation who don't have those connections.
"I worry about those families, and I hope that others are reaching out," she said.
Concerned about COVID-19?
Sign up now to get the most recent coronavirus headlines and other important local and national news sent to your email inbox daily.