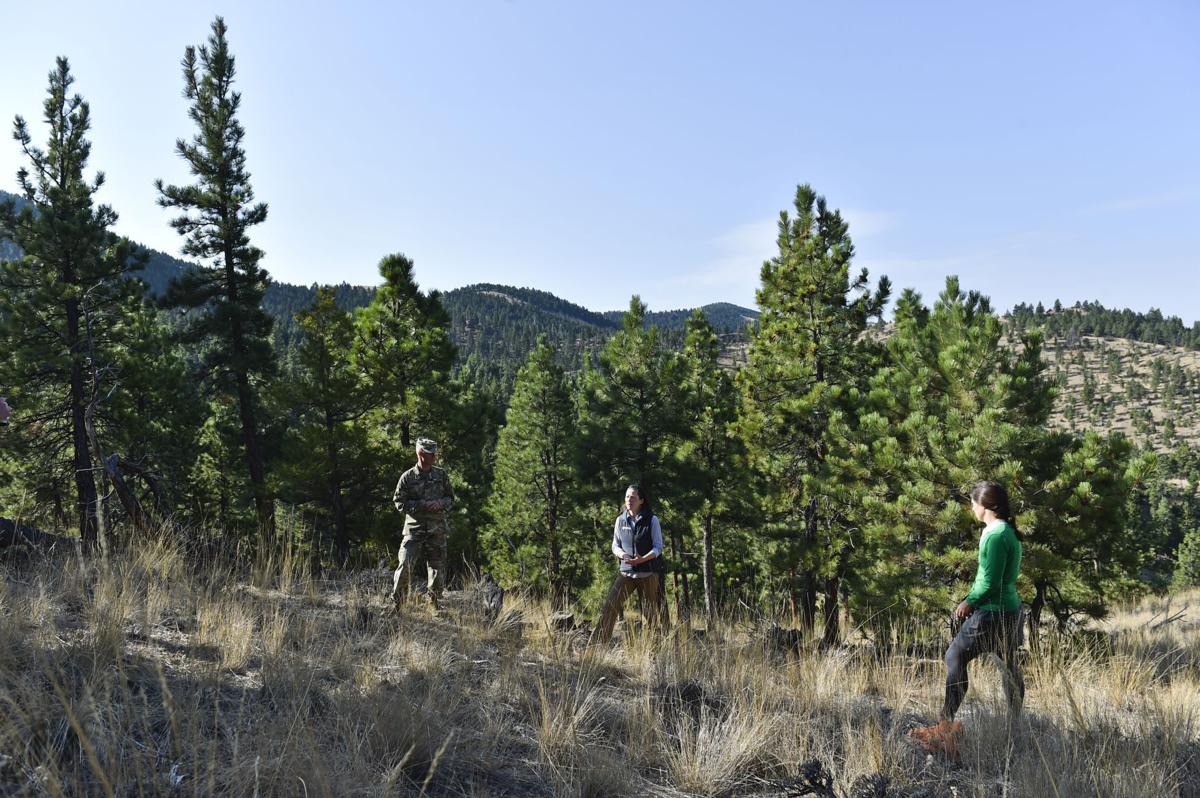 The city of Helena is the new owner of 54 acres on the base of Mount Helena through a donation from Prickly Pear Land Trust.
The Graham Property sits on the northwest edge of Mount Helena City Park. It borders the park to the east, Helena-Lewis and Clark National Forest to the south, and Montana state trust land to the west, making the addition an important piece for continuity of public ownership.
"It's another really awesome addition to Helena's South Hills and the public lands we all own," said Mary Hollow, PPLT executive director.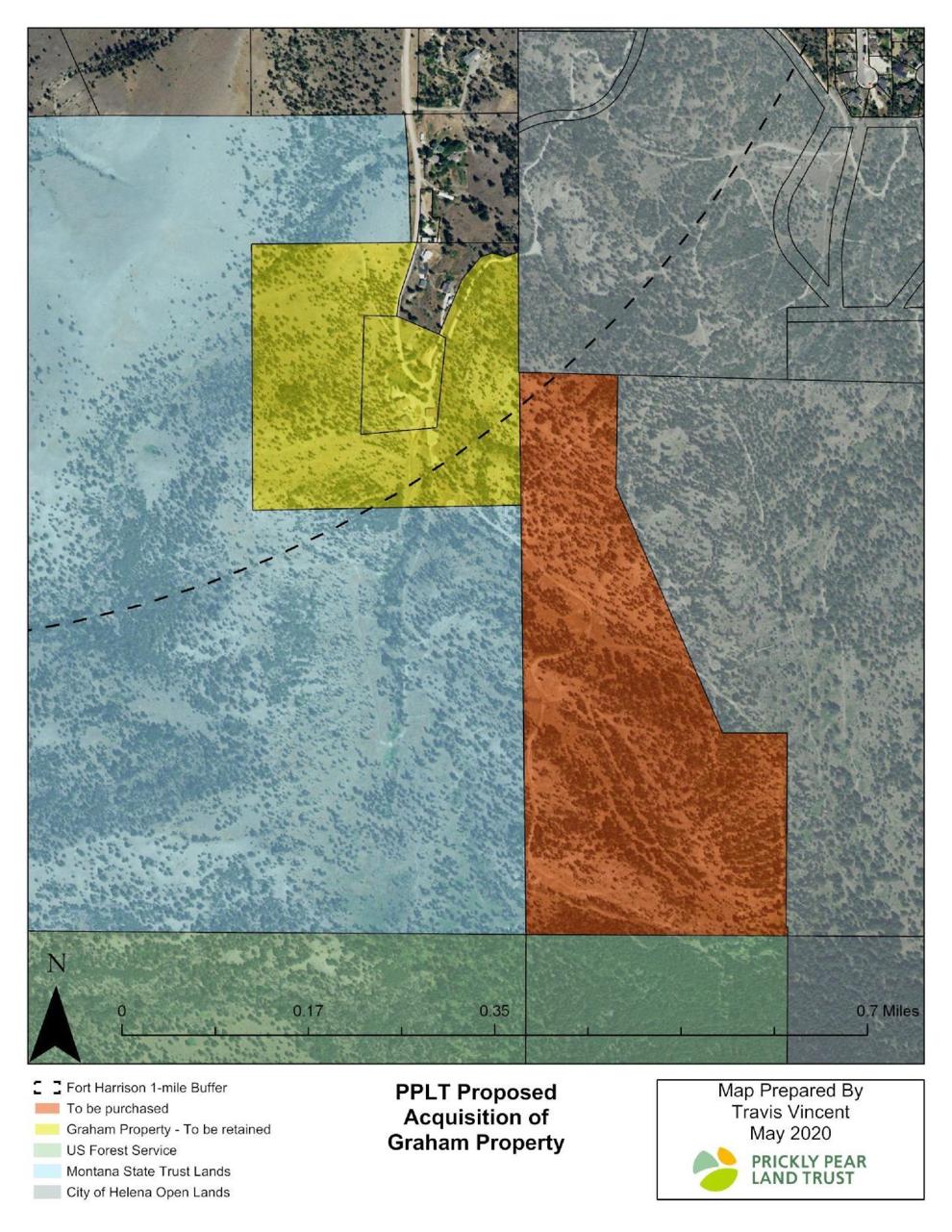 Last year the land trust purchased and donated the adjacent Whyte Property off of LeGrande Cannon Boulevard. That transaction made the Graham Property a priority, Hollow said, adding that the property is a favorite during the winter for Mount Helena's elk herd. The donation is one of about two dozen made to the city from Prickly Pear. 
"This really fits into the public lands that are adjacent to it like a puzzle piece," she said. "So it was an obvious one for us to approach as soon as we had the Whyte acquisition and the LeGrande addition completed."
Contractors have spent the last few months doing fuels mitigation and other work on the Whyte property, and both Hollow and Helena Public Lands Director Kristi Ponozzo praised the Grahams for their care of the 54 acres.
"From a management standpoint, it has had fuels treatment and weed treatment, so we'll come in and do some more managing of it but it's already off to a really good start," Ponozzo said.
"The landowner had the desire to see this land preserved so it's really a happy ending to everybody," Hollow said. "He worked hard to mitigate weeds and fire risk and as a result, the community is receiving one of the most ecologically healthy pieces of land we've ever donated."
A three-year management cost estimate for the property is about $70,000. The city has no immediate plans to develop trails or other recreation on the property but will develop future proposals for the public to consider, Ponozzo said.
Prickly Pear worked with the Department of Defense to receive about $540,000 in funding through the Army Compatible Use Buffer Program, or ACUB, which also partially funded the Whyte Property. Funding also came through a grant from OnX Maps and a donation from the landowner.
"This kind of work is only possible with the partnerships, the strong partnerships that Prickly Pear Land Trust has built with the city of Helena and with the department (of Defense)," Hollow said. "We have really strong relationships with the Montana Army National Guard that have been beneficial for our service members and civilians alike and I think especially in these times projects like these are places where people can come together."
Col. Todd Verrill, construction and facilities management officer at Fort Harrison, said the property is located within one mile of the fort, making it eligible for the funding. The program's goal is to limit residential development near military installations.
"As you can imagine having high density development near an Army base, it's difficult, it leads to conflict and makes it so we're not being the best neighbors that we can be," he said. "So when we can help local partners and communities set aside properties that's more compatible for our use, then that's beneficial for everybody."
Verrill noted that the proximity of the property to the fort comes with a host of benefits.
"It affords soldiers and family members opportunities to get off of Fort Harrison and recreate, conduct physical fitness which is part of our mission, and interact with the community," he said. "We live here too, we love this community, and me personally, I love these open spaces and to be able to be part of this program and to partner with Mary and Prickly Pear I think has just been so beneficial to everybody and I'm so proud to be a part of it."
COVID-19 has become a consistent issue in the world of public lands. Helena's open lands have seen a significant bump in use during the pandemic, Ponozzo said.
For Prickly Pear, COVID has meant the cancellation of its major fundraiser the Harvest Moon Banquet but partnerships and tapping both fundraised and outside funding has allowed it to continue pushing through major projects such as the Graham Property, Hollow said. Support for the land trust is up as well with a membership increase of 30%, she added.