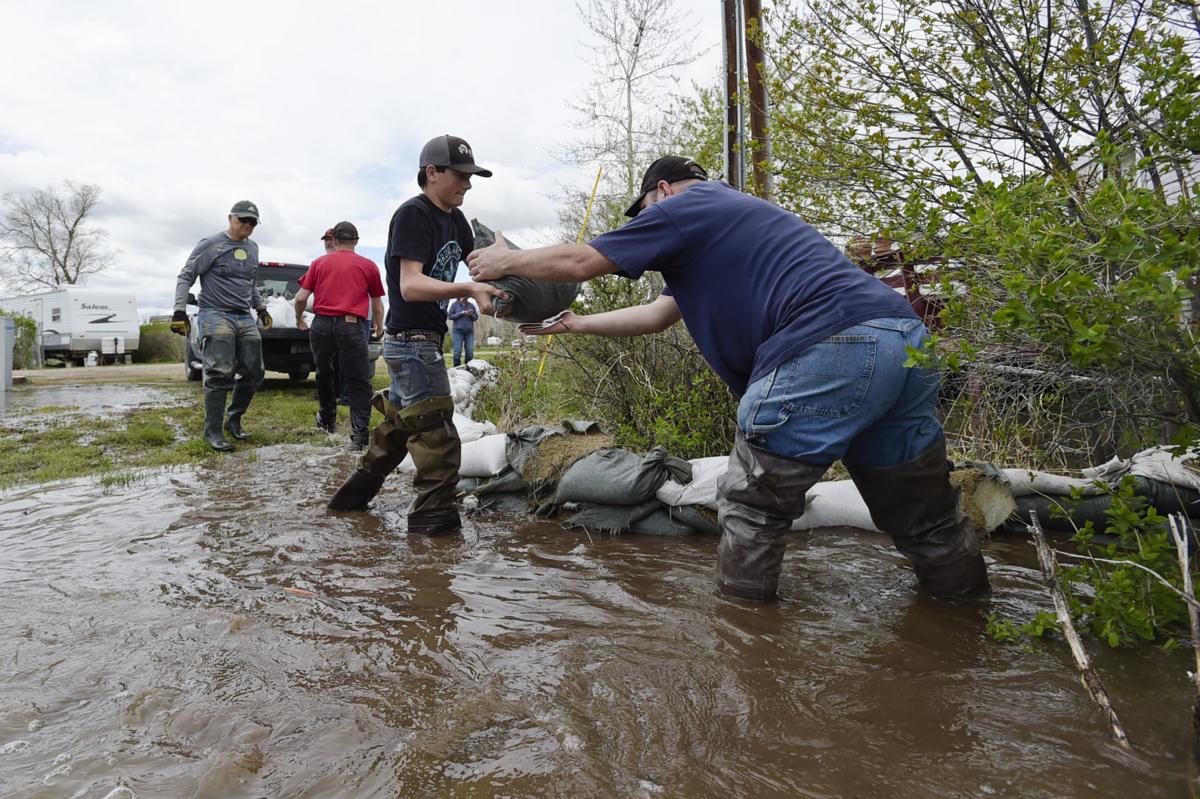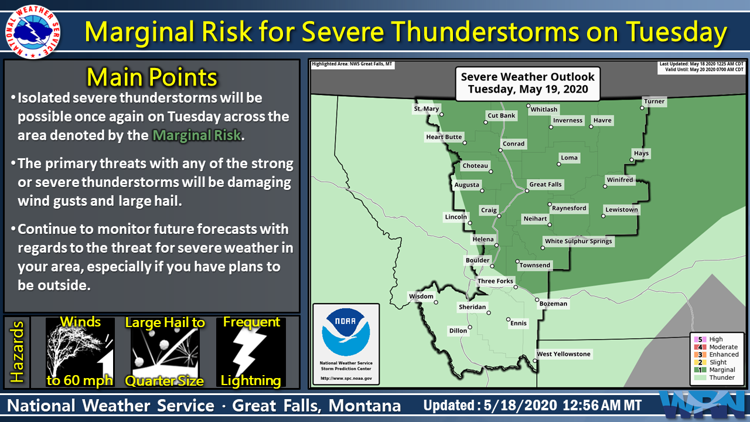 A major rainstorm expected to hit Montana over the coming days could cause flooding, officials warned. 
Heavy rain is possible across portions of southwest, central, and north-central Montana over the next three days. The rain falling on top of melting snowpack in the mountains could lead to flooding of streams, creeks and rivers coming from the mountains, especially along the Rocky Mountain Front and central Montana mountains such as the Big Belts and Little Belts, according to the National Weather Service in Great Falls.
Warm weather over the past few days at higher elevations has primed the remaining snowpack at most elevations for release. The forecast remains on track for a potent spring storm to move across the area later Tuesday through Wednesday night or Thursday. While rainfall totals in the forecast have diminished slightly, especially on Wednesday over lower elevations, much of central and north-central Montana still looks on track to see 1 to 2 inches of rainfall. The mountains from north of Lincoln up through the Canadian border and the higher peaks of the Little Belts and Big Belts are likely to see at least 1.5 inches of liquid and are the most likely to exceed 2 inches. Southwest Montana is not expected to get as much rain, but the mountains could still receive more than an inch of rainfall, especially along the Divide.
In addition to flooding concerns, significant impacts to agriculture are possible due to water-logged soils, which could limit access to pastures or fields. Water-based recreation as well as property owners along streams, creeks or rivers could also see impacts. The heavy rain could cause vehicles to hydroplane and also lead to rockslides in prone areas, the weather service said.
With rainy conditions expected for much of Lewis and Clark County this week, county officials are urging residents to prepare with the following precautions and recommendations:
Avoid contact with floodwater where possible. All floodwater may be contaminated with sewage and wastewater, pet and livestock waste and other pollutants. COVID-19 has been detected in wastewater nationwide. While it is unknown if the virus is transmitted through contact with contaminated wastewater and incidence of the COVID-19 in Montana is low, the county advises extra precautions where septic systems may contaminate floodwater. People working in floodwater should avoid ingestion or contact, and wash hands and sanitize after exposure, the county recommends.
Do not drink, cook or wash with water from a private well that has been flooded as it can cause illness. Where floodwaters affect wells, use hand sanitizer for handwashing and bleach for cleaning and disinfecting surfaces.
To help prevent the spread of COVID-19, wear cloth face coverings, keep six feet apart and wash hands frequently when sandbagging or helping friends and neighbors.
Obey all road closure signs and barricades and take alternative routes. Do not drive through standing water on roads or in parking lots. The average vehicle can be swept off the road in 12 inches of moving water, and roads covered by water are prone to collapse. Attempting to drive through water may also stall engines and result in irreparable damage.
Report flooding to local authorities immediately and contact the Lewis and Clark County Floodplain Manager at 447-8375 regarding emergency floodplain permitting.
Concerned about COVID-19?
Sign up now to get the most recent coronavirus headlines and other important local and national news sent to your email inbox daily.