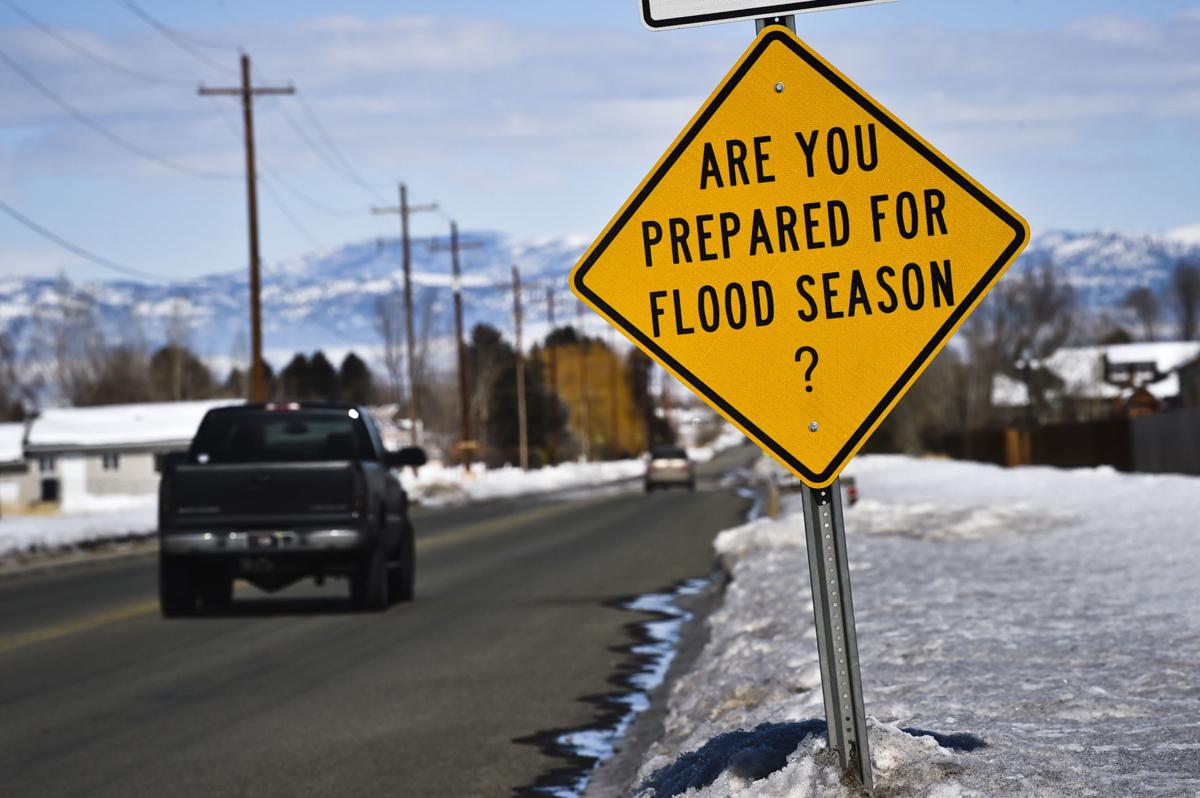 Snowmelt is beginning across Montana and with it the chance for flooding, but weather officials say forecasts east of the Continental Divide are boding well to allow valley snow to slowly dissipate.
The National Weather Service in Great Falls presented its spring flood outlook Thursday for east of the Continental Divide. With much of the state covered in snow, officials are keeping a close eye on how much water that snow is holding and where warming temperatures could cause flooding.
One highlight of this year is the amount of water contained in the snow across central Montana, said senior service hydrologist Arin Peters.
"The main concern with that much snow on the ground is if we warm up really quickly we may end up seeing some ponding, low land flooding, that sort of thing," he said. "Right now we're in a pretty decent pattern where we've been above freezing during the day and freezing quite hard at night, which is perfect for getting that melt to come off."
The Helena Valley was hit hard by floodwaters last year and plenty of snow on the ground again with spring around the corner. Peters does expect to see some ponding as melting ramps up, but flooding will largely depend on the speed of the warmup.
"I wouldn't think it'd be as bad as last year only because there's not as much snow in the upper reaches of Ten Mile, however, when that lowland stuff does melt it may create some issues for sure," he said. "Right now it's hard to say when that'll happen, but with these warming temperatures it'll hopefully do a nice slow melt with freezing at night."
Overall, urban areas including Helena, Bozeman and Great Falls could see issues with drainage and resulting localized flooding, he added.
Ice jams have been and will continue to also be concerns for flooding. The Missouri, Madison, Gallatin and Jefferson rivers have already seen ice jams this year while the Yellowstone and Tongue rivers have yet to begin their ice jam season.
February brought above normal precipitation for many areas following a couple of months of warmer and drier weather. February typically is the driest winter month for the region, so while it may be noteworthy that snowpack is well above normal for several areas, it is not exceptional, Peters said. Mountain snowpack typically continues to build until about the middle of April before it starts to decline, he added.
Soil moistures are near normal across the central part of Montana and looking much better in northeastern Montana, which was still recovering from a significant drought two years ago. Central and eastern Montana reservoirs are also either holding or releasing water in anticipation of runoff levels and needs later in the year, Peters said.
The main area of concern for minor flooding, which would include flooding of rural roads and farm lands, are centered on tributaries and the main stem of the Milk River. The Little Bighorn, Shields and Tongue also have above average chances of seeing minor flooding.
"Of course there's the possibility of other flooding that occurs due to heavy rain or we get rain on snow or things like that, but as things sit now, these are the areas we're looking at," Peter's said.
Meteorologists are not seeing any clear indications of long-term precipitation trends with equal chances of above, at or below normal precipitation. Longer term trends do indicate a higher chance of above average temperatures in western Montana, but no definitive trends for temperatures in the central and eastern two-thirds of the state.
Officials recommend preparing for flood season by getting insurance, which takes 30 days to take effect, acquiring sandbags, clearing snow from drains and culverts and moving equipment to higher ground. The weather service also asks the public to report flooding to regional offices.
Reporter Tom Kuglin can be reached at 447-4076 @IR_TomKuglin
Be the first to know
Get local news delivered to your inbox!